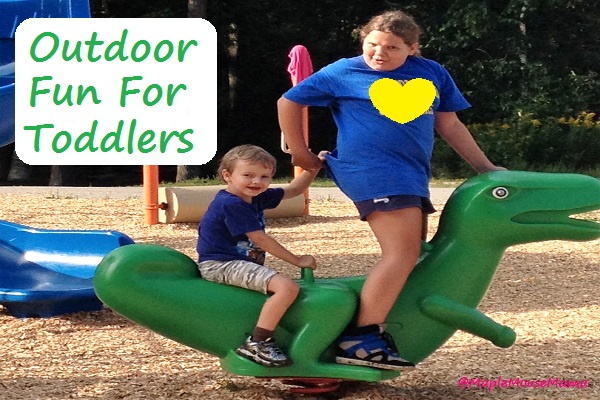 Summertime is the perfect time to get outside and enjoy the fresh air! However, if you've got a toddler at home summertime also requires a bit of planning, organizing and creativity.  Having a list of activities for your toddler is crucial for a mama.
Getting outside in the sun often means trips to the park, the beach or a friend's house. But for those times when you're stuck at home and struggling to find activities for your toddler it's nice to have some options.
Below are five toddler-friendly activities you can enjoy right in your own backyard. Keep your little ones, ages 1.5 to 3 years, stimulated and happy with these fun ideas. The best part? Unlike a trip to the zoo, they are pretty much free!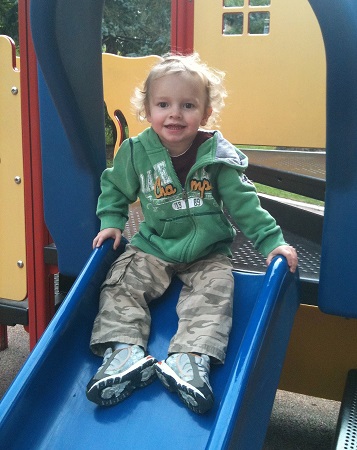 Ice Cube Sorting
On those hot days when you need to cool down a little, this bit of water play is the perfect activity! This one does take some planning though so try and prep the night before or have the ice cubes on hand.
Make 3-5 different coloured ice cubes by mixing food colouring into the water.  Once ready, place all the ice cubes in a large bucket of cold water and have your toddler scoop them out with their hands or a strainer and sort them into appropriate cups.
Note: if your toddler is closer to one and a half years of age, skip the colours and just have them scoop ice cubes with a small mesh strainer and place them into a smaller cup or bin. This helps their dexterity and keeps them cool!
Gardening – Toddler Style
Every toddler wants to be just like their parents. But that doesn't mean they're ready to be unleashed on actual plants! Instead, give your toddler the tools they need for their own garden. Have them fill three or four pots with dirt, plant dandelions and water them. 
Not only does this keep them keep busy, it also teaches them (a little) about what's needed to run an actual garden.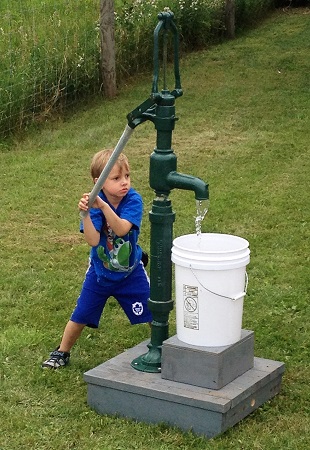 Finger Painting
Finger painting is the perfect outdoor activity for summertime. Not only is it fun for kids but outdoor painting is a lot less messy! Strip your toddler down to their diaper or shorts and have them finger paint on a tarp on the ground.
Toddlers love all the different colours and that they can make a mess, while parents love that cleanup is much more simple with a hose!
Wagon Rides
Have your toddler play "parent" to their favourite stuffed animals and give them rides around in a wagon or small stroller.  Your toddler will think it's fun to take their "babies" around with them and the physical exertion of pulling a wagon or pushing a stroller will help them expend some of that classic toddler energy.
Bonus: set up stations around the yard and have them collect one thing from each station.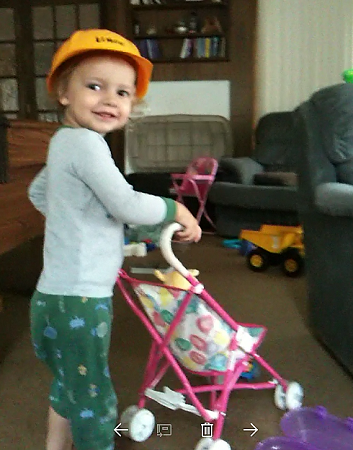 Collect & Sort Games
Toddlers love to explore and often want to show you their "treasures". This easy activity is perfect for kids who just want to look around. Give your toddler the task of collecting different textured items. Sticks, rocks/stones, dandelions, pine cones, dry leaves or bird feathers. Have them bring the items back and sort them into bins.
If your toddler is older, challenge them to find a certain number of each. And if you're crafty, make something later with all the gatherings!
Summer is the perfect time to spend long days outside. But if you're getting bored with the same old games for your toddler give these activities a try. Not only are they easy to put together, they will keep your toddler entertained and even challenged a bit.
Do you have any other fun and wallet-friendly ideas for keeping toddlers busy in the summer? Share with us in the comments, please. 🙂
FT&PD
Suz
**Need some indoor activities for rainy days? Check out these ideas for toddlers and older kids as well!