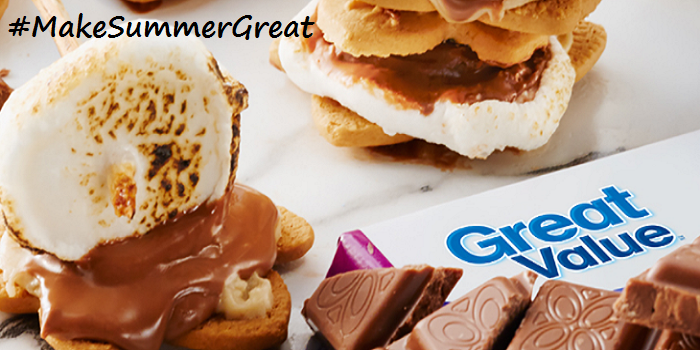 There is no better way to start the summer off than having a backyard BBQ, unless that BBQ is designed to not only introduce you to some lovely new friends, but to also share some tasty and creative ways to feed your guests. It's no secret that I am not a born entertainer. Well, when it comes to the written word, yes ( 😉 ) but not so much when hosting a get-together, so that made the soirée I recently attended even more special. Not only did I see some old friends and meet some new ones, but I was surrounded by ways to make my next backyard BBQ the talk of the neighborhood (and not because the fire department had to be called either!)
When I received an invitation to party with Lena of Listen to Lena fame, I was so excited! Lena is known for showing her guests a good time and showcasing appealing products.  The afternoon got even better when I learned we would be sampling some fine foods on darling dinneware, all from Walmart! My family and I have been shopping at our local Walmart for years, but as with most daily or weekly activities, I often don't see what is right in front of me. Walmart is great at providing for our everyday needs, but I was pleasantly surprised at how lovely their offerings for special times, like a backyard BBQ, are!
Many people know that you can find beautiful items like outdoor matching plates, bowls, serving trays and even wine glasses that are safe for use outside, at Walmart. The options available will complement any outdoor, or indoor setting you can think of. Just add the food and you are all set! My personal favorite are the mini Mason jars filled with fruit kabobs and what a fun idea to add your guests' names to the jars using chalk stickers! The zesty Creamy Lemon Dip was the perfect touch.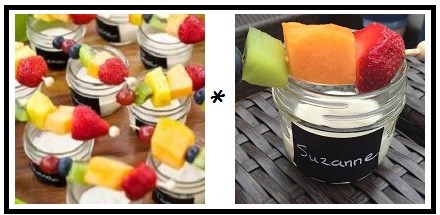 While catching up with some blogger friends, the appetizers continued. A BBQ would not be complete without chips and dip and this savoury Creamy Taco Dip did not disappoint. Check out the recipe and see how easy it is to whip up using Great Value Taco Seasoning Mix. Who knew taco seasoning could be put too such good use. 🙂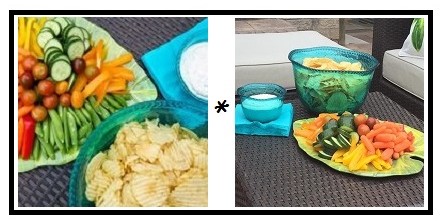 And what's a backyard BBQ without burgers? Thankfully, I did not need to find out because our lovely hostess grilled some Great Value Beef Burgers! Having served these to my picky crew at home, I knew I was in for delicious meal. Much to my surprise we were treated with a customized burger bar to boot! A great way to change up old standards like ketchup and mustard is to add your own twist to them. This Secret Burger Sauce was so good! Have a peek at the recipe here.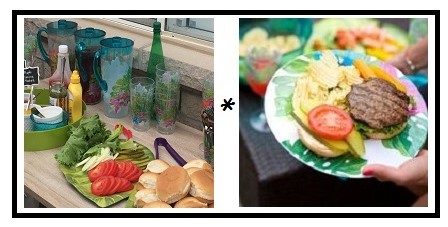 The grand finale of our afternoon gathering was worth the wait. Lena had hinted at the goodness, or should I say greatness, that was to come. 🙂 There is no better way, in my humble opinion, to #MakeSummerGreat than with an ice cream sundae bar!! Walmart is home to the very popular Great Value Cotton Candy Ice Cream and while this family favourite was front and centre for our eating pleasure, my eyes (and taste buds ) were drawn to the pretty bowls we were invited to use. You have not had an ice cream sundae until you have had it in a Marshmallow-Cereal Bowl! Oh my word, this was so good! I mean seriously yummy. I knew straight away my kiddos would love this and it is so easy to make.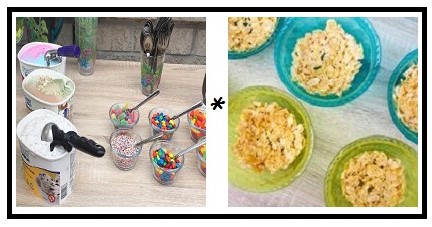 It was such a pleasure to spend the afternoon with friends, learning about Walmart and the Great Value products they offer. I even found myself planning for a certain birthday celebration our family has coming up. 🙂 One thing this food allergy mama was happy to discover was that many Great Value items are made in a peanut-free facility. With that particular allergy to deal with it is hard to find things like cool treats for my son.  Knowing how well loved the Great Value Cotton Candy Ice Cream is with my daughter, I now know that my William can have it too!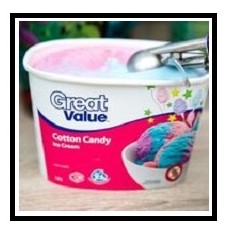 Check out Walmart for many more delicious summer recipes to help #MakeSummerGreat! What one will you make first? 
FT&PD
Suz
This post is sponsored by Walmart Canada, as part of the Great Value #MakeSummerGreat program. In exchange for this review, I have received special perks in the form of products and/or compensation.  All opinions on this blog are my own.