**please note the giveaway has ended
Some women love high heels, others collect jewelry and many adore clothes, but not me. Give me a beautiful handbag and I am a happy gal. When I recently had the opportunity to scan through the screens of the Beside•U site, I was in heaven! Page after page of beautifully designed bags that meet both a need to be fashionable and practical at the same time.  Beside•U makes their bags from a durable nylon that is lightweight and tear resistant, but that doesn't mean a boring palette of colours. With 20 collections to choose from every shade in the rainbow is covered, along with the necessary neutrals like black and gray.
Within those fabulous collections you will find that pretty much every type of bag is represented. From small handbags for a night at the movies, to backpacks for the library and work or totes and satchels for shopping, there is something for everyone. Beside•U has an extensive selection for travel purposes and the men aren't left out either. I love the selection of briefcases that are soft sided, yet have all the protection your laptop or tablet needs.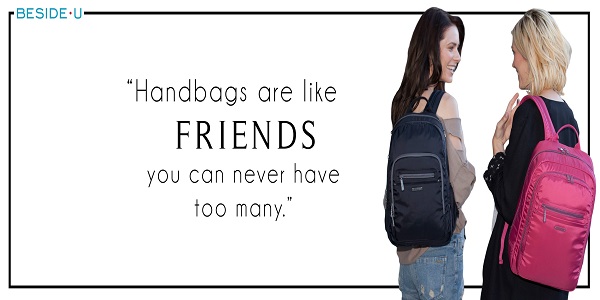 Many of the Beside•U bags have a really cool feature called RFID.  In order to offer extra security, the RFID guarded technology is used on a full zippered pocket that blocks thieves from stealing your credit card information. Yes, it's true. With special equipment a nefarious person just has to walk by to obtain your data and you would not even know it is happening! Having this feature is especially desirable if you travel a lot. It is worth paying attention to these things and having an RFID bag is a step in the right direction.
Beside•U was kind enough to send me the Fontana travel tote bag in Jester Red! I often need to take my laptop on the road with me and this bag allows me to do so in style, knowing my computer is safe and my personal information is protected with the RFID pocket. The Fontana has a large interior, but it is not massive.  I could have selected a larger bag, but I find that things like pens and my notebook tend to get lost in a larger bag. The Fontana is the perfect size and has two full zip pockets on the outside front and back.  It can be carried by the two handles or as a shoulder or cross body bag.  It has all the function of a hard shell briefcase and all the class of a much more expensive brand. I love that Beside•U lets me carry a bag with a certain air of sophistication, but without the price tag.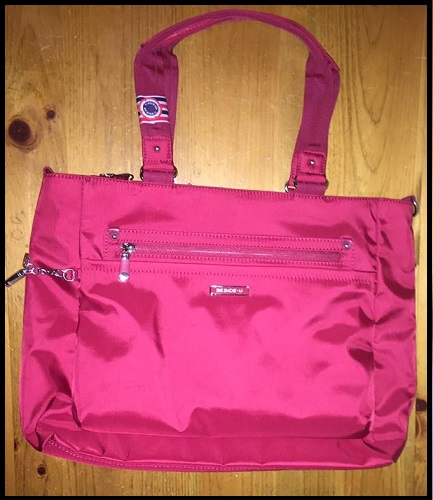 As a self professed lover of bags, the Beside•U line has more than met and satisfied my expectations. I have had at least three other bags for my laptop and the Fontana is not only the best looking, but the easiest to fill and tote around. Do yourself a favour and take a look at what they have to offer. Word of caution though; make yourself a cup of tea or glass of wine first and then dive in!
#BloggersFete Giveaway!
I am so excited to share that Beside•U is a #BloggersFete sponsor this year! They have generously provided us with a prize for our Twitter Party, which is on Tuesday, August 2nd 2016 at 8pm EST/5pm PST.  The winner will get to select a bag of their choosing up to a value of $100!* How amazing is that?! In order to have a chance to win this fabulous prize you need to attend the party. You can RSVP here first and then just follow the hashtag #BloggersFete on August 2nd.  Make sure you follow @BesideU_Canada on Twitter here.
You can prepare for the party a little bit more by figuring out what your favourite Beside•U is right now! Just visit them here and have a gander. So far my fave is the Fontana in the gorgeous Jester Red. 🙂
FT&PD
Suz
**Click here for all the #BloggersFete 2016 celebration news, including sponsors posts, prizing and more!!