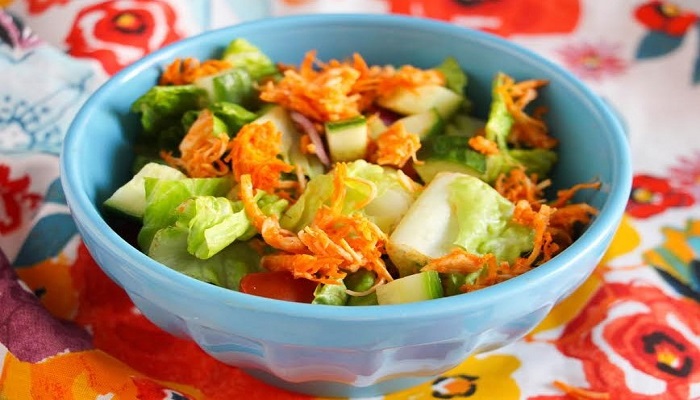 My favourite way to get some protein is to eat chicken. It is safe to say that we probably eat chicken at least three to four times a week in our house and if you ask my youngest he will tell you it is his favourite too. Not pizza or burgers or even tacos. Chicken. He adores chicken. So, it is important for us to find different ways to dress it up from time to time. What better way than to combine it with a great tasting salad that has some zip to it! May I introduce you to this delicious Buffalo Chicken Salad. 🙂
It is super easy to prepare and can be done in less than half an hour. You probably have most, if not all of the ingredients on hand already. It is great for making ahead for lunch the next day and if you are so inclined you can even fill up a pita with this salad or add it to a wrap! My hubby loves it this way. 
Buffalo Chicken Salad
Ingredients:
2 chicken breasts, skin removed

1/2 cup

buffalo-style

hot sauce

4 cups romaine lettuce, chopped

2 beefsteak tomatoes, diced

1 cucumber, diced

1/2 red onion, diced

Cheese, optional garnish

Ranch dressing, optional
1)Place the chicken and the hot sauce in a saucepan and heat over medium heat until the chicken reaches an internal temperature of 165F, approximately 12 minutes.
2)Remove from heat and shred the chicken using two forks.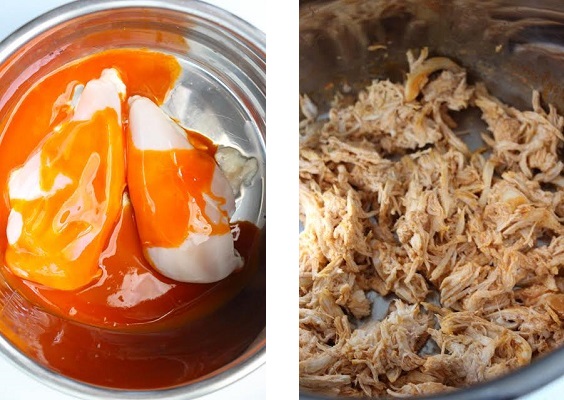 3)Toss all salad ingredients together and serve while the chicken is still warm.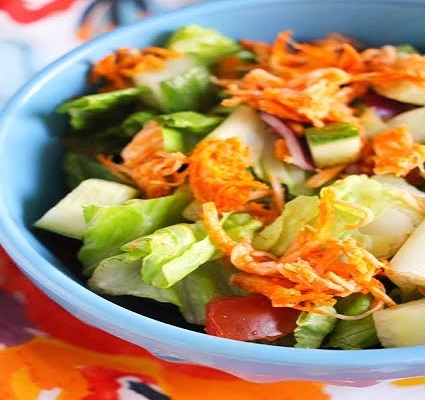 This will serve two to three people, depending on their appetite.:-) So, there you have it, lunch or dinner for today is served. Bon appetite!
What is your favourite source of protein?
FT&PD
Suz
**Check out our recipe for yummy Crock Pot Chicken Tacos.