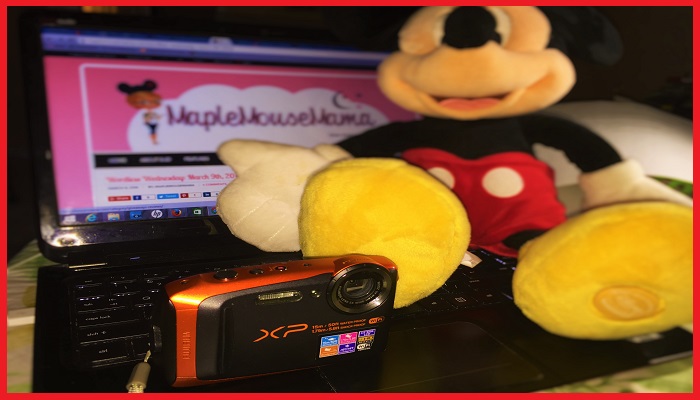 I am the first to admit that I do not like to be in photos, but when memories are being made, especially ones you don't think will ever come around again, I try to throw that negative thought out the window. So when the invitation came for my family and I to travel to Disney World to attend the once-in-a-lifetime Disney Social Media Moms Celebration, I knew I had to record those memories as if they were my last. Dramatic? Yes. Accurate? Pretty much. 
I have been fortunate in the past to work with the fine folks at FujiFilm showcasing the cool Instax Mini Camera, but I wanted to try something different this time around. The resort we would be staying in, Disney's Yacht Club, has this amazing pool so an underwater camera would be a great choice. And since we were traveling it had to be compact as well. The camera would also be used in high traffic areas, like theme parks and knowing my hubby, quite possibly even on a ride! That meant whatever camera we used would have to be tough. Enter the Finepix XP90 from FujiFilm!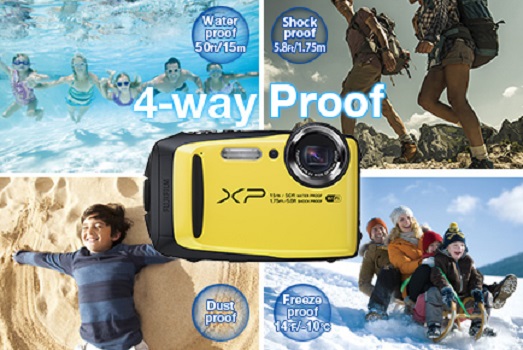 This great little camera answered all my prayers and then some. Not only is it designed with activity in mind, it is waterproof! Cute colours aside, the XP90 is great for things like mountain biking, skiing, theme park hopping and even swimming or snorkeling. It is the perfect vacation camera! Check this out:
it's waterproof up to 50ft/15m

shockproof to 5.8ft/1.75m

freezeproof to 14F/-10°C

dustproof against dust or sand
These great features mean your camera is protected from accidental drops, like when your kids spot their favourite character and run off to meet them (or maybe you spot your favourite character 🙂 ) or you want to capture your child's first underwater back-flip. I love the freezeproof option, which is great for capturing snowball fights in our chilly Canadian winters. The XP90 also features:
10fps high speed shooting

WiFi remote camera control and image transfer

Full HD 1080p video

an upgraded bright 3" 920k dot high-definition LCD with anti-reflective coating 
One of my favourite features of the XP90 is the WiFi remote camera control and image transfer. As a social media influencer I am always capturing moments in time to share over various channels. With the image transfer I could take pictures with the XP90 and have them uploaded via my smart phone in no time! Having access to this feature at a social media conference was a huge bonus! 
If you are in the market for a new camera for your next vacation or just need a compact digital camera you can trust to record your special memories, check out the Finepix XP90 from FujiFilm. At a price point that gives you value for your buck and the chance to capture moments in unusual places (like the bottom of a pool!), this camera is ideal for every family out there. Happy shooting. 🙂
Do you like to be in photos or do you leave that up to the rest of the family?
FT&PD
Suz
**Stay tuned to see some of the great pics taken with the Finepix XP90!
**For more fabulous posts about the Disney Social Media Moms Celebration, visit here!