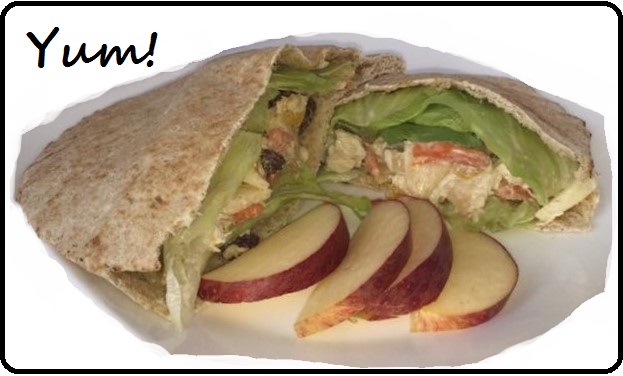 We love to eat chicken in this house: barbecued, baked, broiled, grilled, fried and even in the slow cooker, but somehow there is always a bit leftover. Not often, but sometimes and this past weekend I let inspiration take over and whipped up this yummy Chicken Salad, perfect for eating alone or in a sandwich. My kiddos are kind of picky so I knew it had to be put into something, be it bread or the like, so we opted for pitas! I have to say, it was pretty darn good.  There is no special secret to making a sandwich and in this case, I really did use up leftovers and other items that might go bad if not eaten soon. All of the ingredients are peanut and tree nut free so they are safe for my son to eat.  The kids helped me with the chopping and measuring and we had a good time creating this recipe. Check it out!
Ingredients:
1 cup of diced or chopped chicken (ours had been barbecued)

1/3 cup of diced yellow pepper (next time I will use green for colour)

1/2 cup of chopped apple (whatever kind you have on hand works)

1/4 of raisins

1/3 cup of grated or thinly sliced carrot

1/3 to 1/2 cup of mayonnaise (you will need to adjust as you mix)

salt to taste, if you need it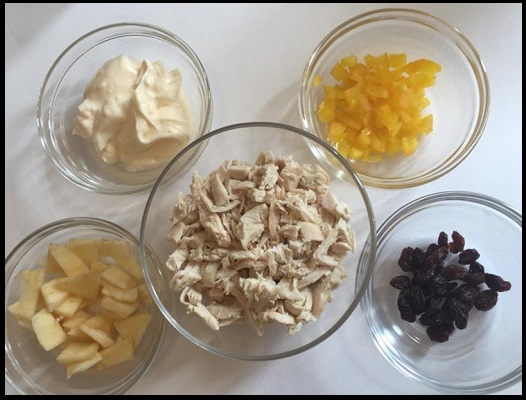 Directions:
Combine everything and you are good to go. 🙂 I would start by mixing the chicken with the mayo first, use your salt to taste at that point and once the chicken is sufficiently coated you can start adding in the other ingredients one at a time. Easy peasy.
We used a half a pita to make one serving for lunch and this recipe yielded about six half pitas. I added lettuce as well and it made a very filling sandwich.   Garnish with some apple or fruit of choice and you're off to the races!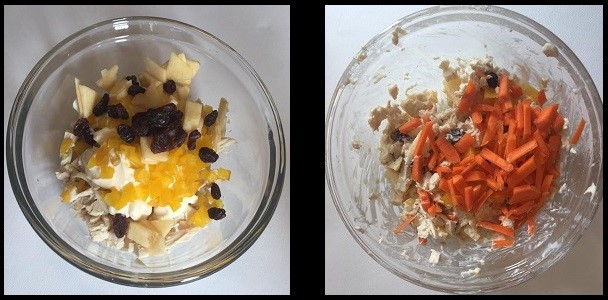 Another way to enjoy this is by having a serving on a bed of lettuce with some light bread, like a rye or even a crusty bun! The possibilities are endless. 🙂
I was able to refrigerate the leftovers (of this leftover chicken salad) for two days, but that is about the maximum I would recommend.
What do you think? Will you be giving this easy, leftover chicken salad sandwich recipe a try?
Bon appetite!
FT&PD
Suz
**Check out our Giveaways and Reviews page for some fabulous prizes!!