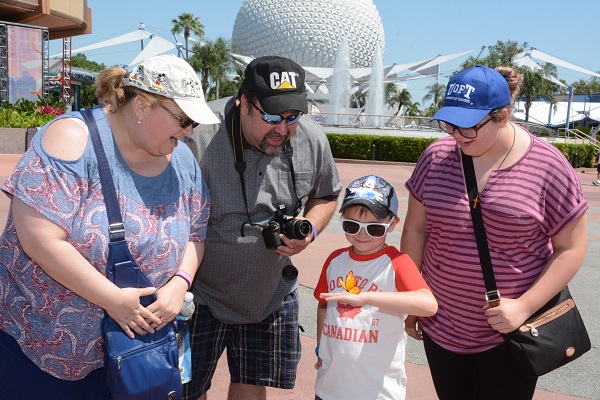 I would never, in any way possible, ever be confused with a supermodel. Or even just a regular model, but that is okay.  My sense of fashion tends to lean towards the comfortable, casual, easy to care for type of clothes. I like colour and patterns, but also solids, usually in dark colours. I do have one fashion rule that I can't seem to break, no matter how many times I hear Stacy and Clinton say it is okay to do so. That rule? I never, ever, ever wear black and blue together. Dark blue, light blue, in-between blue. Nope, not gonna do it. So when the invitation came this past spring to attend the Disney Social Media Moms Celebration, I was a little freaked out. 🙂
As you have probably read in this blog, or elsewhere, the Disney Social Media Moms Celebration (#DisneySMMC) is a huge event that happens once a year, usually at the Walt Disney World Resort and it is by invitation only. I have wanted to attend this social media shindig for as long as it has been around, but the odds were slim to none that I would get the invite. When that hole-in-one opportunity happened this year, I jumped on it! And immediately thought, "what would I wear?" The event boasts two dinners and the conference day itself, so that meant I would need three outfits that were a cut above my normal attire. Or at the very least, two outfits that could stretch to three. 🙂
As a plus size mama, most of my shopping is done at the local Pennington's, where they have sizes for the above average gal. They always have the latest trends, patterns and styles to choose from and their customer service is wonderful! The ladies who work in my local store know how to help you find figure flattering tops, bottoms and everything in between. When I approached them to help me dress my best for #DisneySMMC they said yes! I was so excited that I made the decision to get a new dress. I never wear dresses, so this was huge for me. 🙂
The best way to share what I was able to get for my special trip is by sharing the photos. Another thing you would not find me in (other than black and blue together) is photos. At least, not that often, so this is a big deal for me to share. Please be kind. 🙂
I am so grateful that being a #PenningtonsMama meant that I could dress in clothes that I felt comfortable in and know they were still pretty special. Several of these beautiful items have been worn many times this summer and they still look brand new! You can not beat a store that not only serves up a "special" size with flair and fabulous customer service, but also great value and excellent quality.  It is everything a girl needs to feel great about herself. 
The Giveaway
One lucky MapleMouseMama reader is going to win a $40 Gift Card to Pennington's! To be eligible to win just complete the Rafflecopter below with your qualifying answers. This giveaway is open to Canadian and US residents, ages 18 and older. Please read our giveaway rules before entering. This giveaway ends on September 29th, 2016 at 11:59pm.  Good luck!
What is your best fashion tip? Or maybe you can share your favourite fashion don't? 🙂
FT&PD
Suz
**Read more about the Disney Social Media Moms Celebration!
**For more fabulous prizes, make sure you check out our Giveaways and Reviews page! 
Disclosure:  Pennington's generously supplied me with the some clothing items for review purposes, but all opinions are 100% mine.
Disclosure: I paid a conference fee to attend the 2016 Disney Social Media Moms Celebration, but was provided with discounted lodging and park tickets as well as complimentary items. All opinions shared are my own.