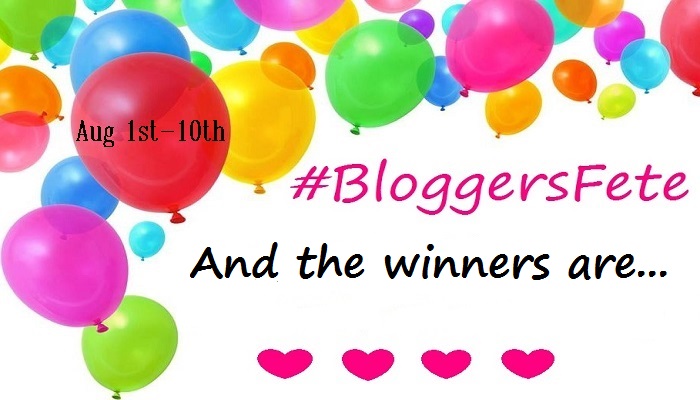 The events are over, the balloons have all deflated and the confetti has been swept up. Yes, it's true. BloggersFete 2016 is over for another year.  It was an exciting ten days though and I can confidently say that all of our guests had a wonderful time. 🙂 We tweeted together to kick things off and we wrapped things up partying Facebook style on the last day. In between there were opportunities to join an Instagram Loop, Blog Linky and a few other fun giveaways.  All in all our generous #BloggersFete sponsors gave away over thirty individual prizes!! A few were packaged into prize packs, but I think you will agree that the number of prizes was pretty fantastic.
Before life gets to busy and you start to put your BloggersFete party hat away, may I ask that you take a look at our sponsor list one more time and show them some love? You can see the master list right here. 🙂  You will also find individual posts on my blog as well as my co-hosts (Tales of Mommyhood, The Koala Mom, British Columbia Mom, My Baby Stuff and DownshiftingPro ) about each of the sponsors, so don't be afraid to have a look around. 🙂 We couldn't have done this without them. ♥
The Winners!
As the title suggests, the following is a list of the events, the prizes offered at each of those events and who the ultimate winners were.  This information can also be found on the various platforms like Twitter, Facebook etc..
Twitter Party – Aug. 2nd, 2016
Hasbro – Stephanie L.

Pure Hazelwood – Alayne L.

Lansinoh –  Grieta  A

Soap Sox – Shannon L.

Beside-U Bag – Caryn S.

Kick Flipper – Julie K.

Raincoast for Mommy – Jennifer VH.

Raincoast for Kids – Jennifer H.
Instagram Loop Giveaway – Aug. 4th to 8th, 2016
CCC of America prize pack- Darlene W.

Will Stroet Music prize pack- Sarah P.

Simply Pixie Dust ears – Kathryn P.

Pure Hazelwood prize – Kristen N.

Two Brothers and Olivia prize – Alayne L.

Tommee Tippee prize – Bailey D.
Facebook Party Giveaway – Aug. 10th, 2016
Flash #1 Cloud b – Jeannie L.

Flash #2 Funrise Toys – Judy C.
#1 DK Books – Tamara B.

#2 Will Stroet – Catherine E.

#3 PlaSmart – Jamie H.

#4 Tommee – Tippee Tasha May I.

#5 I See Me – Jennifer L.

#6 Pure Hazelwood – Heather H.

#7 Zoey's Attic – Lynda N.

GRAND PRIZE – Jennifer P.
Blog Linky Giveaway – Aug. 1st to 10th, 2016
Prize #1 – Drop The Spotlight

Prize #2 – Catholic Review

Prize #3 – Happy Pretty Blog
Group Giveaway Winners – Aug. 2nd to 10th, 2016
Prize Pack #1 – Jenn L.

Prize Pack #2 – Lisa M.

Prize Pack #3 – Jonnie H.
Ta da! There you have it folks, the 2016 #BloggersFete winner's list.  Congratulations to each and every one.  All winners entries were verified and all winners have been contacted.
Can you believe we have already started to plan for #BloggersFete 2017?!! Hope to see you there. 😉
FT&PD
Suz