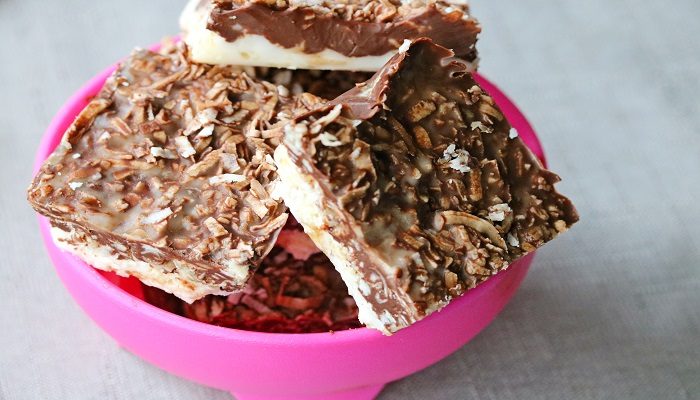 It is hard to believe, but the Christmas Season is almost upon us. Yes, even though we have not had Halloween yet, the holidays are less than two months away! Santa has been busy working on his list for months now, but I bet you have a ton of things to do to get ready. I know I sure do. One of them is to start baking or at least fake I am baking. 🙂 My hubby is usually the one in the kitchen, but I like to get my hands dirty once in awhile. If you are starting to panic just a little bit, like me, here is an easy recipe you might want to try out now. You can enjoy the fruits of your labour while you make your shopping list. 🙂
Chocolate Coconut Squares
Ingredients
1 3/4 cup shredded coconut, large flakes

1/2 cup coconut oil (measured solid)

1/4 cup pure honey

1 teaspoon vanilla

2 tablespoons coconut oil (measured solid)

1/2 bar of chocolate of choice (about 12 small squares)
Directions
∗ In the microwave or on the stove, melt the half cup of coconut oil. In a medium bowl, combine the shredded coconut, melted oil, honey and vanilla.
∗ Mix well until all the coconut is covered and looks "sticky"
∗ Line an 8×4 pan with parchment paper and using a spatula, press the coconut mixture into the pan. Press down firmly. The more you press the better the bars will hold together.
∗ Place in the freezer to set.
∗ While the bars are setting (give them at least 20-30min) make the chocolate topping. In a small pot melt the remaining coconut oil and chocolate bar over very low heat. High heat will cause the chocolate to burn.
∗ Whisk frequently until everything is melted and combined.
∗ Pour the chocolate mixture over the coconut bars making sure the chocolate is evenly distributed.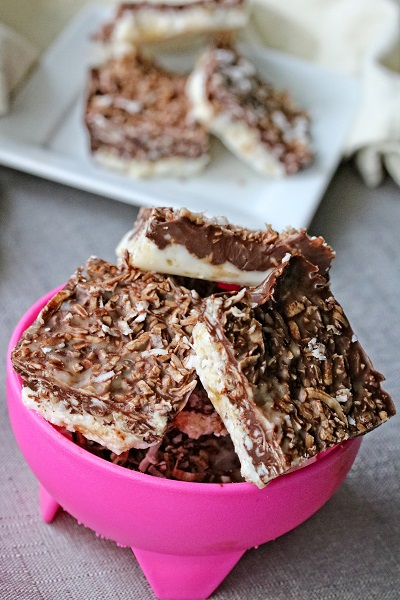 ∗ Place in the freezer for 30 more minutes until chocolate is hard.
∗ When you are ready to enjoy, remove from the freezer and cut into bars. Let sit for 5-10 minutes and serve.
Makes 8 squares.
Oh, you should know – these are soooo good you will want to make more in no time! Enjoy!
Have you started your holiday prep yet?
FT&PD
Suz
**Check out these other great recipes to make!