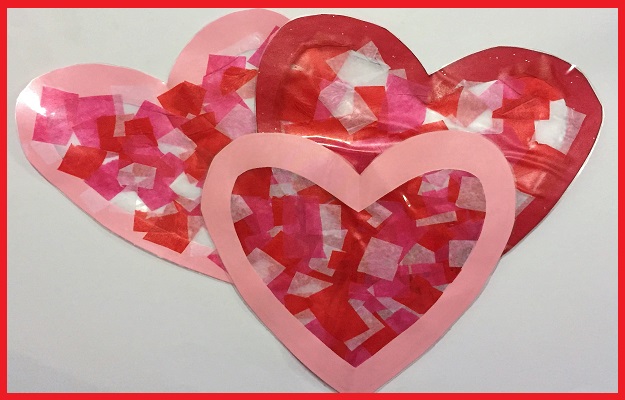 Valentine's Day is the perfect time of the year to have children express their love for their family and friends by doing a craft of some sort. You can have them make their own Valentine cards or help them create a table centerpiece for a special family meal. You could bake with them and have them bring their favourite teacher some cookies. Or they can create some sweet decorations to adorn your home. The list of possibilities is truly endless.
My kiddos and I had so much fun making this adorable decoration for our windows and glass door and it really was the easiest thing to do. It could get a little sticky, so as we progressed from one heart to the next, we learned a trick or two and we will for sure be sharing those here with you. So, let's begin!
Supplies You Will Need
tissue paper in Valentine colours like pink, red and white

construction paper in the same colours

a roll of clear shelf paper

scissors

scotch tape

a pencil
All of these items we either had on hand or I picked up at the dollar store.  The rolls of shelf paper were small so you may want to pick up more than one if you have several windows you want to decorate.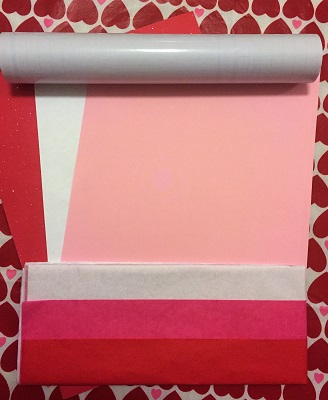 Directions
1) Draw a large heart on a piece of construction paper. Then trace a smaller heart inside the larger heart, leaving a margin of about one to two inches. Double up your construction paper so you actually make two hearts, not one.
2) Cut out your larger heart, then cut out the smaller heart. This should leave you with something like this.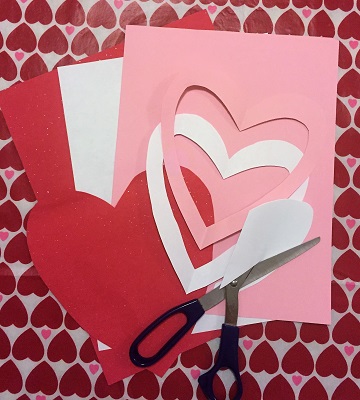 3) Take your tissue paper colour of choice and tear a sheet into small pieces, about an inch by an inch. They do not have to be perfect shapes. Do as many colours as you desire.
4) On a clear space on your table roll out your shelf paper. You will need to help smaller kiddos with this. Use a piece of scotch tape to stick one side to the table while you measure out how much of the shelf paper you will need. You can determine this by placing your cut out construction paper heart over the shelf paper. Make a little cut with your scissors, then put your paper heart to the side. Cut out the size of shelf paper you need. Cut a second piece to use later.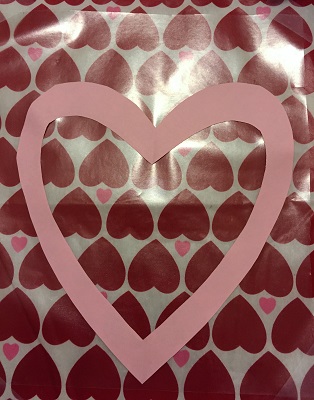 5) At this point the shelf paper will want to curl into itself. It is tricky, but you will need to remove the paper backing for the shelf paper VERY CAREFULLY.  If you let go of it, the sticky part can adhere to the other sticky part, rendering that piece useless. 🙂 Once you have slowly peeled the paper backing off, use scotch tape to tape down the other side of the shelf paper.
6) Carefully center your construction paper heart over the sticky side of the shelf paper and place it down. Smooth out the sides so it adheres to the shelf paper.
7) Next, take your cut up squares of tissue paper and place them all over the open part of your heart, gently pressing into the sticky shelf paper. You can stick with one colour of paper or use three or four. It is up to you!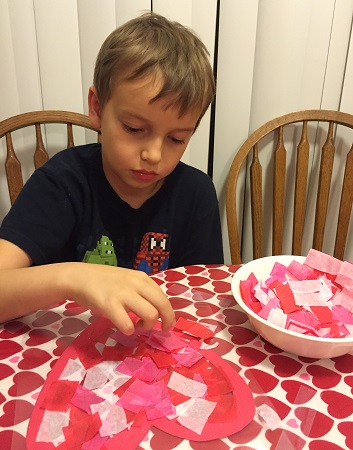 8) As you work towards the edges you will have to trim your tissue paper so they do not stick to the other side of the outline of your heart.
9) Once your heart is full to your satisfaction ( you should not be able to see any clear shelf paper peeking through), you will need to cover the top of your heart. Place the second heart you cut out of construction paper and stick it to the top of the heart covered in tissue paper.  You can use a bit of tape or even glue to make them stick together, if you like.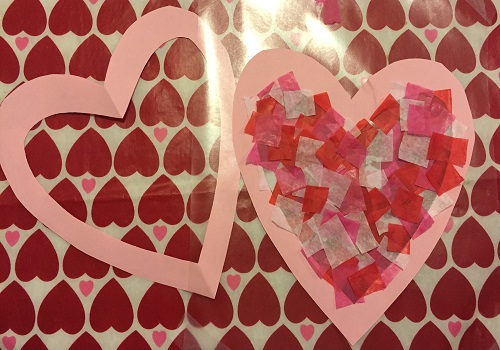 10) Next, take the second piece of clear shelf paper, carefully peel back the paper backing and use the scotch tape to stick one side to the table.  Using a second pair of hands, if you have them, peel the backing off and slowly cover the heart. Smooth out any wrinkles as you go. 
11) Finally, you can use the scissors to cut off the excess clear shelf paper. If you want to hang these decorations, use a hole punch and some string or just stick them to the windows!
Once you are done, the "glass" heart should look something like this.  They are really pretty and when the sunlight hits them, the effect is downright dazzling! Happy crafting!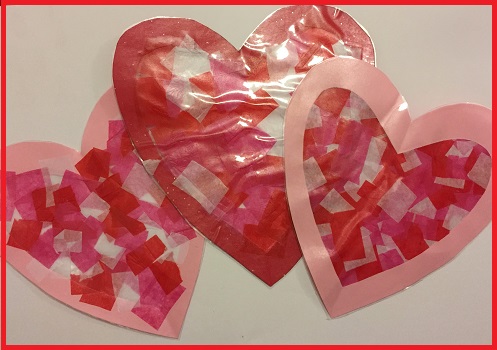 Who is your Valentine this year? Will you make them a special card or craft?
FT&PD
Suz