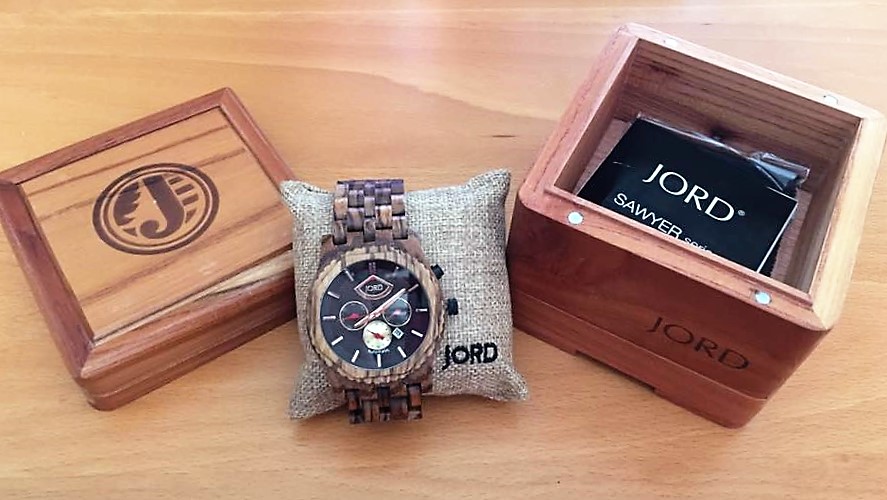 Back when I was younger I loved to wear a watch. In fact, I would often wear two and even three to make a fashion statement. It was a cute way to show my fun side and a great conversation starter. In fact, when I met my future hubby, the first thing he asked me about was why on earth was I wearing three watches! 🙂 It was a great ice breaker and soon lead to more stimulating conversation.
Fast forward a few years and I no longer wear multiple watches, but I do own one. It's silver and very pretty and only comes out of the box on dressy occasions, like Christmas. Date night doesn't even rate it being put on. My husband and I both fell into this pattern of not wearing our nicer things sometime around when our first child was born. It just made sense to keep them safe, which is kind of silly when you think of it. Safe from what?  A little baby spit up and maybe some poop? Unfortunately, we never got back into the habit of wearing our fancy jewelry and the little we both have just sits there, waiting to be worn.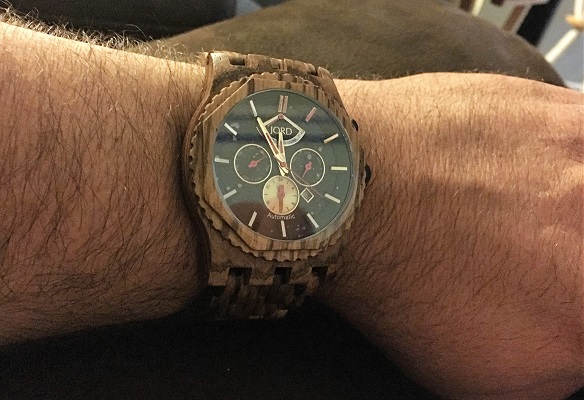 So when I was first contacted by JORD I got kind of excited. I had, of course, heard of them before, but the concept of a wearing a watch made of wood seemed a bit unusual. After having a peek through their website, I knew unusual was not the right word to describe a JORD wood watch. No, something like stunning would be a better fit. Or maybe gorgeous would work. At first glance, these works of art look posh, but what I love about them is how versatile they are. Whether my hubby wears his to work with a shirt and tie on or just with his jeans and a t-shirt, his wardrobe, his whole appearance is elevated to a new level just by sporting this beautiful wood watch.
This elegant timepiece is from the Sawyer Series, Zebrawood and Obsidian can best be described like this:
"For a person of significance, the Sawyer is a watch of substance. The Zebrawood grain, powerful and untamed, is balanced by a richly hued obsidian black center face. Gold tones create a glint of light, a brilliant flash accenting sound style. The 70 individual links masterful mosaic. An automatic 26 jewel multi-function movement with power reserve and a sapphire crystal combine with natural hand-finished wood to create a true collectors timepiece. Time matters. Wear a timepiece worthy of mention, the Sawyer Zebrawood & Obsidian."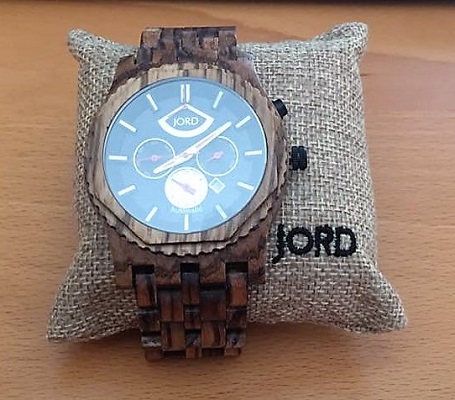 This is one sexy looking watch people. The list of features like the sapphire crystal glass and reinforced double deployment buckle just add to the mystique. If those fancy words don't convince you then maybe these others will:
FEATURES
sapphire crystal glass

reinforced double deployment buckle

screw-down crown

case width: 49.6mm

case thickness: 13.8mm

lug ends: 58.7mm

band thickness: 26mm

band length: 215mm
My hubby has been wearing his for a while now and had reservations about wearing the wood against his skin. I wondered if the little hairs on his arm would catch in the links. Fortunately, we have both had our fears put to rest. My husband is in love with his JORD wood watch. It is smooth and cool to the touch and feels great on his arm. He rates the comfort level a 10 +.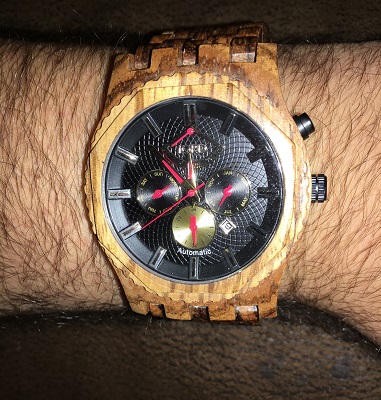 MOVEMENT
Citizen Miyota 9100 Automatic Mechanical Multi-Function

display: power reserve hours – minutes




second – date – month – day – 24H

jewel bearing: 26 jewel

power reserve: 40 hours

tuning fork type: quartz crystal

frequency: 28,800 BPH (beats per hour)

accuracy: -10/+30 seconds /mo

installed shock-absorber device

drive system: self-winding (no battery)
I would definitely add a JORD wood watch to your wish list of wants, for you or your spouse. It is a timeless item that will become a staple of your wardrobe for years to come. You do have to take care of it though because, well, it is made of wood.
FINISH & CARE
The natural zebrawood is hand finished and pretreated with tung oils. The Sawyer is splash-proof but should not be submerged in water (3 ATM).
Lemon or orange oil extract is best for cleaning the natural wood. When storing this timepiece, avoid extremely hot, cold, and excessively dry/humid environments.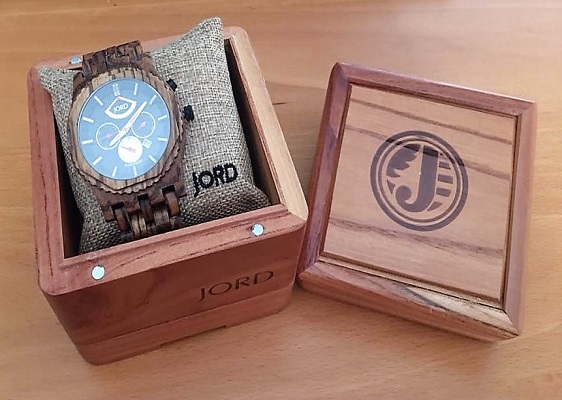 The Giveaway
The fine folks at JORD have teamed up with MapleMouseMama to offer one lucky reader a $100 voucher giveaway, valid for any of the wood watches JORD sells (good until November 30th, 2017). Even if you do not win this giveaway JORD wants you to have a $25 e-gift code (good until November 30th, 2017). So everyone is a winner!!! Giveaway ends on October 11th, 2017 and the winner is selected by the sponsor. 
Just enter here for your chance to win! 
Good luck! 
Do you normally wear a watch?
FT&PD
Suz
**Disclosure: I was provided with the Sawyer Series Zebrawood and Obsidian Watch by JORD for the purposes of facilitating this review.  All opinions expressed are my own.