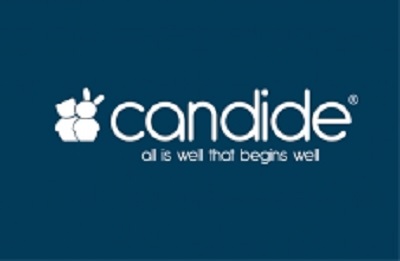 Even in the few short years since my kiddos were babies the conveniences that are available for moms and dads to be have grown like mad! I was a bit of a slave to our baby monitor, listening for every little tic noise that indicated baby was breathing, but nowadays every new parent out there can own a baby monitor that comes with video! What will they think of next? I am almost too afraid to know the answer to that. 🙂 That said there is one item I was pleased to learn about recently that is a new and improved version of an item I used a lot – the nursing pillow.
The 3-in-1 Multi-Relax from Candide Baby is a velvety soft and oh so fluffy pillow that is designed to bring a sophisticated comfort to both Mama and Baby.  It is your much desired maternity pillow, nursing pillow and baby's rest nest all in one! When Baby is using it there is a handy safety harness for peace of mind.  I know my old pillow never had that and it lost it's shape very quickly. The Candide Baby 3-in-1 Multi-Relax will look good and maintain it's shape for years, and babies, to come. ♥ It's great for ages 0 to 6 months, before your little one starts to wriggle all over the place. 🙂

Candide Baby has been servicing it's French clientele for over 20 years, with a beautiful line of stylish baby basics created in France. Candide Baby is dedicated to providing the ultimate in comfort and quality to all parents and caregivers.  MapleMouseMama is excited to share that Candide Baby is now available in Canada and is being sold in over 40 Sears Canada locations!!
Giveaway
To celebrate the launch of Candide Baby in Canada we are excited to be giving away, to one lucky reader, their very own 3-in-1 Multi-Relax from Candide Baby!! To enter to win this fabulous prize just check out the Rafflecopter below. This giveaway is open to residents of Canada only, aged 18 and older. The ARV of the prize is $70.00 and will make a wonderful addition to any nursery or even as a gift to new parents.  Trust me, this is a gift that will be happily received. 🙂 Please read our giveaway rules before entering. Good luck!!
Make sure you visit a Sears Canada near you for Candide Baby.  As mentioned the 3-in-1 Multi-Relax is available in over 40 stores like Bramalea City Centre, Hamilton Limeridge, Edmonton West Mall, Grand Prairie, Winnipeg Polo Park, Sherbrooke, Halifax, Sudbury and many more.
What is one piece of advice you would give to new parents?
FT&PD
Suz