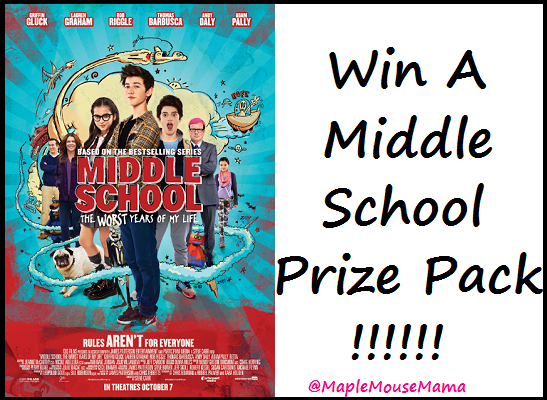 As the cold winter days set in and we start to get pelted with the white stuff, now is the perfect time to stock up on some entertaining movies to keep the kiddos content on that inevitable snow day (or two) we are bound to get. Crafts are great and I can even suggest some, but what is better than hot chocolate, popcorn and a funny flick you can all enjoy together? I have the perfect film to pick up on DVD or Blu-ray or grab on digital download: Middle School – The Worst Years of My Life.
"MIDDLE SCHOOL: The Worst Years of My Life chronicles the trials and triumphs of Rafe Khatchadorian, as he uses his wits to battle bullies, hormones and the tyrannical, test-obsessed Principal Dwight. Rafe has an epic imagination…and a slight problem with authority. Both collide when he transfers to an oppressive, rule-crazy middle school. Drowning in do's and don'ts, Rafe and his scheming best friend Leo hatch a plan to break every rule in the school's Code of Conduct. It's Ferris Bueller meets Home Alone as their battle with Principal Dwight explodes into chaos both real and imagined. But Dwight displays his own fiendish creativity, striking back at the rulebreakers. Meanwhile, Rafe struggles to hide his misbehavior from Jeanne, the straight-A, overachieving girl of his dreams, and at home, his mother's boyfriend — a moochy, jack-of-no-trades named Bear — threatens to become his stepfather. Rafe's revolution leaps from the page to the screen in this ambitious live-action/animated comedy based on the New York Times bestseller "Middle School: The Worst Years of My Life" by legendary novelist James Patterson."
The Giveaway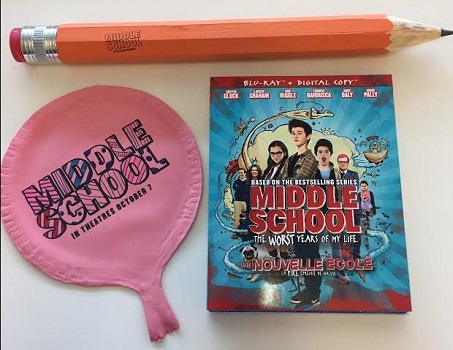 I am excited to share that one lucky MapleMouseMama reader is going to win a Middle School Prize Pack, which  includes:
(1) Copy of Middle School on Blu-ray

(1) Copy of the Middle School novel (not pictured)

(1) Oversized novelty Middle School pencil

(1) Middle School whoopee cushion
To be eligible to win please complete the Rafflecopter below with your qualifying answers. This giveaway is open to Canadian residents over the age of 18. Please read our giveaway rules before entering. This giveaway will end on January 30th, 2017 . Good luck!
Did you have a favourite grade or teacher in school? I have very fond memories from Grade Two. 🙂 
FT&PD
Suz
**Be sure to enter the many giveaways we have going on right now!!