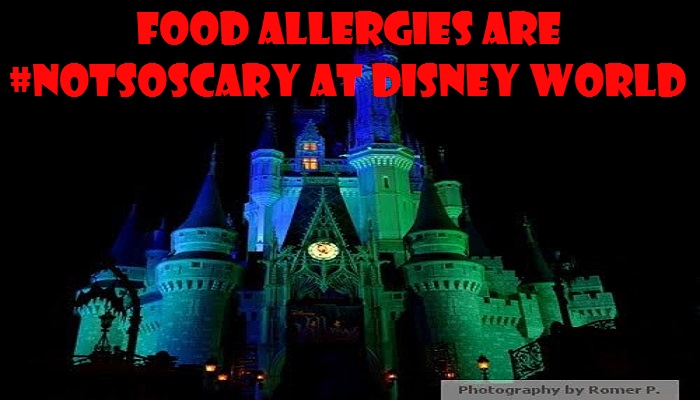 Today the MapleMouseMama family is excited to welcome guest writer Hiromi Okuyama, to our humble home on the web. Hiromi, a fellow Disney lover and food allergy warrior mama,  is a wife and mother of a tween and a toddler! She is also an actress and Karate teacher in Toronto. She is writer "Canadian Diva" for Tips from the Disney Divas & Devos, a Disney Theme Park planning site.  Enjoy!
                                              ————————————————-
My family recently visited Walt Disney World and attended the very popular "Mickey's Not So Scary Halloween Party!" (MNSSHP).  This is a Special Ticketed event at the Magic Kingdom. You will need to purchase tickets separate from your regular theme park tickets. It is such a fun party with spooktacular events, shows, special parades, fireworks and rare character meetings.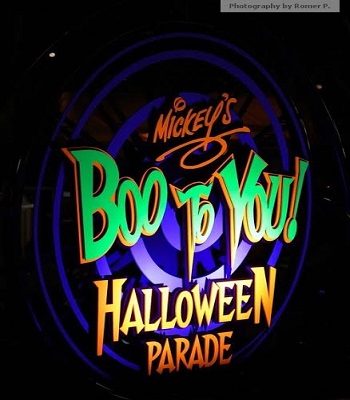 This is my family's second time attending MNSSHP but the first with our toddler who has severe allergies (he is allergic to wheat/gluten, dairy and eggs). I was really impressed with how Walt Disney World accommodated those with severe allergies.
Here are 10 ways to enjoy an Allergy-Friendly "Mickey's Not So Scary Halloween Party!"
Dress up! As parents of children with allergies can attest, Halloween is often a dreaded occasion. Many parents wish they could avoid Halloween altogether because of all the life-threatening treats given each year. But at the Mickey's Not So Scary Halloween Party, there is a FREEDOM to be fully immersed in the spirit of Halloween, knowing that you and your child can celebrate without worry! (Make sure to first read the Walt Disney World costume guidelines)

Rest during the day before the party! I would suggest NOT going to a theme park in the morning. You will be way too tired for the actual party.

Go early to the party at 4:00pm. Even though the party officially starts at 7:00pm, it is commonly known that Walt Disney World allows party guests to enter a few hours earlier.

As soon as you enter the Magic Kingdom, grab a MAP! The map shows everything: the whole park, parade routes, all open attractions, restrooms, character greetings, trick or treat stations and two TEAL Markers indicating where the Allergy-friendly Treat Centers are. TEAL is the official colour of Allergy Awareness.

GET YOUR TEAL COLOURED BAGS from Cast Members (CMs). As soon as you notice Cast Members handing out the Regular Treat bags to everyone, ask the CM for the Allergy-friendly TEAL bags. If they are handing out treats to guests at the same time, they will also provide TEAL TOKENS to redeem for Allergy-friendly treats later.
Collect TEAL TOKENS at any Treat Station you see throughout the park.

 Hand in your TOKENS at the two Allergy-Friendly Center locations. There is one in Liberty Square and one on Main Street USA inside Town Square Theater. Each Center has a TEAL sign outside. When you enter, you will see counters painted TEAL to indicate where to pick up your treats. (Note: the Allergy-Friendly Treat Centers are subject to change location, so always ask a Cast Member and they can point you to the correct location)

 Although regular treats (as well as the TEAL tokens) may be handed out by Cast Members before 7:00pm, the actual Allergy-Friendly Treat Centers open right at the official start of the party.

 When picking up your Allergy-friendly treats at the Centers, the CM will direct you to the large photos on the TEAL coloured counter. There are pictures of each treat offered with all the ingredients listed. The treats offered are generally free of most allergens. The companies offering Allergy-Friendly treats are Enjoy Life Foods and Surf Sweets.

 Bring a separate bag from home to store your treats during the party (all the MNSSHP Trick or Treat bags are very small)
The Allergy-Friendly system that Walt Disney World created for this year's MNSSHP is a great way for people with severe allergies to enjoy Trick or Treating without the risk of cross contamination. The Allergy-friendly Treat Stations are well-lit inside so that kids and adults can clearly see every ingredient for each product. It was awesome to see so many kids excitedly pick treats and enjoy Trick or Treating, which they may not normally be able to do. Walt Disney World truly is a place where dreams come true!
Mickey's Not So Scary Halloween Party will run on select dates until October 31st, 2016.  It is interesting to note that there is hope there will be a similar Allergy-Friendly offering and setting for Mickey's Very Merry Christmas Party (MVMCP) this year!
Connect with Hiromi on Twitter @HiromiActs
                                    ——————————————————-
Thank you to Hiromi for sharing her family's experience at Mickey's Not So Scary Halloween Party, in Disney World.  I can't wait to take the family someday. 🙂
What are your thoughts on Disney World supporting the movement for food allergy awareness by bringing the #TealPumpkinProject to the Magic Kingdom?
FT&PD
Suz