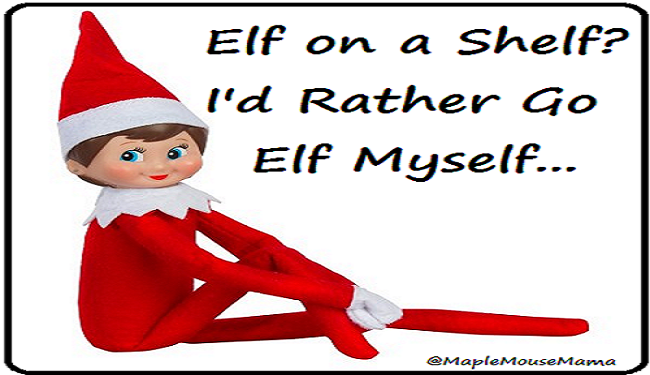 I can barely manage to make sure my children's lunches are packed with fresh and healthy snacks each day, make an interesting and satisfying dinner every night and then clean it up. Then there is homework patrol after that. Oh, and making sure showers are done, nails are trimmed and clean undies are put on each day. How in the heck could I keep up with the antics of a mischievous elf each night, let alone create new and exciting ways to taunt my kiddos into being good dare this elf report them to Santa? I wish it were that easy to make them behave, but I am sure they would manage to trick that darn elf one way or another.
So, there is not now, nor will there ever be, an elf on any shelf in this house. At least not while I am around. Sorry kids. You are lucky if we get the darn tree up before the 24th.
Now, I know what you are thinking, but I don't think of this ban on the elf business as being Grinch or Scrooge-like. Nope, not at all. I think eliminating this self-imposed stressor before it has a chance to drive me bonkers is the smart thing to do. Besides, the only one who would really benefit from it now is the youngest and he has never, not once, asked me about an elf hiding somewhere in the house. Thank God. I just have to pray that he doesn't run across a "Top Ten Vines of Elf on the Shelf Parkour Fails" on YouTube. I might be doomed if that happens.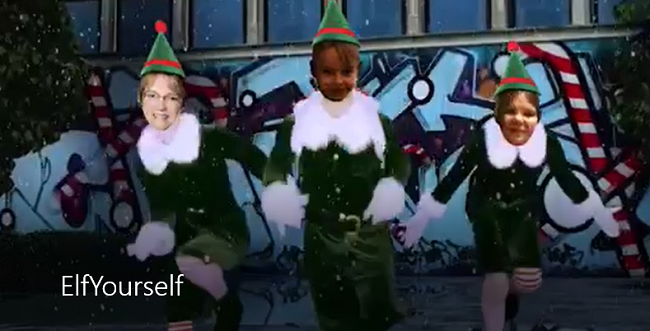 Despite my overall feelings of animosity for the whole Elf on a Shelf deal, I do think some of the things parents have come up with are pretty clever. Maybe I am a tad jelly of the fact that they are so inventive when it comes to putting their little Mimi or Jimmy or Silver Bells or whatever the heck that dude or dudette's name is, in perilous, yet often hilarious situations. I can admit that. I know I am creative, otherwise ya'all would be reading the HuffPo right now and not this entertaining dissertation. But, I do sometimes wish I had the inclination to come up with some ingenious tricks for that stinkin' elf to do.  Alas, I do not. 
Now, I have read a comment or two from parents who think those of us who are anti-elf on the shelf are some kind of party pooper and to them I say, "poo to you!"  But, I would probably use some other words. Non-elf appropriate words. I am not a party pooper. Have you seen our Disney photos? I am a hoot! But there is just something about wracking my brain trying to be cunning and cagey with a stuffed toy every single night during the busiest time of the year, to receive maybe five minutes of payoff that will not last until the kids go to school, let alone all month long, that makes my already exhausted mind want to shut down permanently. Elf on the Shelf? I would rather go Elf Myself. 😉 
Are you an Elf on the Shelf devotee or detractor, like me?
Merry Christmas!
FT&PD
Suz
**Disclosure: This post is NOT sponsored. All opinions are my own.