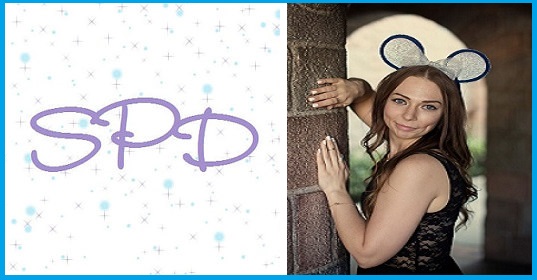 Earlier this year I had the opportunity to visit my happy place, Disney World and I was thrilled to find this beautiful Etsy shop called Simply Pixie Dust.  The beautiful, custom designed Mickey Ears had me at first glance and both my daughter and I were excited to wear our gorgeous ears all over the place!  I couldn't wait to share this amazing store with you and invite you to meet the creative mind behind the ears, Jennifer! Make sure you look for the special code Jennifer has for MapleMouseMama readers to save on your own pair of custom designed ears! 
                                  ********************************************
1) Tell me a little about yourself please.
Hey, I'm Jennifer Manthey, owner of Simply Pixie Dust. I live in Burnaby, British Columbia with my boyfriend and our dog. Currently I work for a not-for profit regulatory body during the day and on Simply Pixie Dust during the evenings and weekends. I love anything Disney and enjoy incorporating that into my daily life in any possible way.  
2) Tell me about your company/business.
Simply Pixie Dust is a handmade business that finds inspiration in the magic that Disney brings. I strive to create unique and quality made pieces to encourage individuality. The most important thing about Simply Pixie Dust is customer satisfaction. I like to be as collaborative as possible to ensure the end product is loved and tailored to suit.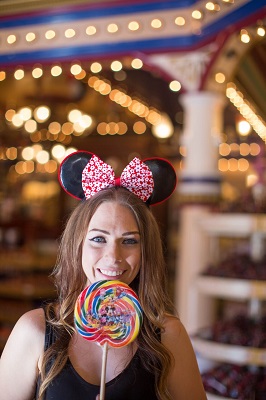 3)What motivated you to start Simple Pixie Dust? How did you come up with the name?
It kind of just happened! I was preparing for my October 2014 Disney trip and really wanted to make some one-of-a-kind items for myself to wear to the parks. I made two shirts using fabric and iron on adhesive, Jack Skellington for my boyfriend and Sally for myself. I also created two sets of floral mouse ears which received a lot of attention from people! A cast member even commented on how much she liked the ears and asked if I had an Etsy shop because she wanted to purchase a pair. That cast member, along with all the positive comments I received during that trip, gave me my "light bulb" moment. I've always wanted to be self employed too so it just seemed like the right fit.
Choosing the name was probably one of the more challenging aspects to getting the business going. I always knew I wanted something to evoke the magic of Disney, but didn't want anything that would limit what kind of product I created. I had written a few phrases down and liked "Pixie Dust" but felt it needed something more to it. My mom was the one who said "It's simply Pixie Dust". I loved how "Simply Pixie Dust" sounded and that "simply" means that pixie dust exists, just like magic.
4) As an entrepreneur, what sort of challenges have you faced in getting your idea off the ground? How did you handle these?
It's been difficult to get Simply Pixie Dust out there with so much competition. As a perfectionist, its hard at times to not compare your products to another persons. There is also a huge learning curve with owning a business and managing every little part that goes into it while having a full time job. The way I try to handle it is to remain positive and remember that good things take time and hard work. Another crucial thing is to have a good support system. My mom and boyfriend have been so supportive and encouraging. I've also found that networking with like-minded people is essential. I've been focusing on collaborating with Sara of Fresh Baked Disney. Sara has been a great motivator as well, and is always willing to offer suggestions.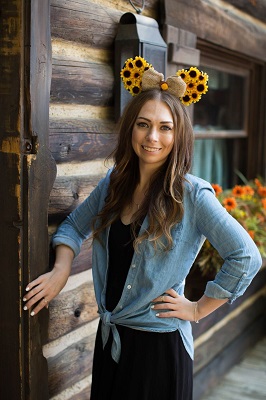 5) How or where do you get your ideas for your ears? What inspires you?
My ideas usually come to me when I'm at the fabric or craft store. I've always been a very visual and creative person, which is probably why I went to school for interior design. I love how colours give so much creative freedom – they can either be literal or abstract and can be used to create a feeling or mood. Basically any colour or texture that catches my eye inspires the design.
6) Do you make any other ear or Disney themed accessories? Are there any new products in the works for Simple Pixie Dust?
Yes! I have so many ideas for Simply Pixie Dust. I'm currently working on a bridal line, including bridesmaids. Next would be storage options for the ears, something equivalent to how one stores their jewelry. I'm also looking into ear options for younger children and men, shoes, custom cellphone cases, and floral headbands.
7) How does your shop work? Where do you ship to?
Currently all of my items are pre-order, I like to keep the items as unique as possible so there is a limited amount of most designs. I also love working on custom, one of a kind sets! Once the order is placed through Etsy, I assemble the ears and ship them out once they are finished. I usually like to allow more time for custom orders so I can ensure they are perfect! Customer satisfaction is very important! I want everyone to love their ears!
I currently ship in Canada and to the USA, but will be opening the shop to international shipping in the future. I strive to be as flexible as possible, so if international shipping is requested I will try my best to accommodate.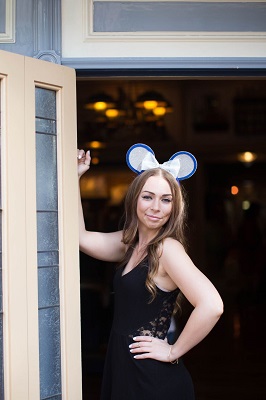 8) Can you share your social channels with us please?
Definitely! You can find us on Instagram @shopsimplypixiedust , our Facebook page (Simply Pixie Dust), and our Etsy shop Simply Pixie Dust. We are also on Pinterest! We host giveaways and offer coupon codes through our Instagram. We also are in the beginning stages of launching our blog at Simplypixiedust.com.
                                 *******************************************
To help us celebrate #BloggersFete 2016, Jennifer has generously provided a prize for our Instagram Loop Giveaway that will be starting soon! Keep an eye out for that here. In the meantime, we are also super happy to share this amazing savings for our readers.  When you place your order with Jennifer just use the coupon code MAPLEMOUSEMAMA and you will save 20% on your order!  (There is no expiry date on this code, but you must have a minimum order of $30). Thank you so much Jennifer!
Make sure to check out the beautiful items on display over at Simply Pixie Dust and start planning for your own custom pair. What design do you envision for yourself?
FT&PD
Suz
**Photos by Rhiannon Mim of Price pricephoto.weebly.com/
**Click here for all the #BloggersFete 2016 celebration news, reviews and giveaways!!