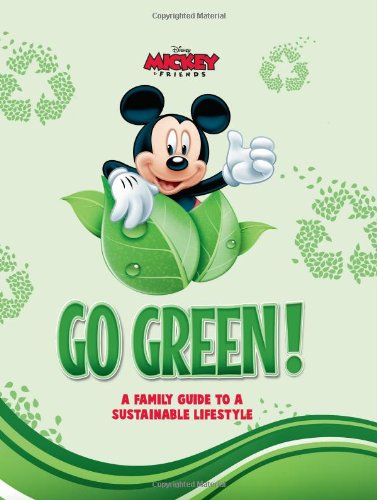 I want to share this great little book I recently received and it just happens to be perfect for Earth Day! Go Green is the brand new series from Disney that was created to inspire families to lead a sustainable lifestyle.  This means that we sustain ourselves on planet Earth without taking so much from it that it can't sustain it's future inhabitants.  In order to do this we need to take a long hard look at how we do things and make some changes.  As tough as it may seem to be, it is worth it in the long run.
Children are like sponges and they soak up new things every day. As the future of our planet it is important to teach our children the importance of sustainability. Go Green: A Family Guide To A Sustainable Lifestyle is the perfect teaching tool as it combines the fun of Disney with an educational component.  The book explains how to create a more sustainable life by exploring the Three R's: Reduce, Reuse, Recycle. This is a concept that we are all pretty used to, but Disney ramps it up by adding in lots of fun activities kids can do on their own or with their families.
The crafts in this book are designed to show children how creative they can be with items found in nature or by reusing the things around them.  A great activity for families to try out together is to create your own watercolours! Instead of buying paint you can make your own by boiling water and adding fruits and plants to release their natural dyes.  For example boiling red onion peels will create a crimson red colour, coffee beans produce browns and tans, blueberries make blue and dandelions produce wonderful greens. 
Go Green focuses on explaining the importance of living a sustainable lifestyle  in an easy and fun manner so that children will want to do this and make it a way of life.  We are reminded that, "Sometimes making green choices takes us out of our comfort zone… At these times it's good to remember that we're doing what is best for us and what is best for the environment."
I encourage you to Go Green and have a Happy Earth Day!
FT&PD
Suz