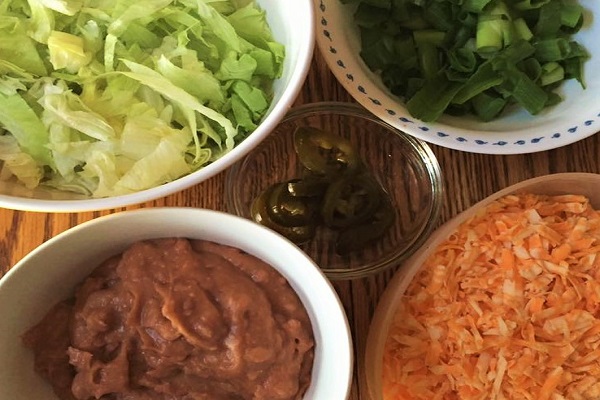 The first few weeks of the back to school season are probably some of the busiest times of the year for families. Busiest and most stressful. My list of things to do was huge this year and only a handful have been completed. Why do we leave getting the backpacks ready for the night before school starts? And what is with all of those forms the school sends home? My favourite (insert sarcasm here) is the massive agenda the kiddos bring home that requires I sit down and go through, page after page. With them. Have you ever tried explaining the various school policies, like dress code and how much time each grade should be spending on homework, to a very tired seven year old? I managed to escape the barrage of "why's" and "how come's" this year, but only because my youngest was wiped out. The older one though? Well, let's just say teens have their own opinion on those topics and you really don't want to hear it.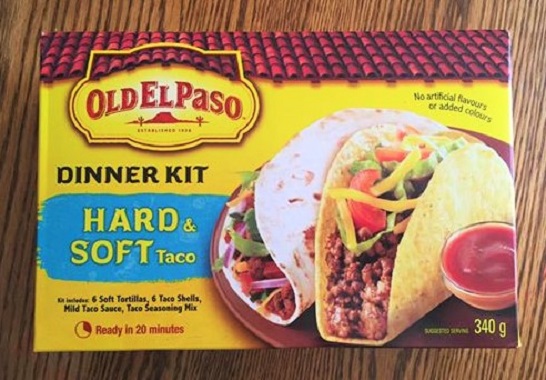 So with all of the stress about forms, new friends and making those loathsome lunches, wouldn't it be great to forget about one major worry? Making dinner during the school week is akin to playing charades with a toddler. You can try and guess what your children will eat and then watch them have a meltdown when they don't like it. Or, instead of preparing for a night of hungry, unhappy kiddos, plan ahead and make a favourite of my family's. If you make enough meat for more then one meal, tacos can be your best friend for mid-week meals when your creativity is running a bit low.  They are easy to prepare and taste so good!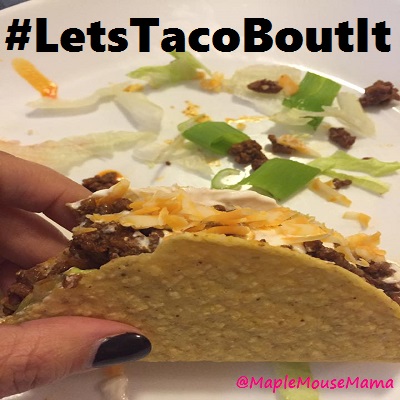 We have been using the Old El Paso kits for awhile now and I love them! They make dinner time a breeze because almost everything you need is all together, in a nice, neat package. Our favourite has always been the Old El Paso Hard and Soft Taco Kit. I am a fan of the Stand 'n Stuff hard Taco Shells, while the kids prefer the soft tortillas. My hubby will eat both, so everyone wins! This dinner kit includes both the hard and soft tacos, along with a mild sauce and the taco seasoning mix. Add in a batch of the cooked beef and your toppings, like shredded cheese and you are good to go! The second best thing about making tacos for dinner is taking the leftovers for lunch the next day.  With a little ingenuity, you can make your child's lunch box the envy of the whole class!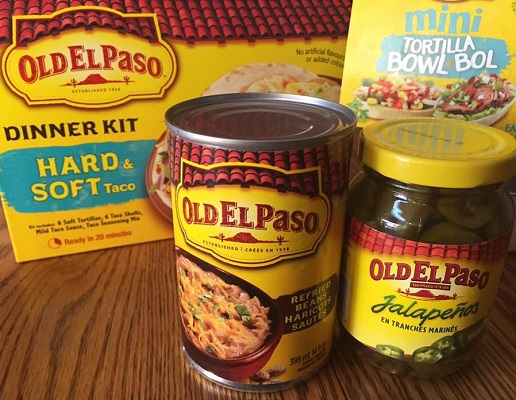 If your children are like mine, the end of the school day is a little rough on them. They are tired and still have to face the dreaded homework. That is another reason to have Taco Tuesday (or Wednesday or Thursday) every week; to give them something to look forward to. You know what your children like, so getting their favorite toppings ready in advance will save time and make them happy. A happy child means a very happy mama. 🙂 Recently, my youngest thought it would be great to try the Refried Beans we were sent from Old El Paso. I was skeptical about his reaction, but he loved them! It was super easy to just heat up the can of refried beans and use them to top off our tacos. The best part is that these delicious beans are really not a fried food. They are made from Pinto Beans, blended together with Mexican spices to create a yummy paste. They make a wonderful alternative fiber source for your tacos. 
With the abundance of tasty toppings you can put on your tacos, there is sure to be something your family will enjoy. It is also a great way to get your offspring to try something new. This time it was the Refried Beans and Old El Paso Sliced Jalapeno Peppers (the latter did not go over so well 🙁 .) What would you suggest we try during our next Taco Tuesday?
FT&PD
Suz
This post is sponsored by Old El Paso. In exchange for this review, I have received special perks in the form of products and/or compensation.  All opinions on this blog are my own.