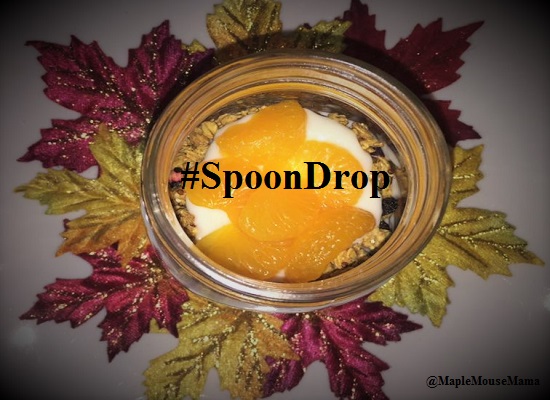 I have never been a morning person, so it should not come as a surprise to me that my children aren't either.  And no matter now early they go to bed, daybreak is always a struggle to accept. Especially Monday through Friday. Who wants to get up at ugly o'clock, when it is chilly in the house and then get ready for school or work. Not this lady. Mornings are demanding for many reasons, but when you are trying to ensure your family eats a well-balanced brekkie before they rush out the door, the challenge becomes more difficult. Well, at least in this household it does.
Recently, when asked what our biggest challenge is each morning, I answered that it was getting out the door on time. The more I thought about it, the more I realized that everything we do prior to leaving for school and work is what impedes a smooth and timely departure each day. It's not just one thing. Maybe you know what I am talking about? Do these sound familiar to you?
getting out of bed after hitting the snooze button only once

picking out an outfit (got to check the weather first)

getting out of bed after being called for twenty minutes (that would be the teen)

taking your turn in the washroom to shower, etc.

checking your smart phone (you know you do!)

organizing your school bag or briefcase

deciding what to have for lunch and then making it

looking for your library book that you swore you saw your sister take

peeking in on our social media (we all do it 🙂 )

finding the missing sneaker

eating the most important meal of the day

brushing your teeth

looking for the hoodie that "usually" hangs by the front door

leaving your house, everyone dressed, full and on time
No wonder getting out the door is such a stressor each day! With well over ten things to do, something is bound to get overlooked or ignored on purpose.  Unfortunately, it is often eating a satisfying and good-for-you breakfast.  With 89% of Canadian parents agreeing that having their kiddos eat breakfast is one of the most important morning to-dos, that means a lot of children are heading off to a day of learning on an empty stomach. So, what's a parent to do?
Quaker Oats wants to help moms, dads and guardians alike stop stressing out and own their mornings! And just how do we do that? By harnessing the versatility of Quaker Oats to conquer your mornings so everyone gets out the door on time. With the abundance of Quaker Oats breakfast options, there is something to satisfy even your fussiest eater with time to spare for a second cup of coffee. That sense of triumph you'll feel? It's called a #SpoonDrop moment. 🙂
Quaker challenged my family to tackle our morning routine head on and find our own #SpoonDrop moments. We used the Quaker Oats website SpoonDrop.ca to find some delicious and nutritious options for breakfast that were easy to prepare and satisfied everyone's diverse taste.  It wasn't hard given the wide array of products Quaker Oats has to offer. 🙂
Sleeping In
We've all done it. Slept in because the day before was super busy. It's not a big deal when there is nowhere to be, but oversleeping on school days is such a pain! Quaker Oats Instant Oatmeal is my go-to solution for making sure my kiddos have a tasty and hot meal, that takes just a moment or two to make!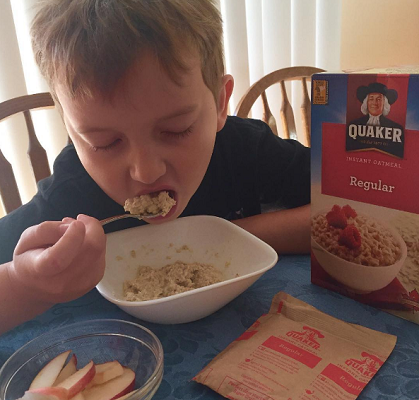 Picky, Picky, Picky
Being a teenager means two things for sure: you are going to sleep as much as you can and you are going to stress your parents out every chance you get. My daughter is no exception. It drives me crazy when she runs out of the house without so much as a banana in her hand, but we found a solution for that. Layering yogurt and Quaker Super Grains Granola in a mason jar! Make it the night before, refrigerate and then as your teen is dashing out the door, hand it over. The lid keeps it all in one place and your child eats breakfast. Mom for the win!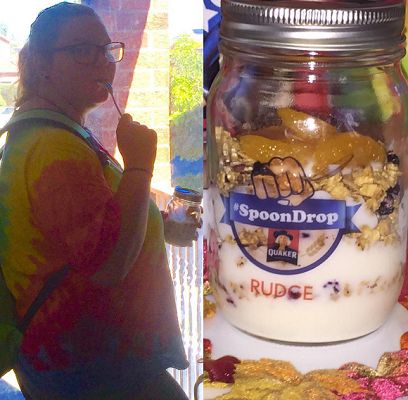 The Morning Song and Dance
No matter how many times I have said it, my children don't like to pick out their clothes the night before. Or make sure their backpacks are ready. The morning song and dance of, "What am I going to wear?" and "What did you do with my homework?"  throws everyone off their game. My new found solution to ensure they have breakfast is to make Quaker Large Flake Oats the night before! In the morning you need only heat it up, top with fruit and a glass of milk and you are queen for the day! I tried out these fancy bowls and was shocked at how breakfast time suddenly became interesting. The older one even asked for seconds.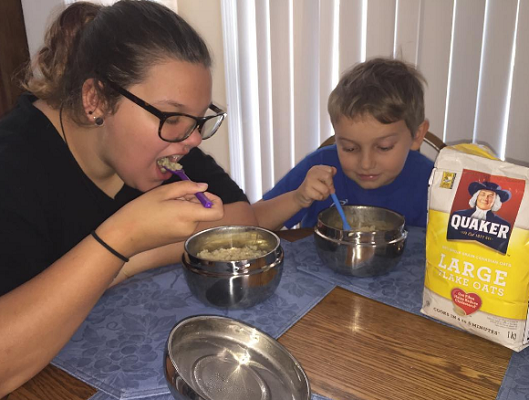 In my many years on this earth, I have learned a few things that you will probably agree with like,
Nothing in life is for free.

Getting enough sleep means I am not cranky the next day.  

Never waste an opportunity to tell someone you love them. 

Always have an umbrella, an ice scraper and first aid kit in your car.

Drinking eight to ten glasses of water really does make me feel full.

Don't just brush; floss your teeth too. Every single day.

Treat people like you want to be treated.

Karma is real.

You will never know unless you try, and

Breakfast really is the most important meal of the day.
Tell me, what #SpoonDrop moments have you had?
FT&PD
Suz
**Disclosure: This is a sponsored post written for Quaker Oats and PepsiCo.  All opinions and photos are 100% mine.