No one will ever accuse me of being a techy sorta gal, but hey, I am learning! I have come a long way from the days of saying I could do with never owning a cell phone.  Now you would be hard pressed to find me without my beloved iPhone on my person, or at least within arm's reach.  Just ask my kids.  Actually, don't ask my kids because they are probably going to want to use my phone.  I wish I was kidding.
One thing I do know about all this tech (I love using that term from Big Hero 6) is that it does not run on love, or know how, alone.  Cell phones, tablets, laptops, cameras; they all have one thing in common and that is the need to be charged up at some point. Now pretty much any new item you purchase will have it's own charger, but what about when you are not home? How do you charge it up then?  My family does have a couple of charging blocks, which are a great addition to your tech wardrobe and they work sort of like having a back up battery does.  You keep it with you and use your own charging cord to recharge the battery of your cell phone.  Great idea, perfect for on the go people.
Recently my family and I had the opportunity to take a vacation and among our many suitcases was a bag, a padded knapsack, that was entirely devoted to our tech. We had a couple of tablets and iPad mini,  three cell phones, an iPod and two cameras. Oh, and the charging blocks. Excessive? Maybe, but it all got used at some point and the item that was probably used the most was our Inateck 4-Port 30W USB Travel Wall Charger. This little baby was provided to us by Inateck to test out and it did not disappoint. As with most hotel rooms you are limited in the number of wall sockets there are and with all this tech I knew we would need a better way to get everything charged up. And plug in my night light..
The Inateck 4-Port 30W USB Travel Wall Charger ( it does come in a variety of sizes starting with one port and going up to five!) comes in a handy size and has two ports for Super Charging and two "regular" ports that will charge at the pace your tech normally does. The Super Charge ports allowed us to plug in our personal cell phones, then switch them out for the charging blocks we took on the go with us.  Not having to leave something plugged in all night made better use of our time and assured our tech was fully charged when we needed it to be. Plus I was able to leave my phone on the nightstand for a back up wake up call and not leave it plugged in half way across the room.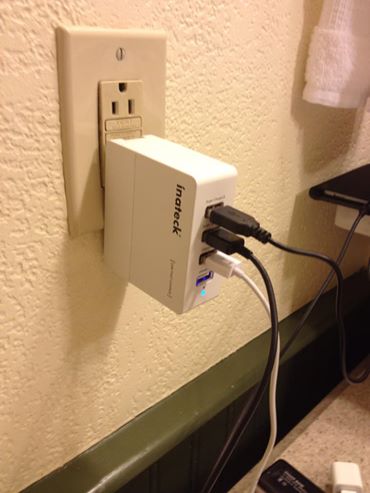 Inateck has a wide array of amazing items to help boost the power of your tech, add to it, accessorize it and so much more.  Their delivery turn around time is extremely fast so if you need a travel wall charger for an up and coming trip make sure you check them out today! Or if you have some time check out this fabulous giveaway:
Inateck is sharing with MapleMouseMama readers and giving away a 4-Port 30W USB Travel Wall Charger!! How great is that?! All you need to do to enter is fill out the Rafflecopter form below.  This great giveaway is open to residents of both Canada and the USA who are 18 years of ago and older. There is no purchase necessary to enter. The ARV is $25, but a great charger is truly priceless. 🙂 This giveaway will end on March 22nd, 2015.  Please read all of the terms and conditions before entering.  Good luck!
Check out the Inateck site and tell me what item you would love to try out most? I have my eye on a lovely Bluetooth speaker. 😉
FT&PD
Suz