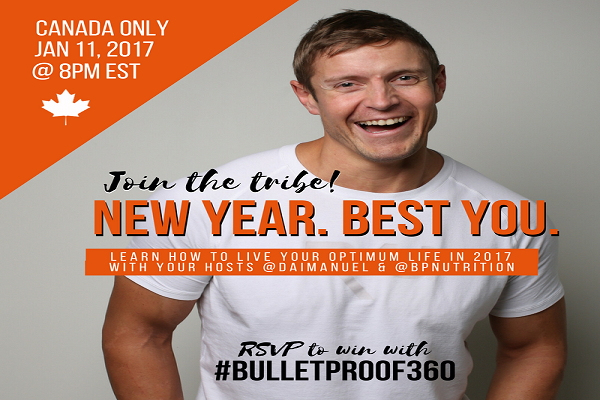 A new year is a great time to explore opportunities to improve your life, change your outlook for the better and strive to put yourself first. After all, when you feel better about yourself, you have more to offer those around you. Your family will benefit from your happiness, your work-life balance will even out and everything else will follow suit. 🙂
This past December I got a jump start on exploring ways to improve my life when I gave myself the gift of a week with Bulletproof Coffee. What a week that was! Even after the first sip I could tell I was in for something special. The fun will continue in 2017 as I learn more about living my optimum life with Bulletproof360 and Coach Dai Manuel from the Whole Life Fitness Manifesto! This wonderful program asks you to commit just 30 minutes a day to yourself and the best part is you can sign up for free!
Give yourself the gift of an opportunity to improve your body, mind and spirit with the WLFM FREE 28 day New Year Best You Challenge and join a supportive group of people who are committing to being better in 2017!
#Bulletproof360 Twitter Party on Wed, January 11th at 8pm EST!
Come on out and party with us!! Join the #Bulletproof360 Twitter party with Coach Dai and Bulletproof 360 to gain inspiration on how you can make 2017 your best year yet!! 
Hosts: @daimanuel @Bulletproof360
Date: Wednesday, January 11th at 5pm PST/8pm EST
Hashtag: #Bulletproof360
Canada only for this party. Our US friends can party on January 24, 2017. 🙂
**Remember to RSVP to the party in order to be eligible for the awesome prizes and to indulge in the fabulous conversations! I hope to see you there!!
Will you be joining us at the #Bulletproof360 Twitter Party?
FT&PD
Suz