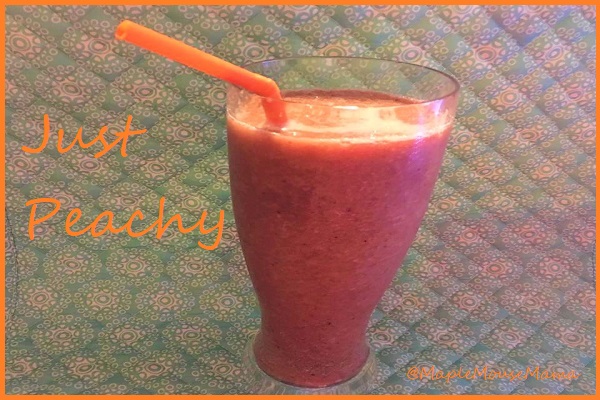 I have not been one to shy away from fruits and vegetables and thankfully, neither are my kiddos, but my husband has never been one to reach for nature's laxative without good reason.  It's not that he doesn't like the taste of fruits, he just has his preferences and they are usually the more expensive items like cherries.
While my children have no problem including fruits and veggies in their diet, with school back in session it tends to be the last thing they eat from their lunch box. So we decided to try a different approach to getting the recommended number of servings per day, as supported by Canada's Food Guide. You can see the daily suggestions below.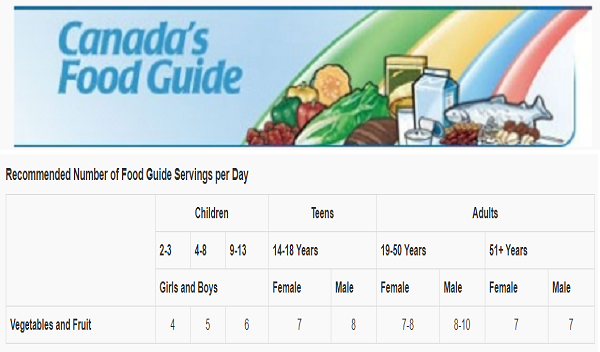 The thought was to turn some of those less than desirable fruits and veggies into smoothies. Not a new idea by any stretch, but new for us. We started by purchasing one of those blender type machines that will crush ice, which I highly encourage you to do if you plan on making smoothies.  My husband then went a little overboard buying frozen fruit, like cherries (big surprise), blueberries and strawberries. You might want to watch for sales before going crazy. And fresh fruits work well too.  We had some canned peaches on hand already (store brand, bought on sale) so that was the first type of smoothie to be experimented with, or should I say on. 🙂 
Just Peachy Fruit Smoothie
Ingredients:
1/2 can of halved peaches in light juice (approx 400ml)

1 cup of ice, crushed (about two handfuls of large ice cubes)

1 tbsp of lime juice
Directions:
Put your ice cubes in the blender and crush to nice larger chunks.

Add your peaches, juice and all.

Add the lime juice.

Press the blend/crush directive for ten seconds and check the consistency of the mixture. You may find you want the ice to be thicker or smaller.  I prefer the larger chunks of ice, so everyone will be different.

Serve in a tall glass with a straw. 🙂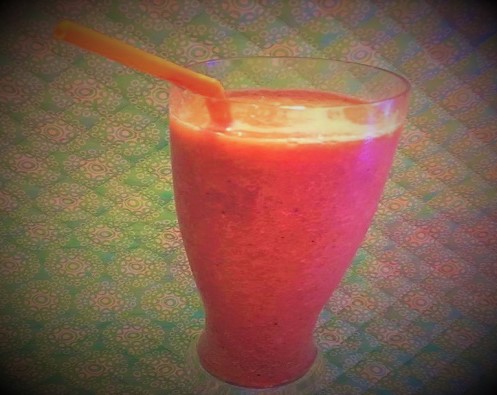 This recipe will make about 1 & 1/2 cups or 12 ounces. 
Super easy to make and it tastes great! I found this concoction to be very pleasant, but my hubby felt it lacked something. Probably those darn cherries, so you can guess which one we are going to try next! 
Do you like smoothies? What is your favourite recipe that we could try?
FT&PD
Suz
**Need some inspiration? Check out these great recipes!