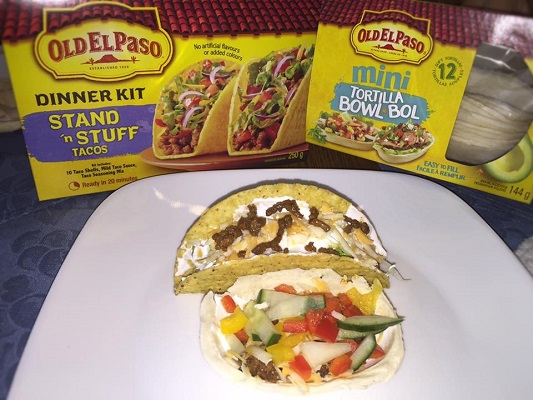 Now that my kiddos are getting older, with the newly minted teen acting like she is 25 and the seven year old just being a seven year old, I have found we can expand their palates a little bit. This means we get to add a little more variety to our meals, maybe even some new spices every now and then. When your child has only been eating a rotation of spaghetti, chicken or cereal for dinner, it is a very welcome change. But how do you capitalize on this willingness to try new foods and not risk a complete shut out when the first "yucky" thing is introduced? By inviting my old friend Old El Paso, to the table.
The first time I ever had a taco was when I started to date my hubby. It was love at first bite (and sight, but that is a story for another day 🙂 ). I was kind of a picky child myself, so to branch out to something as savory as Mexican food was a huge deal for me! It quickly became a new favourite  and after we were married, we would often have nachos, tacos or fajitas for a weeknight meal. So you can imagine just how much we have been looking forward to our kiddos tackling a taco or noshing on nachos. Thankfully they have both embraced the zestier side of life. 🙂
One of our favourite ways to enjoy Mexican food has become our version of Taco Tuesday. I say "our version" because it happens any day of the week and sometimes even more than once! I found that my children were more inclined to try new foods if they had a say in what we served. I have to admit that prior to the discovery that my kids will eat spicier foods, I had a pretty basic menu of options to adorn my tacos. But now that my children are playing a role in the meal planning, we have all actually added to our taco topping repertoire. And it's fun! We have taken the creation of the taco topping bar to new heights.  Behold!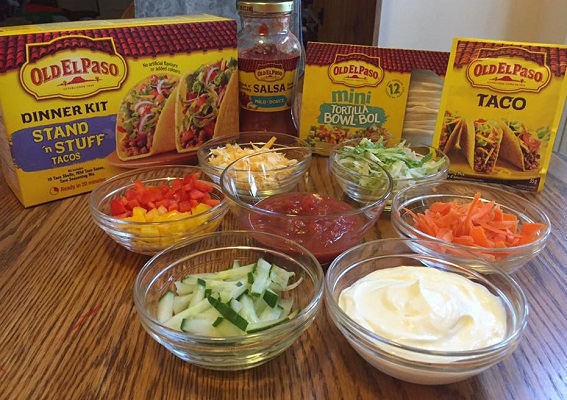 We still use the reliable standards like grated cheese, shredded lettuce and sour cream for our tacos, but now we have added things like chopped cucumber, sliced peppers and even grated carrots! We have also changed it up by making not only ground beef, but ground turkey as well. The idea was for each of us to suggest a new addition to our taco topping bar and then we all try it. This has led to some new favourites being discovered, like finding out the seven year old loves Old El Paso Thick n' Chunky Salsa, Mild! I was floored to see him scooping it up with delight!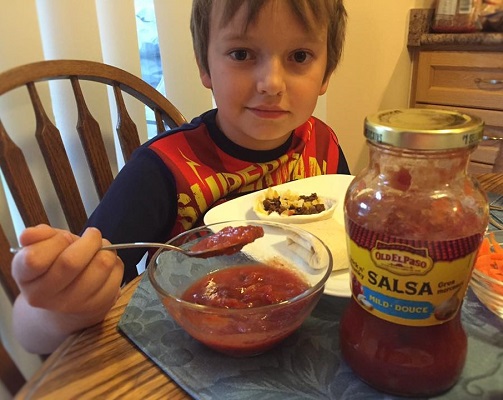 Perhaps one of the best new discoveries we have made from Old El Paso is their new Tortilla Bowls. These soft tortilla bowls are perfect for creating your own dish in. My daughter Emily has been making her own version of Taco Salad for a while now.  It is usually made of leftovers from our nacho nights, with some crushed up taco shells added in.  When I showed her the new Tortilla Bowls she was so excited and immediately started to plan her next creation!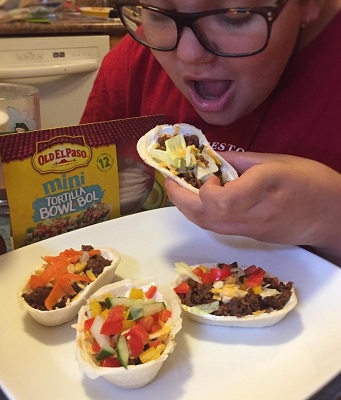 One of the main reasons I look forward to our family's taco night each week is that it gives us a chance to reconnect after a busy day.  We have fun with the menu, chat about new things to try next time and just enjoy each other's company.  Tacos are an easy meal to put together and you can even make the meat a few days ahead of time.  Having the kids participate gives them a sense of independence and something to be proud of. I suggest the next time you want to make a fun and delicious meal for your family, get them to Taco Bout It with you and see what happens.
What is your favourite Mexican dish?
FT&PD
Suz
This post is sponsored by Old El Paso. In exchange for this review, I have received special perks in the form of products and/or compensation.  All opinions on this blog are my own.