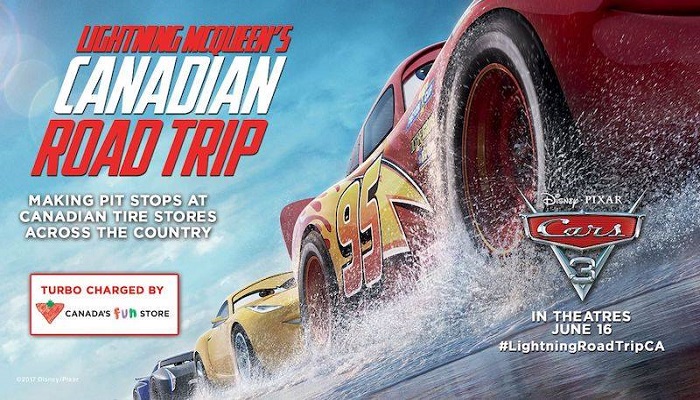 Fans of the amazing Disney•Pixar hits "Cars" and "Cars 2" will be jumping for joy when they hear the news. This spring, just in time to kick off the newest film to join the popular franchise, fans will have the chance to meet a life-size lookalike of the five-time Piston Cup champ when Lightning McQueen's Canadian Road Trip hits the open road! 
Making eight pit stops along the way, the cross-country tour kicks off in Vancouver on April 29th and ends in Halifax on June 17th, just in time to celebrate the release of "Cars 3" on June 16th!  🙂 Throughout the road trip, Lightning McQueen's life-size replica will be stationed at select Canadian Tire locations in eight markets including Vancouver, Calgary, Edmonton, Winnipeg, Ottawa, Toronto, Montreal and Halifax. 
At each location, racing fans will have the chance to have their photo taken with the life-size character car, plus test their motor skills at a remote control racecar track.  In addition, Disney Channel will be hosting a Kids' Activity Pit Stop area with free "Cars 3" arts and crafts for visitors.
Find out more here: www.facebook.com/WaltDisneyStudiosCanada
ABOUT THE MOVIE
"Blindsided by a new generation of blazing-fast racers, the legendary Lightning McQueen (voice of Owen Wilson) is suddenly pushed out of the sport he loves. To get back in the game, he will need the help of an eager young race technician, Cruz Ramirez (voice of Cristela Alonzo), with her own plan to win, plus inspiration from the late Fabulous Hudson Hornet and a few unexpected turns. Proving that #95 isn't through yet will test the heart of a champion on Piston Cup Racing's biggest stage! Directed by Brian Fee (storyboard artist "Cars," "Cars 2"), produced by Kevin Reher ("A Bug's Life," "La Luna" short) and co-produced by Andrea Warren ("LAVA" short), "Cars 3" cruises into theatres on June 16, 2017."
Have a peek at the touring schedule below: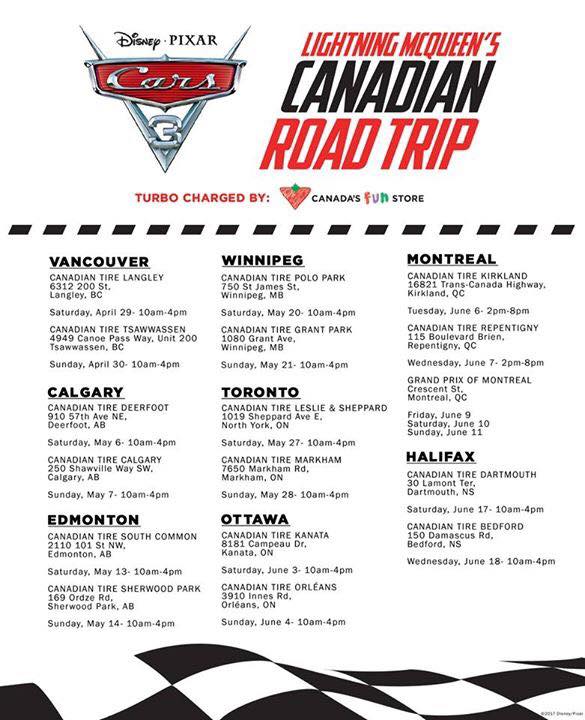 Who is your favourite character from the Cars line up?  I have to say I am partial to Mater. 🙂
FT&PD
Suz