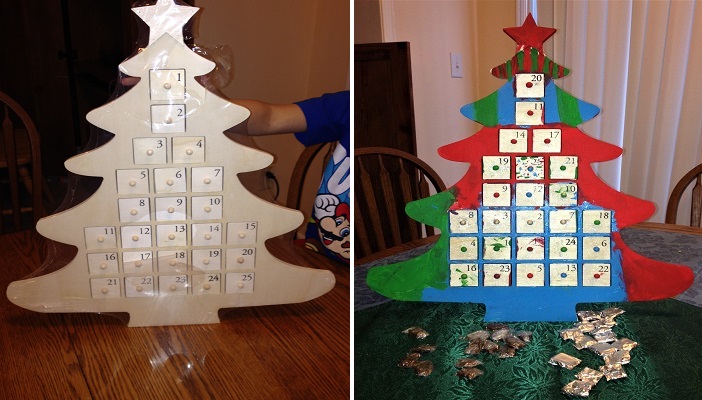 Advent marks the beginning of the holy season of Christmas in the Christian faith; a time when we celebrate the birth of Christ. There are many special things that occur during this wonderful time of the year and while the Church marks those days leading up to the big day in a certain way, many people use this time to countdown to December 25th. One such way is to have an Advent Calendar at home. 
Advent calendars have taken on a whole new look since I was a youngster. I am not even sure we had one every year; at least until I was older. But once I had my first child, I decided that I wanted to have her participate in this fun tradition, outside of the regular things we do (like attend Church etc.) You can purchase an advent calendar in just about every grocery or department store and that is what we did.  For a couple of dollars you can get a small chocolate treat every day for the month of December. It's cute, doesn't cost much and children look forward to it every day.
Then my son was born.
For the first couple of years it was not a big deal to buy just one Advent calendar because William was too young to participate, but when he became old enough I was faced with a new challenge: all of these calendars held chocolate that might contain peanuts, tree nuts, eggs and dairy. William was allergic to all of these things. Nowadays you can get an Advent calendar that is nut free or has a toy inside, but several years ago that was not an option, so what did we do? We made our own! We have continued to use this cute Christmas Tree Advent Calendar every year and it is super easy for you to make one too.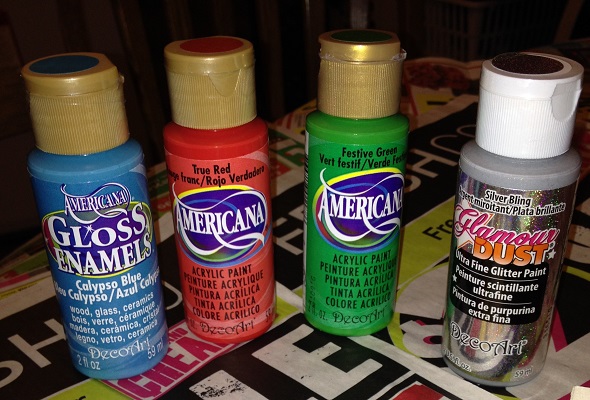 Materials
one unpainted, wooden tree from a craft store

paint

sponge brushes

newspaper

paper plate

water
 Directions
This was the fun part. Our tree was purchased at the craft store Michael's and it was completely ready to be painted. No priming was needed, not even a cleaning because it was shrink wrapped in plastic.  That said you can get other items that need to be primed, so read the label of whatever you decide to use.  This tree shape with the drawers was the perfect answer for us, but you can always use a bunch of small containers or create your own calendar base.
We used a paper plate to put small amounts of the paint on and we removed the drawers from the tree.  As you can see the drawers are prenumbered, which helped a great deal.  But this did mean we could not paint the front of the drawers without being super careful.  In the end the kids decided to just paint the sides and inside of the drawers instead.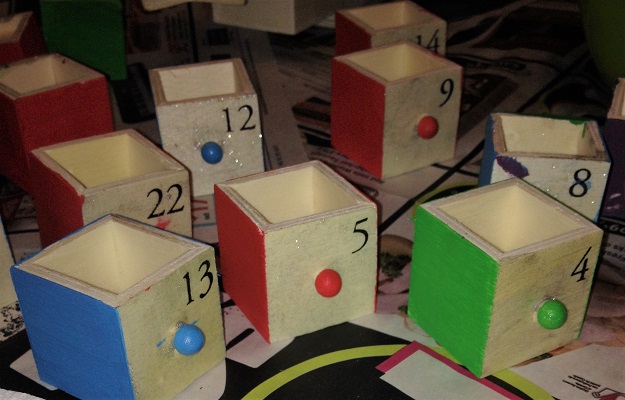 Using sponge brushes was a smart idea.  Each one held enough pain and they were easy to clean afterward. We have continued to use those same sponge brushes for other projects, many times over.
Make sure you lay down plenty of newspaper because this project gets messy.  The drawers were small so it took a bit of patience to paint them, but we had fun doing it. The kiddos had free reign to paint whatever colour they wanted, wherever they wanted. It was their tree after all.  The end result is not dazzling by any stretch, but that part doesn't matter. The kids and I had a blast working on this craft together and every year they talk about using it again. To me that is a job well done. 🙂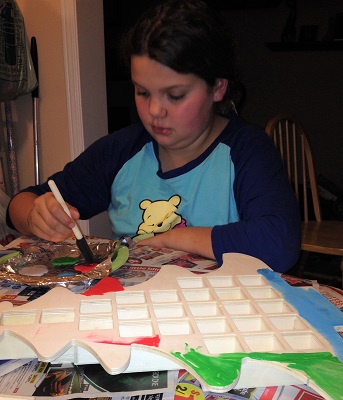 The big decision is always, "what do we put in the advent calendar?" William is still allergic to all peanuts and tree nuts, but there are a lot more options for me to choose from. What I do is buy the safe chocolate for both of my children, but then wrap each piece individually in plastic wrap, then tinfoil.  You can always use wrapping paper on top to change up the look a little bit as well.  Both treats fit in one drawer and that way each child has their own to take out, when they are ready. If you want to steer clear of edible treats, you place a hint in the drawer for your child to discover and then have them search for the item.  Or place a puzzle piece inside, which can be added to each day, until you finish the puzzle.  You can customize this little project any way you need to. The sky is the limit!
Do you and your family get an Advent Calendar each year? Have you ever made your own?
Merry Christmas
FT&PD
Suz
**Be sure to enter the many giveaways we have going on right now, including ones for cash!!
**For lots more great gift giving ideas, please check out the #MMMGiftGuide!