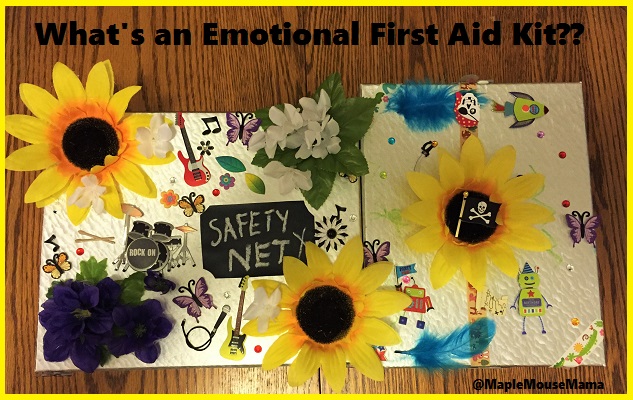 The first time I heard the term Emotional First Aid Kit I was like, "what the what?" Turns out, it's a pretty cool thing and something I believe we could all benefit from having. Much like a regular first aid kit, an emotional one helps to fix invisible boo-boos and offers up immediate relief for when you are not feeling quite like yourself. Let's face it, we all have bad days. Maybe a project you were working on was given a negative review. Perhaps you had a huge argument with your spouse or children. Maybe even a health issue is not moving in the direction you wanted. There are many reasons a person will feel "off" and even the strongest person out there may have trouble dealing with these sudden changes in mood, temperament, etc.
I first learned about Emotional First Aid Kits when I was being treated for depression and anxiety. (Side bar: This may be the first time I have put those two words down on virtual paper and my head is still spinning a bit. ) My therapist suggested it as a tangible way to cope with negative thoughts and feelings that pop up when I least expect it. One way to get back the control you once had over something is to prepare for when you might lose that control. An Emotional First Aid Kit will not fix a long term issue, but it provides some immediate relief.
Now you are probably wondering when exactly would an Emotional First Aid Kit come in handy. After all, we can't predict when we might experience an emotional trauma anymore than we can predict when we might physically hurt ourselves, right? Ahh, maybe not. If you think about it many people have small emergency First Aid Kits in their cars, just in case and I am one of those moms that always has a band-aid and baby wipes in my purse, for emergency purposes, so being prepared for an emotional event is not that crazy. As for the when you would need it, well, much like the warning lights and speedometer on the dashboard of your car that let you know when something is amiss or you are going too fast, your emotions will show you little hints of when maybe that control is going to be lost, even a little.
Have you ever laughed so hard that your sides hurt? Or smiled so much from an unexpected, but beautiful moment that your face starts to ache? What about getting so angry you want to punch something? Or crying so intensely over a movie that you feel drained after? The positive moments will be met with satisfaction and a desire to keep those feelings coming, but the darker emotions, no one wants those pesky things to stay around. Right? That's when you turn to your Emotional First Aid Kit.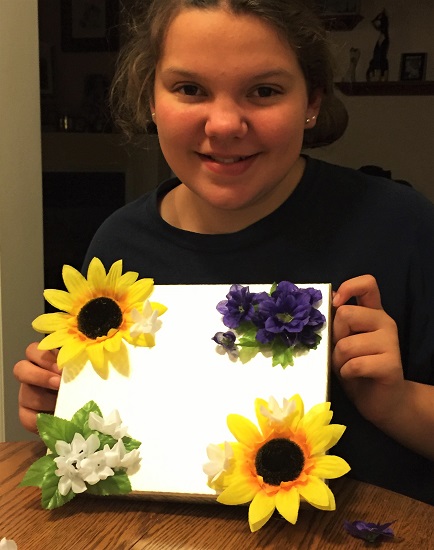 Making your kit is really simple and I had my kiddos get involved too so that we could all make one. There is no right or wrong age to have your own kit, but I look at it this way: the sooner a child learns how to deal with unwanted emotions, the better off they will be. If everyone has their own kit, you can refer to it, at home and even suggest your child have a look through theirs if the need arises. For example, your child comes home from school, they are angry over a mark they received and they proceed to take it out on you. Tempers flare, voices rise and things may be said in haste. If your child can take a few minutes to sit with something from their kit, say a stress ball, this gives them the chance to regain their control over the situation and calm down. You can then talk about it and decide how to proceed from there.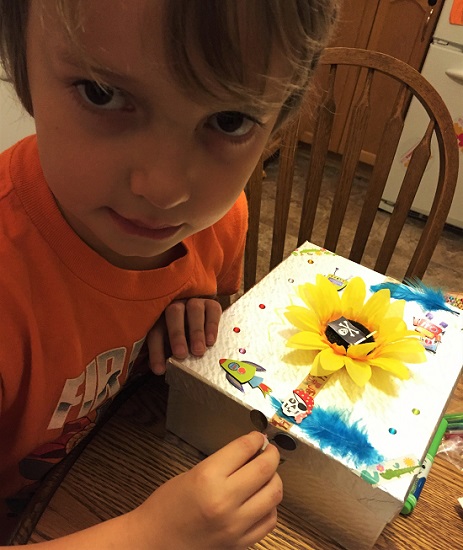 So, how do we make an Emotional First Aid Kit? We treated it like any other craft and bought some supplies from the dollar store. 🙂 We used some boxes that came with lids and we decorated them. I let the kids pick out a few things they liked, such as stickers, feathers, flowers and washi tape and powered up the glue gun. We had a fun hour of making our kits, using our imaginations to come up with a design we wanted and I used that hour to talk about why this kit was an important tool to have.
After that we made a short list of what to put in the box. I suggested the kids think of things that they liked to play with or do to help them relax. Here is what we came up with:
a slinky (toss back and forth in your hands)

a stress ball (to squeeze)

chewing gum (my daughter felt it could relieve tension)

a small rubber ball (bouncing it helps my son to focus)

a notebook (to record thoughts and ideas)

a colouring book and crayons (to change your focus)

music (to listen to and even sing)

a whistle (let off some steam)

deck of cards (to use your hands)

silly putty (redirect your tension into your hands, then the putty)

The great thing about creating your own Emotional First Aid Kit is that it is customized to you. Put in and take out whatever makes you happy. You can't go wrong and might even be surprised at what helps you to calm down.

At the end of the day we had created these cute boxes that could fit anywhere in our bedrooms or office and I felt the kids had a better understanding of how they can cope when their emotions get the better of them and why they should learn to do so. As a person who has lived with depression for a long time, I can attest that negative feelings do not come with a warning sign, but with my Emotional First Aid Kit, I feel better prepared to kick those thoughts to the curb.
What would you put in your Emotional First Aid Kit? My personal favourite item is a slinky. 🙂
FT&PD
Suz