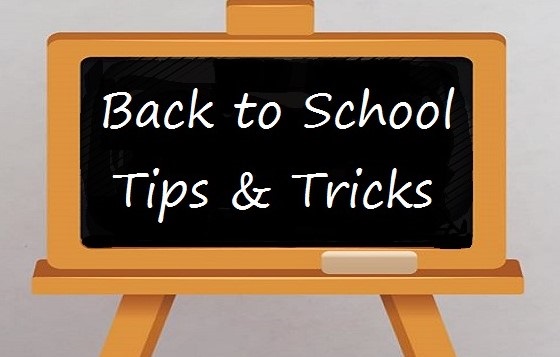 This last week of summer is often fraught with stress as children mourn the loss of endless playtime and parents worry they will never be prepared for the first day school. Every year I tell myself that this summer it is going to be different though. We will soak up every last second of summer vacation without a care in the world! Easier said than done, even for this Type B mama.
I blame this slightly obsessive lack of control on my birthday. If there is one thing that sticks out about every start of the new school year, it is that my birthday always fell either on or close to the first day of school. This may seem inconsequential when compared to starting a new grade, but my birthday always managed to obscure that fact. I guess I was too busy anticipating in what wonderful way my special day would be commemorated to worry about being prepared for school. Inevitably I would wake up on Labour Day or even that first Tuesday and feel a sense of panic that I was nowhere near ready! As a parent I can't shake that feeling and so I stress about being organized. The good news is that this has helped me to create a checklist of sorts that ensures we are ready for the first day of school. Have a peek!
Take Inventory
As much as my teenage daughter would like to convince me she needs an entire new wardrobe to start off the school year, I know that isn't so.  But, I do understand that she would like to have something new to wear, to impress her classmates and maybe show off a little. I am down with that. 🙂 But, taking inventory of what she already has and really does need will cut down on our shopping time and save some money.
Shop Early and Shop Smart
If your kiddos are like mine, they are clamoring for new school supplies even before vacation starts! Unlike some other schools, ours does not provide a list of things your child needs for the next grade, before they start it, so we have to wing it.  I suggest making a list and shopping early.  You can pretty much figure out what they need to at least make it through the first few days, right? Pencils, paper and notebooks, maybe a new backpack and lunch bag and new running shoes.  I suggest shopping early in the month of August so you have a better selection to choose from.  There is nothing like looking for a Pokemon backpack and only finding Super Mario. 🙁
Reset Your Schedule and Put It Into Play
One of the great things about summer vacation is that you get to sleep in. And, you can stay up late. If you're lucky you can even nap in the afternoon.  This can often mess up a child's regular eating time thus making them hungry at off hours.  A week or two before the big day is the best time to reset your child's internal clock. Make sure they go to bed at their normal school night time and after a couple of nights of this, set the clock in the morning for your regular school day wake-up time.  You won't make any friends doing this, but it will make the first week of school a much easier transition. Proper sleeping times will also get them back on track for proper meal and snack times. No more late night ice cream sundaes. Well, at least for now. 🙂
Prep Your Paperwork
The first few days of school my kiddos come home with tons of paperwork to be filled out emergency numbers and all kinds of other information.  I am not sure why this makes me crazy, but I do know that it adds a whole heaping helping of stress that I don't need.  In this age of emails and websites you can break this nutty cycle! Most schools have their own website and many, if not all of the forms you need can be printed off and completed before hand. If you have a question or two that you don't want to forget to ask on the first day, send your school secretary an email! They are always in the office the week before school starts and while they may not reply to you right away, they will be happy to start whittling away their own workload a few days early.  You can be assured you will get a timely reply.  I have already sent two emails this week!
Doctors and Drugs, Oh My!
This could probably fall under the paperwork category, but it actually requires an extra step.  Visit with your child's doctor in the week or two leading up to the new school year.  I always have forms to fill out for my son's food allergies so that we can store an Epi-Pen in the school office.  There is also a form that states he must wear another Epi-Pen and an asthma inhaler on his body.  It is a must to have those with you on the first day of school, ready to hand over to the secretary. Your doctor may want a few days to complete the forms, so get them to him early! If your child is on medication or has recently started a new prescription, for any reason, you will also want to make sure you have enough to get through the first week or so.
Take Notes
If you struggle to make school lunches each day a great idea is to have your kids brainstorm with you before that first day back.  Have each of your children write out suggestions of what they will actually eat.  Tell them they have to include things from certain food groups and then create a menu together.  Give each day of the week a space to have it's own menu and then fill it up! Have a look at this list of ideas that will also help make your lunch planning go a little smoother.  At this point you can make your master grocery list so you can hit the store with confidence and a plan.
More Shopping!
This is going to sound a bit silly, but I love going to the grocery store in the days leading up to the first day of school. Why, you ask? Because of the sales! Late August you are guaranteed to find all sorts of great sales on anything from snacks to juice boxes, bottled water to lunch meat and so much more! You can stock up on enough items to see you through the first two or three weeks of school and will only need to make a grocery run for fresh produce.  That sure beats trekking to the store two or three times a week, fighting all of the parents trying to get something for tomorrow's lunch. 😉
Final Touch
This last tip can be done anytime really, but I try and save it for the last week of summer vacation.  The last item on the to-do list is get my children's hair cut! We make a day of it by heading to the hair salon, then have lunch together and maybe take in a movie or go to the park.  It is a way to sort of wrap up the summer, reminisce about the fun times you had and maybe even chat about what the year ahead has in store for everyone.  And I don't know about you, but my kiddos love to get their hair done. 🙂
Is there anything you would add to this list?  Are you and your children all ready for back to school?
FT&PD
Suz
**For some great prizes to help ease your family back into the school year check out our Giveaways and Reviews page!!