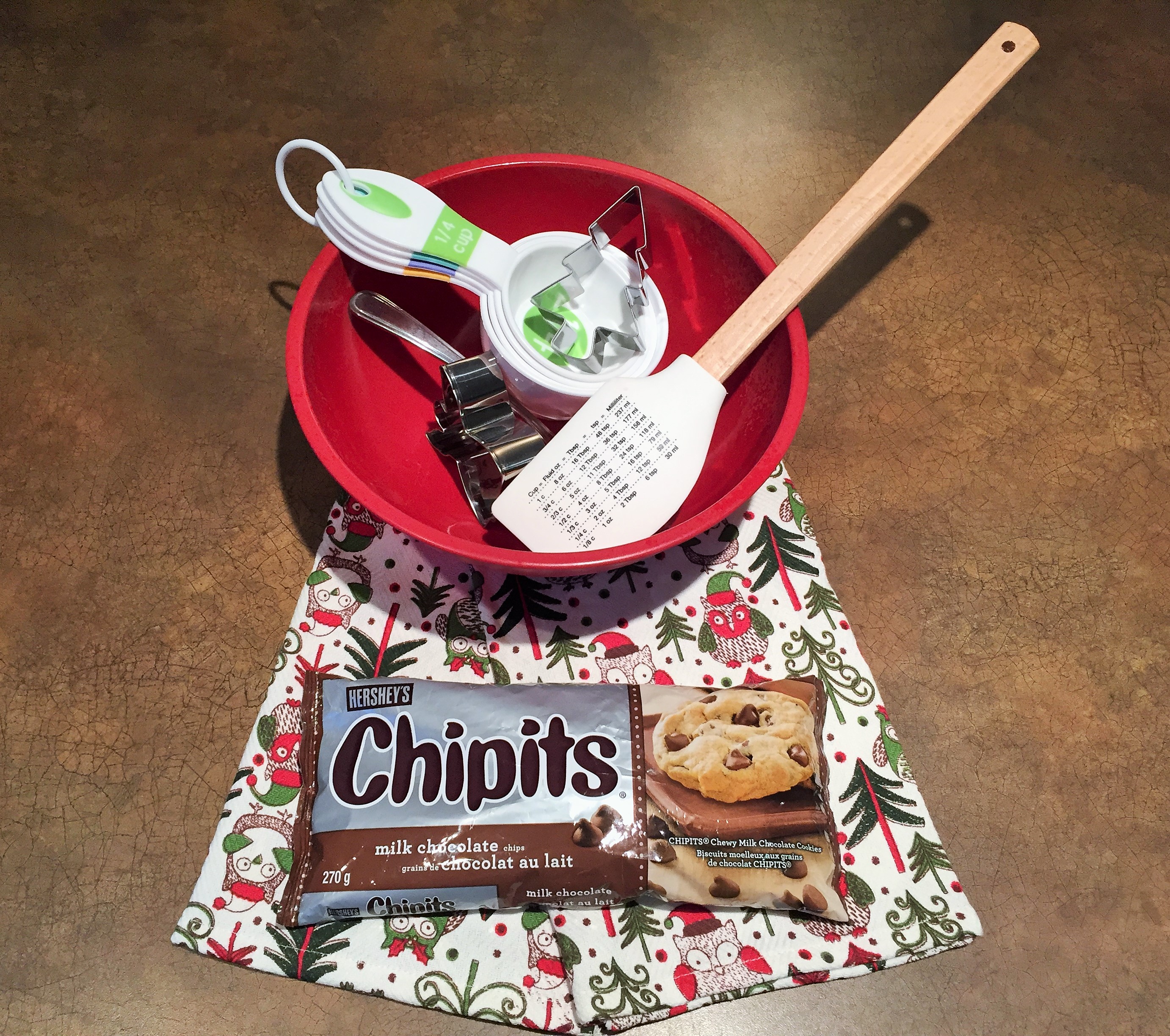 Probably one of the top things to do during the holidays is to bake, right? Cookie exchanges, office parties to attend, gifts for teachers and the mailman ensure that there is a seemingly never ending need for fancy cookies to be made with love.  In the past I have attempted to make cookies and other delightful goodies to brighten someone's holiday table, but I must admit, it is not my most favourite thing to do. If you read my blog you know it is no secret that the kitchen, and all it's little friends, are not my friend.  June Cleaver I am not. That said, I do make the attempt to bake once in awhile, if only to save my kids thousands of dollars in therapy when they are older.
One thing I do like about baking is the abundance of ready made mixes on the market that make it that much easier to give the appearance of culinary competence on my part. 🙂 A couple of weekends ago the kiddos and I attempted to bake cookies with Nana and make some memories.  One thing I can tell you with certainty is, we made lots of them. ♥ ( I should add a disclaimer here that Nana, my mama, is a great baker and does not usually resort to a ready made mix, but she humored me this time. )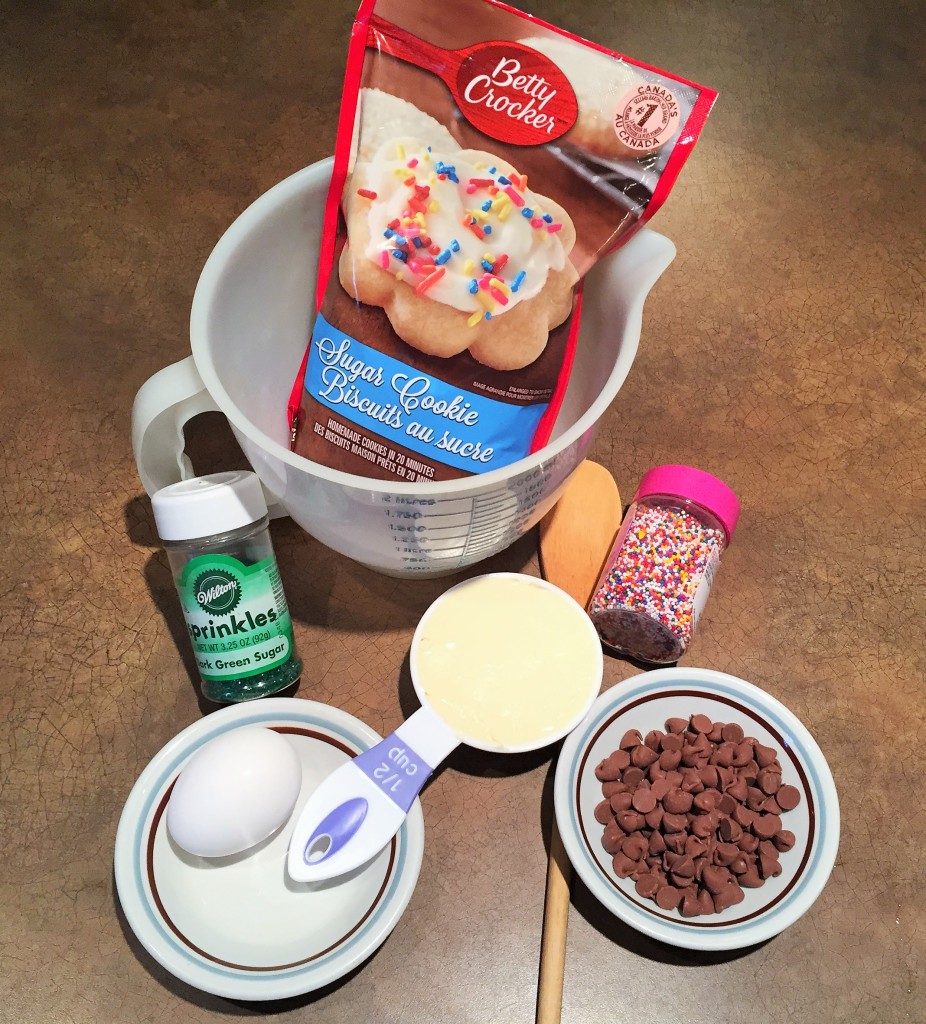 The cookies we made were sugar cookies from a Betty Crocker mix. I chose this one because it is safe for William, meaning no peanuts or tree nuts whatsoever.  Now the normal way to use this mix is to add the few ingredients and then bake the little balls, but we wanted to make cookie shapes. This called for a little creativity on our part. Thank goodness my mama was there because this would have been panic time for me.  While I definitely advocate for following the directions on the package, if you have a decent level of comfort  in the kitchen you can play with those directions a bit.  That is what we did.
Sugar Cookie Balls
The package of Betty Crocker mix had us take the dry mix inside the bag and mix it up with one egg and a 1/2 cup of butter. Easiest thing you will do all year!  Before taking the next step we split the mix in half. The first half for our Sugar Cookie Balls and the second half for using cookie cutters.

The next step is to prepare your baking sheet and make your balls! We decided to be a bit fancy and make a flower cookie. You take your little ball of cookie dough and roll it in green sprinkles. After placing it on the cookie sheet you cut it four, but not all the way through.  Use the tip of the knife to separate the four little sections a bit, but not enough to break them apart (like I did).  We then added a half a sliced cherry to the middle. We did this to several of the cookie balls and with a few of the others we pushed two or three Hershey's chocolate ChipIts into the middle, covering them with dough. Once these balls were cooked we had cute little sugar cookie flowers and sugar cookies with a chocolaty surprise!

Please note that we used Hershey's Milk Chocolate ChipIts. These are safe for William, but some of the types of ChipIts may not be safe for those with a nut allergy. Always read the label. And check out this yummy looking recipe for Hershey's Chocolate Shortbread Cookies! 
Cookie Cutter Sugar Cookies
In order to use some cookie cutters with our sugar cookies we had to take an extra step.  To make a dough that could be rolled we added about a couple of tablespoons of flour to the second half of our sugar cookie mix.  Combining that with the dough (you may need a little water to get it to mix, but very, very little. That's what my mom said, anyway. 🙂 ) we were then able to roll it out.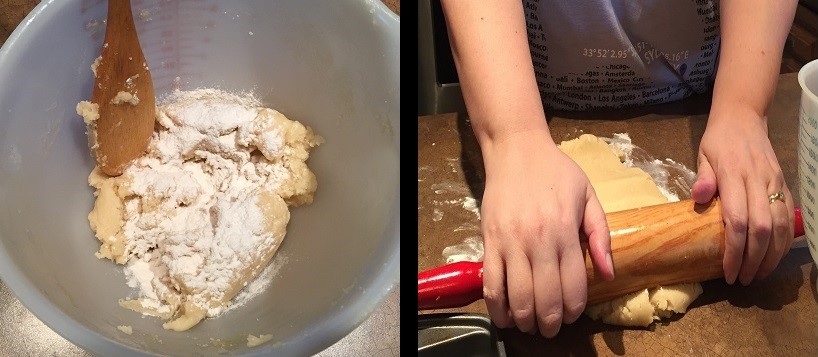 Now the fun began. Up to this point Emily had been helping with the mixing and now William wanted in on the action. After spreading a bit of flour on the clean counter William helped roll out the dough. We used some cute little Christmas Tree and Angel cutters to make our shapes. After placing them on the cookie sheet we added some green sprinkles and put them in the oven to bake.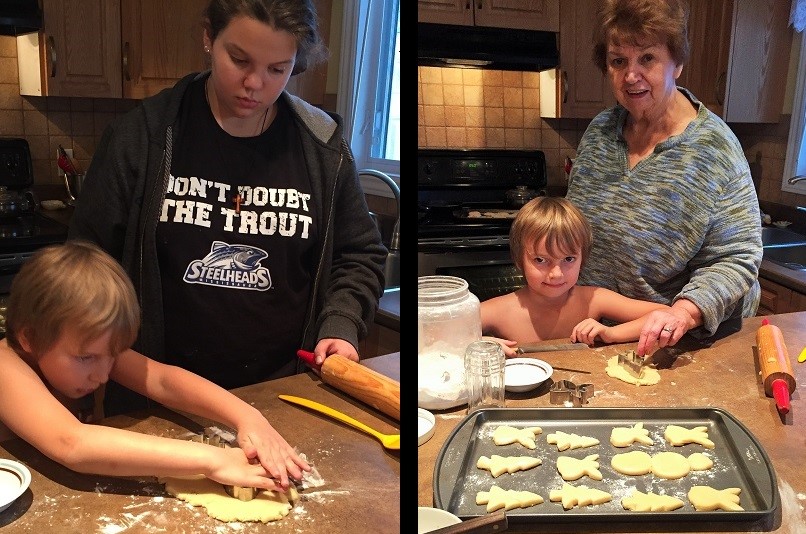 The end result of our experiments were delicious! Who doesn't love a sugar cookie with a nice crunch to it or a sweet surprise inside? 🙂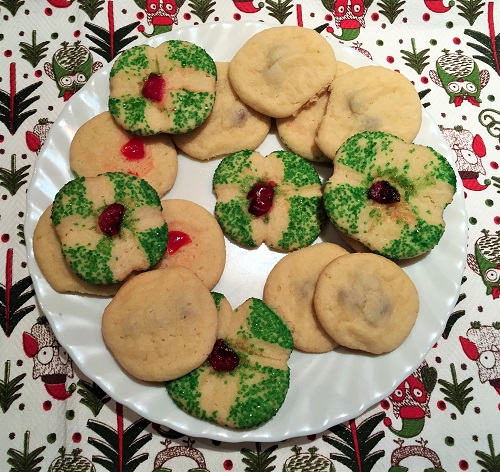 What are your favourite cookies to make (and consume) during the holidays?
FT&PD
Suz
∗∗ For more holiday gift giving ideas check out the #MMMGiftGuide! We have giveaways as well. 🙂
Disclaimer: Although I was sent some Hershey's ChipIts to play with, I was not compensated in any other way.  That said, we only use Hershey's because they are safe for my son. ♥