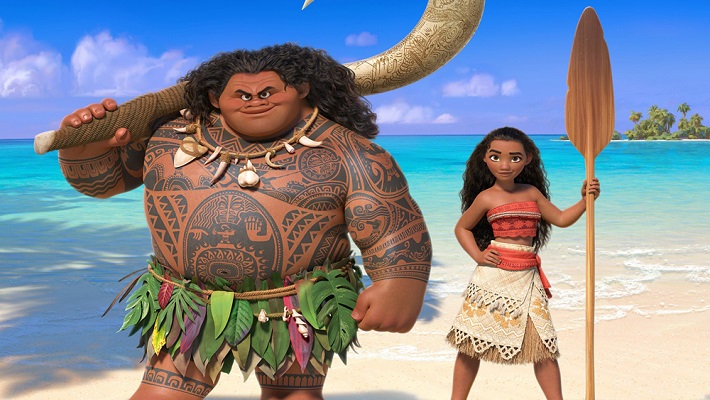 Last week our contributor Lindsey had the chance to take in a screening of the new Disney hit, Moana. Check out what she has to say about this sweet movie! 
                                                      ————————————————————-
I got the opportunity to get an early screening of the new movie Moana on Monday night and several days later, I'm still talking about how much I enjoyed it.
Moana is an adventurous teenager who is determined to save her people by venturing out to sea in search of the mighty god Maui (voiced by the Rock). Once she finds him, they pair up, trying to figure out a way for Moana to help her people and for Maui to find his hook that provides all his power. Although they don't always see eye to eye, they quickly learn that sometimes you have to rely on other people to attain your goals.
Moana, voiced by new talent, Auli'i Cravalho, is a strong, powerful, young woman, that made me proud of Disney for writing such a dynamic character. If you haven't seen the clip of the writers and producers of this incredible movie telling Auli'i Cravalho that she got the role, watch it here. Very cute and endearing!
With movies like Frozen, captivating audiences with it's storyline and catchy soundtrack, it would not surprise me for one moment, if Moana falls under the same trajectory. The soundtrack was written by Lin-Manual Miranda and I can see the soundtrack flying off shelves right after people see this film. I know I'm interested in purchasing it!
As someone who has a four year old niece, who loves all things Disney, I would possibly hold off showing it to her until she's a bit older. Although the concept would be easy to grasp, there is a scene near the end that would definitely result in some nightmares. I think a child should be 6+ to see this film, due to this one scene.   
This movie is very highly recommended and I can't wait until everyone sees it so I can talk about it with them! 
————————————————————–
Thanks for the great post, Lindsey! Moana sounds as wonderful as I would expect from Disney and I can't wait to take my kiddos soon.
If you want to check out some other reviews by Lindsey, have a peek here.
FT&PD
Suz