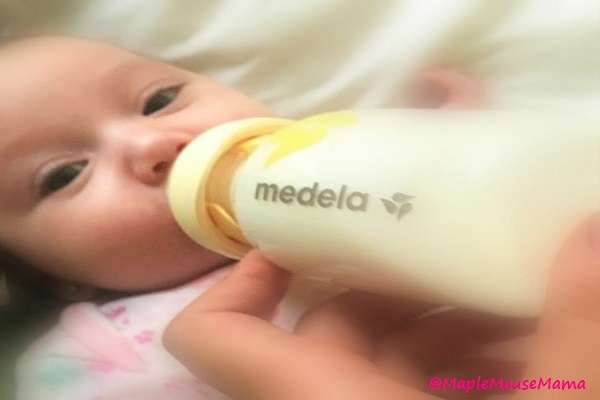 Back when my first child was born, my biggest concern was making sure she received enough nourishment to thrive. Our breastfeeding story was not a typical one; well, at least I didn't think so at the time. For months we struggled to breastfeed. I wrestled with mom guilt about it not working out and worried that I would not be able to keep up with a routine of pumping and feeding many times a day. I can now look back on those days and smile. It all worked out. I still have to credit my amazing Medela Pump In Style breast pump for saving my sanity and helping to relieve my feelings of regret. Mom guilt is very powerful, but it's no match for a double electric breast pump. 🙂
When I recently had the opportunity to introduce my niece Cierra, a new mama, to the Medela Freestyle double electric breast pump, I jumped at it. Becoming a mom for the first time is overwhelming, for so many reasons, without adding in the pressures of working or getting an education. I love that in Canada new parents have access to up to one year of maternity benefits, but that doesn't help when it comes to your education. It was important for Cierra that she continue with her studies and the Medela Freestyle is helping her do that. This wonderful machine allows moms to pump on the go (quite literally too as you can use it hands-free) and it is small enough to tote anywhere. The 2-Phase Expression technology makes pumping an easier and faster way to express, so you can even do it between classes. 🙂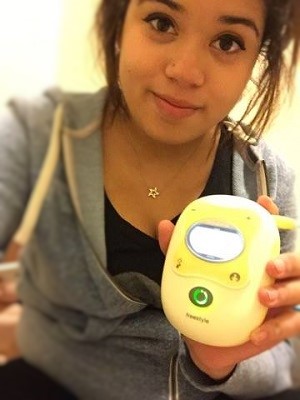 When I first talked to Cierra about the idea of using a breast pump, she was worried that sweet baby Skyler would have nipple confusion and would end up rejecting her breast or the bottle. This is a common concern among new moms and it is totally understandable. Babies get used to the way they do things and feeding is no exception. Nipple confusion can be a nightmare! That is why Medela offers up the Calma feeding system. This ingenious bottle, which is the same bottle one uses with the Medela Freestyle pump, has a nipple that is designed to mimic the strength required from a baby's suck when they are breastfeeding!
Using the Calma feeding system means that Cierra can use her pump when studying and then daddy can feed Skyler. The Calma makes a baby work for their supper, just like breastfeeding. Other bottles just let the milk flow freely into their little mouths and this contributes to nipple confusion and possibly breast rejection. 
Rounding out the great experience of using the Medela Freestyle and Calma feeding system is this awesome app called the MyMedela app. I seriously wish I had this when my children were babies. I still have the notebooks I used to track a year's worth of pumping, feeding, changes, weight etc., but the MyMedela app is the modern day version of my notebooks. It is actually perfect for today's new or experienced moms. If you have a smart phone you have access to advice and information that every parent needs. The MyMedela app has the ability to track everything you do, from feeding times, how much you pumped at a given time, your baby's weight and even their last poopie bum. 🙂 These cool charts even make it easier to share information with your health care provider.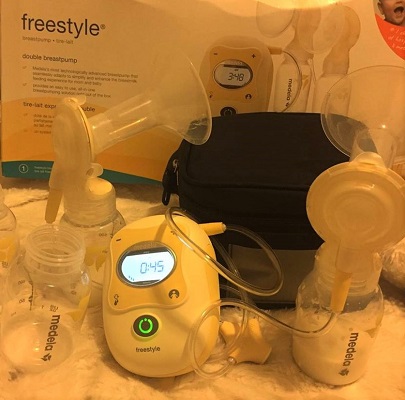 Cierra has shared with me that using the Parent Tested Parent Approved Medela trio of the Freestyle, Calma and MyMedela app has given her a sense of confidence in her parenting style. It may not take away all of the fears moms and dads have about parenting, but it sure makes the journey a little easier.
The Giveaway
We have some exciting news to share! One lucky reader is going to win their very own Medela Freestyle Electric Double Breast Pump valued at $495 CAN!!! Please note this giveaway is open to Canada only, excluding Quebec. Make sure you read the terms and conditions found at the bottom of the giveaway below. Good luck!
Medela #MedelaCanada Freestyle Double
Breast Pump Giveaway

How do you feel about Medela products being tested (and awarded as winners) by real parents like you?
FT&PD
Suz
**Disclosure: I am part of the PTPA Brand Ambassador Program with Medela Canada and I received Compensation as part of my affiliation with this group. The opinions on this blog are my own.