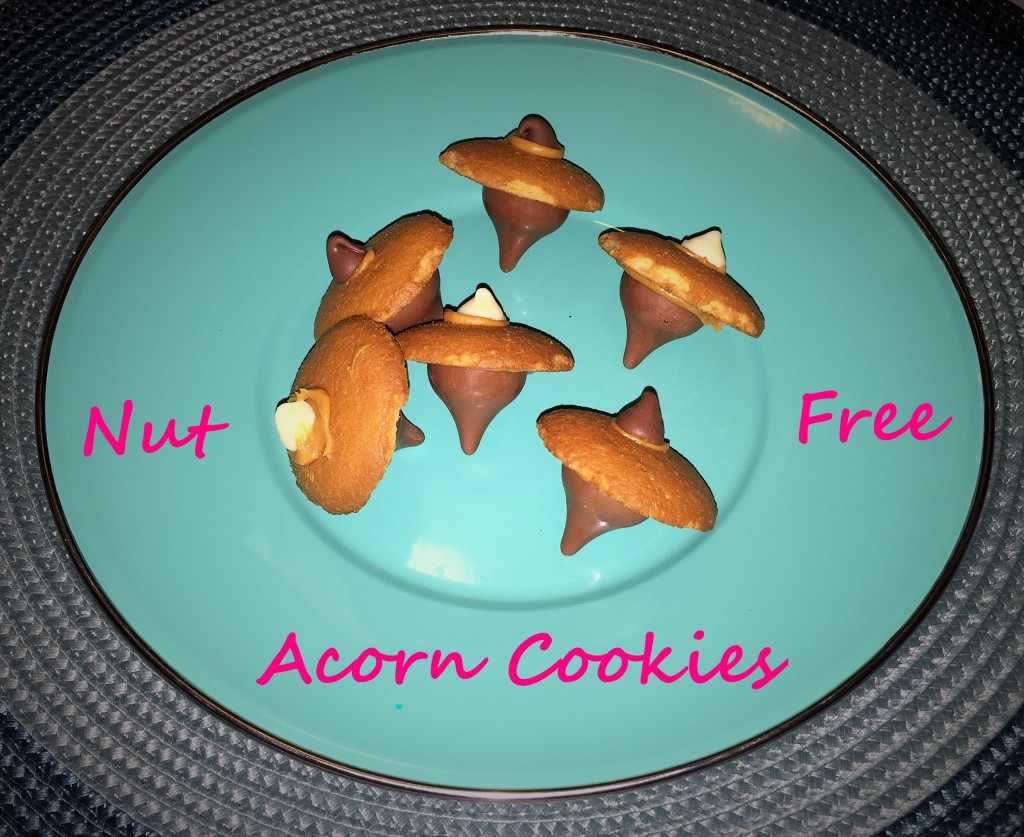 I am all about baking with the kids and creating memories, blah, blah, blah, but it is no secret that I am not a fan of anything kitchen related.  So I was super pumped when I came across this recipe for Acorn Cookies over at Tales of a Ranting Ginger. It is the perfect recipe for me because it requires absolutely zero baking, the kids can join in because it is easy and I was able to adapt it to be peanut and tree nut free! They take no time at all to make, can be done whenever you feel like it and they will make your guests smile when you serve them. Win, win, win! 
Ingredients:
one box of Nilla Wafers

2 packages of Hershey's Chocolate Kisses 

1/4 cup of Wowbutter

1/2 cup of Hershey's Milk Chocolate Chipits

1/2 cup of Hershey's White Chocolate Chipits 

Directions:
This is the fun part.  If you are making these with your kiddos make sure you put down a table cloth for easier clean up. Lots of the Wowbutter ended up on the tablecloth when we made them because it tends to warm up and be gooey. 
Scoop the Wowbutter into a ziploc sandwich bag, pushing it into a corner and cut the tip off.

Grab one Nilla Wafer and pipe a small circle of Wowbutter onto the bottom side. Place one Hershey's Kiss onto this part and press gently so it will adhere.

Next, pipe a dot of Wowbutter onto the top of the wafer and place either a milk chocolate or white chocolate Hershey's Chipit on it, pressing gently.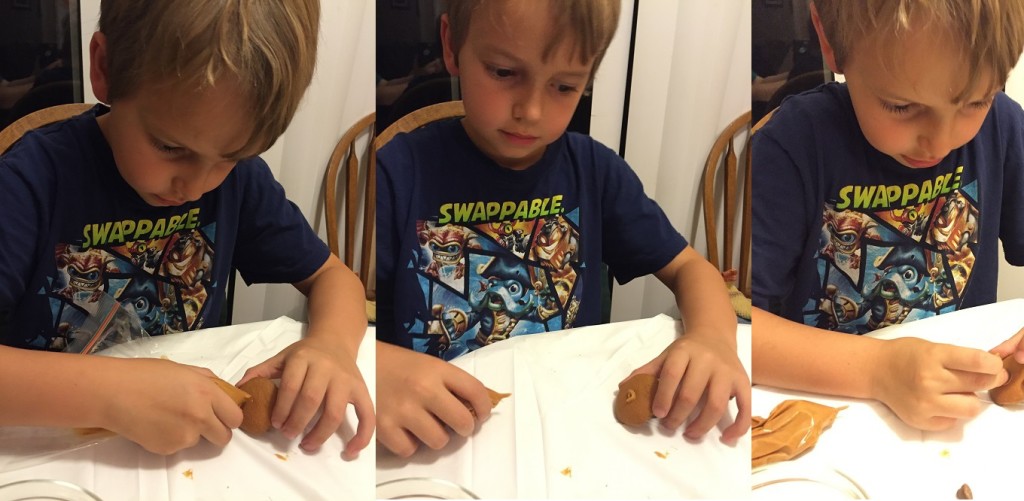 That's it! Told you it was easy. 🙂  The great thing about these adorable Acorn Cookies is that you can really add what you want.  As ours were peanut and tree nut free we used the Wowbutter, but the original recipe from Tales of a Ranting Ginger used peanut butter and peanut butter chips. You could even use the new Reese Spreads for a totally different taste! Mix it up and have some fun!
We plan to make these again for Thanksgiving dinner, but you could make them up for a playdate or a special weekday dessert. How about set it up as a 'craft' during a birthday party? Use them as decoration on cupcakes or add them to your Fall table centerpiece for some added flare. Enjoy! 
Would you make these adorable Acorn Cookies with Wowbutter or something else?
FT&PD
Suz