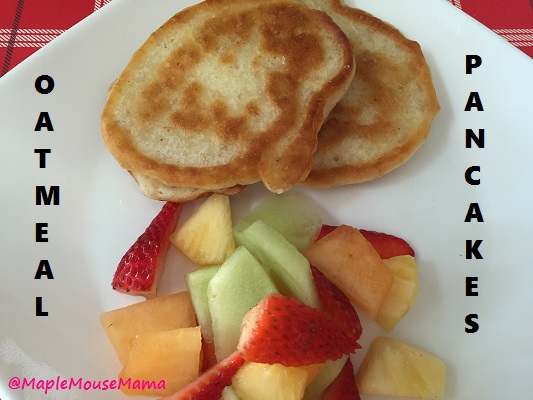 I have the perfect thing for you to make for Sunday brunch this weekend – oatmeal pancakes! Apparently, oatmeal pancakes are not the amazing new discovery I thought they were, but they come pretty close. At least for my family they do. We have never had, nor heard of, oatmeal pancakes before, until my hubby made them recently and I am so glad he did.  What a delightful surprise! I am by no means a breakfast food connoisseur, but I do enjoy things like French Toast, Waffles or a nice stack of buttermilk pancakes, surrounded by a lake of maple syrup and bacon or sausage. Sigh…
Anyway, back to the pancakes. Awhile back we challenged ourselves to eat oatmeal in various forms and it allowed me to stretch my culinary muscle a little bit. I did not realize my hubby was getting in on the act too. These pancakes are an adaptation of a recipe he found, one that he made his own with a few small changes.  The texture of the pancake is soft, but firm and they are oh-so-filling.  My first thought was that an oatmeal pancake would be too heavy, but that was not the case. These yummy cakes will definitely fill you up, but not in a bulky sort of way.  Give them a try!
Ingredients:
1 & 1/4 cups of all-purpose flour

2/3 cup of uncooked oats (old fashioned or quick is fine)

2 teaspoons of baking powder

1 & 1/2 cups of milk (we use skim)

1 egg, whisk before adding to mixture

1 tablespoon of vegetable oil

1/2 teaspoon of cinnamon

pinch of salt

1 cup of frozen blueberries (optional)

1/2 cup of semisweet chocolate chips (optional)

Directions:
Using a large bowl combine your dry ingredients: flour, oats, baking powder, cinnamon and salt. Mix well.

In a separate bowl, combine your wet ingredients together: milk, egg and oil, stirring thoroughly to mix well.

Next, add the wet mixture to the dry mix, stirring slowly, but not with force. Combine the two together just enough to moisten the dry ingredients without over-mixing. If you plan to add in any optional items, this is the time to mix them in, but again, do not over-mix.

Heat your frying pan on medium to high heat, grease your pan as you would normally do (we spray with cooking spray) and then test with a drop of water to see if it is ready.

Depending on how large you want each pancake to be, scoop up the mixture (I use a metal measuring cup). Using about 1/4 cup of the batter, drop your batter onto your hot pan. Turn the pancake when the top starts to bubble a bit and the edges look cooked.  Remove when done.
Oatmeal pancakes are best served hot, straight from the pan, but you can refrigerate them for a couple of days if you need.  We served ours up with fresh fruit and there were none left to store. 🙂
Enjoy!
What is your favourite meal to have in the morning?
FT&PD
Suz