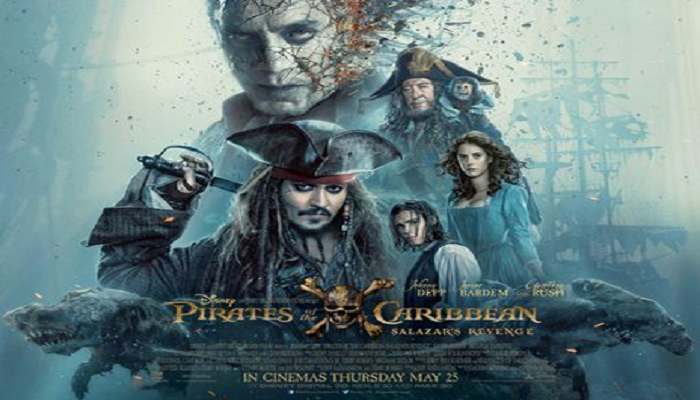 Earlier this week, MapleMouseMama contributor Lindsey Reeder took in an advanced screening of this awesome new addition to the POTC franchise.  Here is what she thought:
Lindsey:
So we all know and love the Pirates of the Caribbean series, but is five versions of it too many? After getting a chance to see an early preview, my answer is… NO. It's not enough. Please make many, many more Disney!! I can't get enough of Jack Sparrow. 🙂
The premise of Pirates of the Caribbean: Dead Men Tell No Tales, is similar to previous movies. Action, a sprinkle of romance and a whole lot of fun. IMDB gives the best description, so let's quote them,
"Thrust into an all-new adventure, a down-on-his-luck Capt. Jack Sparrow feels the winds of ill-fortune blowing even more strongly when deadly ghost sailors led by his old nemesis, the evil Capt. Salazar, escape from the Devil's Triangle. Jack's only hope of survival lies in seeking out the legendary Trident of Poseidon, but to find it, he must forge an uneasy alliance with a brilliant and beautiful astronomer and a headstrong young man in the British Navy."
A big part of why I enjoyed the film so much (other than Johnny Depp) is that they had a strong female character that went beyond the stereotypes of "damsel in distress" and made her an intricate player in solving the mystery. I could have done without her corsets and heaving chest, but I guess, it is a movie.
Orlando Bloom and Kiera Knightly made brief appearances wrapping up their storyline and likely making this their last time in the series of movies. Oh, and Paul McCartney gave a glorious performance! Funny, smart and quick-witted, he was a wonderful addition to the film.
If you're on the fence about seeing another Pirates of the Caribbean film, don't hesitate. It's got something for everyone; perfect for dates, a movie to watch with the kiddies or an "I need a break" indulgence. I highly recommend checking this one out!
You can read more of Lindsey's thoughts on some great movies here.
Do you have a favourite from the POTC franchise?
FT&PD
Suz