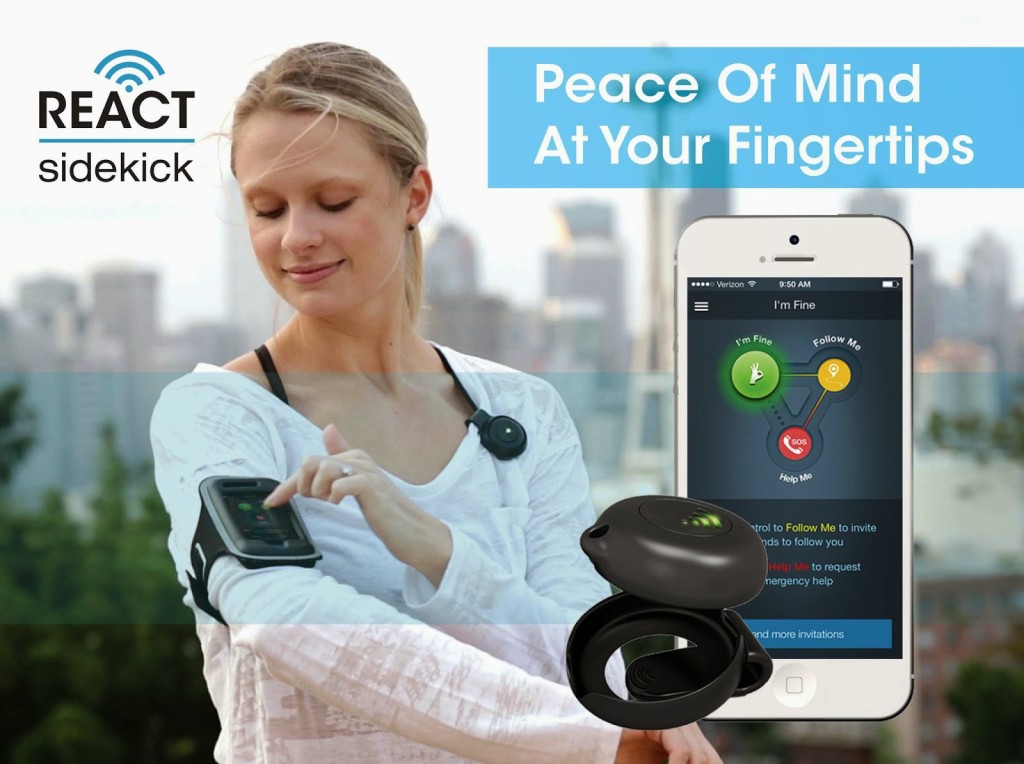 Last year I was fortunate to review the latest in personal safety React Mobile. This free app for your iPhone or Android allowed you to feel safe when walking alone at night or in a parking garage or just when you felt a little nervous being alone. The beauty of this app was that it used GPS technology to send out a virtual distress signal if you needed help.
Today, August 13th, 2014 marks the launch of the new React Sidekick, a low-energy, wearable Bluetooth safety device that pairs with a powerful safety app putting security within reach when it counts. With a simple click of a button the React Sidekick issues a widespread emergency alert, without having to reach for or unlock a phone.
"Since we launched our app (React Mobile) over a year ago, we've been continually evolving our software and it's become clear that an app alone is not enough. That's why we've created the React Sidekick," said React Mobile CEO and Co-Founder, Robb Monkman. "The Sidekick provides peace of mind at your fingertips without the need to find your phone, unlock it, and dial. Simply press a button to send out a widespread emergency alert to friends and family."
The React Sidekick's modular, gender-neutral design is geared toward those with an active lifestyle, especially when alone or in new environments, meeting new clients, or in a new dating situation. The React Sidekick easily pairs with the React Mobile app and can be worn on a clip, keychain and carabiner. It is also a great tool to give to children and teens so they can easily call for help in an emergency when their phone is out of reach.
React Sidekick has a new Kickstarter Crowdfunding Campaign going with a goal of $25,000.  Funds raised will go exclusively towards covering tooling costs for the project. Kickstarter backers can choose between the black tricolored LED React Sidekick for $29 (early bird special) or a special only for Kickstarter color sold exclusively as part of a VIP package for $99.
Features and Specs:

Small modular design that easily clips onto clothing (great for runners)

Panic button pairs with the React Mobile app when in range of the user's phone

Frequency Range: ISM Band 2.4 GHz

Bluetooth Version: BT 4.0 Low Energy

Active Range: 0–30ft / 10 to 30m1+ Year Battery Life
The React Sidekick works with the following devices:
iPhone: 4, 4S, 5, 5C, 5S, iOS 6 or higher
Android: S4, S5, Note 2, Note 3 or higher
Check out the information on the React Sidekick and see for yourself the benefits of this great device.  Calling for help when you truly need it has never been so easy.
What do you think of the React Sidekick? Would you use this device?  Where and when do you think it would be the most beneficial to you?
FT&PD
Suz