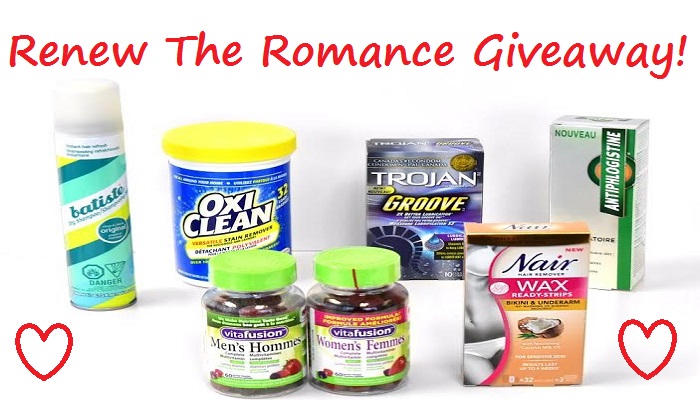 February has long been touted as the month of love, hearts and flowers, but it should not be the only time we encourage our romantic sides to come out and play, right? As parents, my hubby and I find it a huge challenge to commit to date nights or weekend getaways. In fact, I can not remember the last time we had a true date, but we do try to keep things light and fun with little touches. Things like holding hands when you are out shopping or opening the door for your spouse when you return to the car can be so meaningful. ♥
One reason people in relationships tend to let the romance slide is because they are too tired to make the effort. It's not that they don't want to enjoy the company of their significant other, it is that life has gotten in the way and derailed their good intentions. Whether you work full time, have children or both, we all get tired and the first thing to go is often the last thing we should let go – our relationships and the attention we pay to them.
One way to get yourself prepared for some special time with your partner is to make yourself feel good about you! Buy a new outfit, get your hair done or purchase a new lipstick. Go for a walk and get your endorphins going! Church and Dwight has some wonderful products to help you look and feel your best without making a special trip to the salon. And the best part is, they want to give away some!!
The Giveaway
One lucky MapleMouseMama reader is going to win this awesome Renew The Romance Prize Pack from Church and Dwight! To be eligible to win just complete the Rafflecopter below with your qualifying answers. This giveaway is open to Canadian residents, ages 18 and older. Please read our giveaway rules before entering.  This giveaway ends on March 13th, 2017 at 11:59pm.  Good luck!
Prize Pack includes:
Nair™ WAX READY-STRIPS for Bikini & Underarm with Nourishing Coconut Milk Oil: no warming or rubbing required, just peel and place! The new medium size strip is perfect for the bikini area.
OxiClean™ Versatile Stain Remover: to prep for the big night and ensure your bedding is clean and crisp. 
Batiste™ Dry Shampoo Original: Hot date but not enough time to wash your hair? Batiste Dry Shampoo helps to eliminate excess oil, instantly refreshing your hair! 
Trojan™ Groove™ Condoms: to keep you satisfied and help you experience maximum pleasure.
RUB™ A535 Anti-Inflammatory: providing targeted pain relief, this product will reduce muscle aches and ensure you are feeling your best for a special Valentine's Day celebration.
Vitafusion Men's and Women's Multivitamins: are specially formulated for him and her to help maintain good health.  These gummy vitamins are a fusion of essential vitamins, minerals and naturally sourced fruit flavours.
What sweet little things do you and your special someone do to keep the romance alive?
FT&PD
Suz
Disclosure: I am a 2017 Church and Dwight Ambassador and have been compensated for this post.  All opinions expressed are my own.