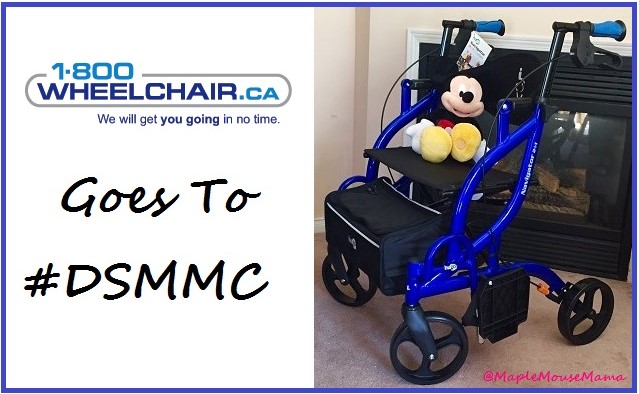 When the coveted invitation to attend the Disney Social Media Moms Celebration (DisneySMMC) came earlier this year, many thoughts ran through my head. First was the one that I still feel every time I talk about it and that is "Is this for real?" 🙂 Unfortunately, one of the next thoughts I had was, "How the heck am I going to get around?" Disney is a huge place and for someone with mobility issues, like myself, it is extremely daunting to think about, let alone tackle.
Amidst all of the planning and research to get ready, I came upon a website I had not heard of before. It's title really captured what I was looking for to help me during our trip – a mobility device. In no time at all I got lost in the impressive list of mobility products and medical supplies that are featured on 1800WheelChair.ca. They have thought of everything! I really was not sure what type of device I would need, but the very helpful customer service reps on the Live Chat were amazing! No matter what your need,  from power chairs to scooters, walkers, accessories and more, the customer service folks know their stuff.  I had an extensive conversation about what I would need the mobility device for, where it would be used and yes, we had to discuss weight, but this was all to make sure that the product I received was exactly what I needed.
Ultimately I decided on the Hugo Navigator Rolling Walker Transport Chair for my chariot of choice. 🙂 It was not even available on the 1800WheelChair.ca site yet, but they ordered it up and had it shipped to my door. Did I mention how fast and efficient the ordering and delivery were?  My new mobility device was here within a couple of days, brought right to my door.  It took very little to put it all together and the tool that was needed to attach the wheels was actually right inside the box!  Add in that 1800WheelChair.ca has the lowest prices, guaranteed, with a very generous return policy and that fabulous customer service I mentioned and you really have no need to shop anywhere else for your next mobility product. They have it all!
If you have never used a walker or wheelchair before it can be a little strange to get used to. I was able to view a guide online that walked through the features of the Navigator and even showed a person using it. The cool thing about this transport chair is that it can be used as a walker and/or a wheelchair because it is convertible! It only took me minutes to get comfortable using it and learn how to fold it up for travel.  This was perfect because I had to take it on the plane with us. And you know what? It did not disappoint. From my home to Florida and back, we put the Hugo Navigator through it's paces. The handy little storage bag was perfect for things like water and the ability to convert to a transport chair saved me more than once. We had an issue with a wheel, but the customer service folks were available to help me right away. When you are in a different country, reliant on an item to get you from one place to another, it is very important and comforting to know that the brand you are working with is trustworthy. 1800WheelChair is, simple as that.
Our time spent at the Disney Social Media Moms Celebration was busy and took us all over the place. The Navigator was used on sand, grass, concrete, cobblestones and even the occasional ferry boat 🙂 and it kept me riding in style. It gave me the confidence to do something I never thought I would do and it looked great to boot! If you find yourself or family member with a short term injury or a long term disability, 1800WheelChair.ca has the products needed to help increase your mobility and get you going in no time!
Have you or a loved one ever used a mobility device before? 
FT&PD
Suz
**Read more about the Disney Social Media Moms Celebration!
Disclosure:  1800WheelChair.ca generously supplied me with the Hugo Navigator for review purposes, but all opinions are 100% mine.
Disclosure: I paid a conference fee to attend the 2016 Disney Social Media Moms Celebration, but was provided with discounted lodging and park tickets as well as complimentary items. All opinions shared are my own.