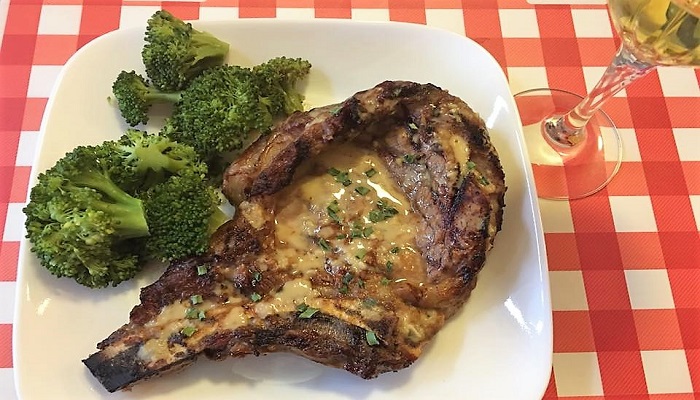 There are two things I love the smell of any time of the year. One is the scent of a log fire and the second is the aroma of grilled chicken or steak on the barbecue.  Toss in a delicious marinade or sauce, like Roasted Garlic Hummus Sauce and I am on Cloud Nine. ♥ Recently my friends at Sabra sent over the ingredients to make up this yummy goodness and we were more than eager to try it out. A good rib steak is my hubby's favourite meal to have so this past weekend the barbecue was host to some lovely "ribbies," but the next time we go with my personal preference, chicken!
The great thing about this sauce was the flavour. It has some surprising ingredients that, when combined together, worked really well to bring out this savoriness to the steak.  As I mentioned, my heart belongs to chicken, but I thoroughly enjoyed my steak! My husband even commented on it when I reached for seconds (he loves rib steak leftovers, but there were none this time around. 🙂 ) Trust me, you want to give this sauce a try.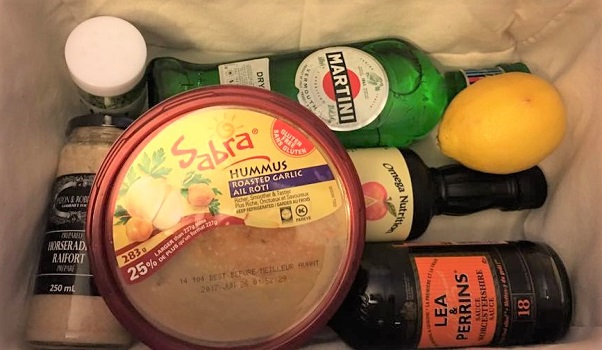 Ingredients:
Rib steaks (we put sauce on two and had two without because, well, picky kids)

1 container of Roasted Garlic Sabra Hummus

1 tbsp of Vermouth

1 tbsp of Worcestershire Sauce

1 tbsp of Apple Cider Vinegar

1 Lemon

1 tsp of Horseradish

1 tbsp of finely chopped Chives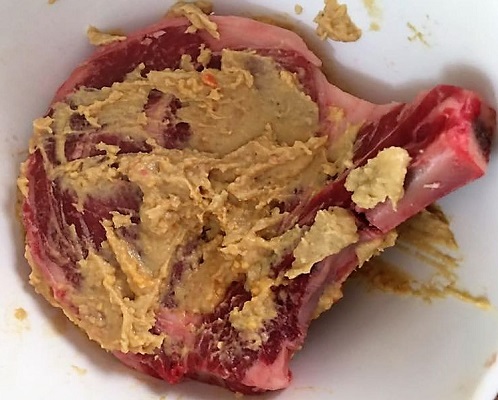 Directions:
1)Place your steak or chicken in a bowl with half of the container of Roasted Garlic Sabra Hummus. Use a spoon to spread the hummus on both sides of your protein and let this marinade for about an hour.
2)In a bowl mix the remaining hummus with the vermouth, Worcestershire sauce, vinegar, horseradish and the juice from half the lemon together. Whisk it thoroughly then set it aside for use later.
3)Barbecue your steak as you would normally prepare it. My husband and I prefer medium rare.
4)Once your steak is cooked, let it rest for a couple of minutes before slicing and serving.
5)Once plated, drizzle the sauce you prepared earlier over your steak and reserve some leftovers for dipping! Sprinkle your chives on and you are ready to eat!
*The preparation time for this recipe was less than ten minutes, however, the steaks did marinade for about an hour. For deeper flavour you could leave them to marinade for much longer.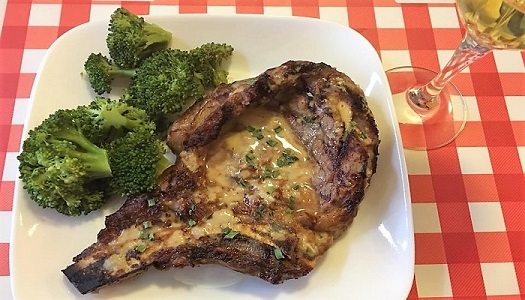 I would love to know if you give this yummy recipe for Roasted Garlic Hummus Sauce a try. I can see it becoming a staple at all of our barbecues this summer. 🙂 And don't forget to pick a side: are you a steak or chicken lover? Bon appetite!
FT&PD
Suz
**Check out some other great recipes you might enjoy!
**Disclosure: This post is sponsored by Sabra. In exchange for this post, I have received perks in the form of products and/or compensation. All opinions on this blog are my own.