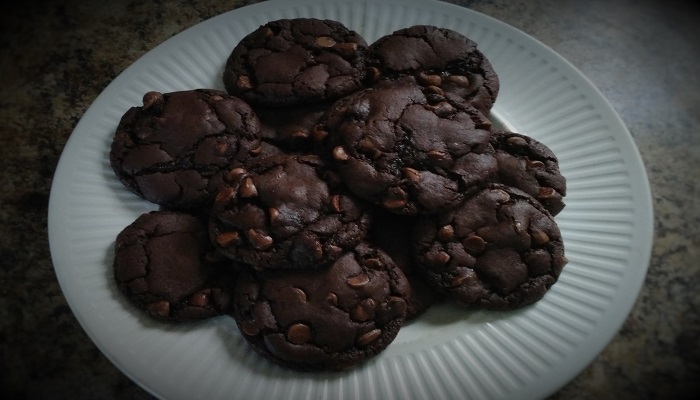 Sometimes the best recipes come from the need to use up leftovers before they go bad. And that, my dear readers, is not a bad thing. Many of the surprise treats my hubby has whipped up have started this way so it is a practice I would never, ever discourage. 🙂 That is how the recipe for Scrumptious Buttermilk Double Chocolate Cookies came about. Can you guess what was left over? Yup, the buttermilk.  It is not something we use very often, but now, after having these cookies, we just may change that.  Without further ado, I give you the recipe for Scrumptious Buttermilk Double Chocolate Cookies!
Ingredients:
2 cups of all purpose flour

1/2 tsp of salt

1/2 tsp of baking soda

1/2 cup of butter

3/4 cup of cocoa powder

2 cups of sugar

1 tsp of vanilla extract

1 cup of buttermilk

1 and 1/2 cups of semi sweet chocolate chips
Directions:
Starting with your dry ingredients, combine the flour, salt and baking soda together. I can remember helping my mom bake when I was younger and for some reason I loved this part! Doing this step now brings back some lovely memories. ♥
Using a fairly large bowl, put the cocoa powder in. Then melt your butter in the microwave for a few seconds, until it is liquefied. Immediately add the melted butter to your cocoa powder, mixing the two together until they are nice and smooth. Next add in your sugar, vanilla extract and buttermilk, whipping the five ingredients together.  Slowly add in your dry (flour mixture) ingredients, mixing it all in until the flour is gone.
Next step is to add your chocolate chips. This is where you can take creative license and add in more than one kind of chip or even something else, like nuts or raisins. We  used semi-sweet chips, but you could try butterscotch to change it up!
Put your cookie dough mixture in the fridge for a few minutes, like maybe 10, just to chill for a bit.
Now you can preheat your oven to 350ºF and prep your cookie sheets, lining them with parchment paper.
Remove the dough from the fridge and prepare to make dough balls! You might want to bring the kids in on this one because well, it's fun! Using a teaspoon scoop out some dough and roll it into round balls about and inch or so thick.  Place on cookie sheet, leaving room for the cookies to spread out as they cook.
Bake your cookies for about 11 to 14 minutes and remember the longer they are in the oven the firmer they are. We tested one batch and took it out at the 11 minute mark and they were nice and gooey. I preferred the cookies to cook until the 13 minute mark so they were crunchy with a soft centre.
This recipe should yield about 4 dozen cookies.
Enjoy!
What is your favourite kind of cookie?
FT&PD
Suz