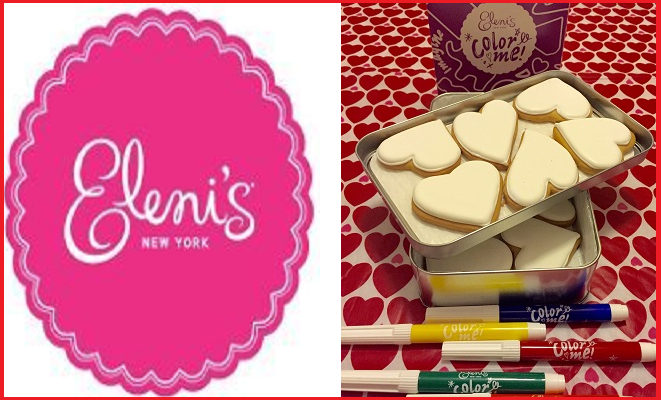 Valentine's Day is not just for lovers and every year I try to make it special for our children.  I can recall receiving a rose from my parents every year and it always made me feel all warm and fuzzy.  Since it often falls on a school day, I have provided a special breakfast complete with decorations and small gifts, which usually includes some kind of candy or chocolate.  But every year I find it challenging to find a peanut and tree nut free option that William can have.  It is all well and good to buy the candy that I know is safe, like Smarties or Kit Kat Fun Size bars, but it drives me crazy that they never make these in the cute, holiday themed packages that they do for their non nut free options. Kids love a special treat that looks like it fits the holiday, am I right? I know I do.
Last year we were fortunate to learn about Eleni's New York,  a playfully unique bakery that is, "gasp!" NUT FREE!!! Aside from that incredibly awesome news, what I love most about Eleni's is the wonderfully fun shapes their cookies come in. There are animals, logos, accessories (who doesn't love a purse shaped cookie?), cars, flowers and so much more! You can purchase these cool cookies already decorated or get their Color Me! kits. Each kit comes with edible markers so that your kiddos (and you 🙂 ) can design their own cookies! Isn't that wonderful?!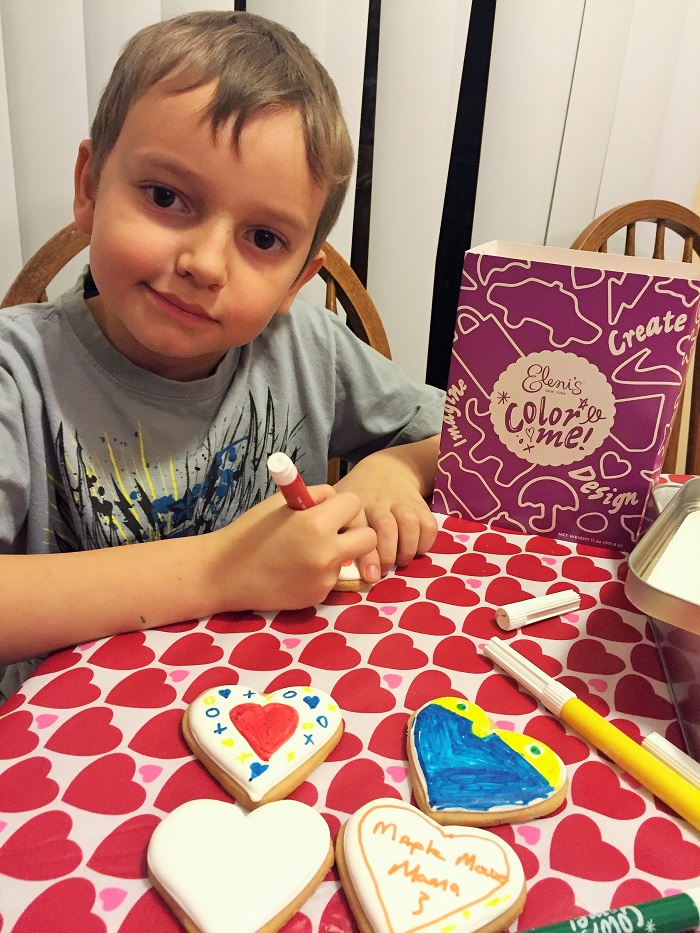 Eleni's recently sent us their Valentine's Day Color Me! kit which is full of their signature hand-iced sugar cookies in various heart shapes. These delicious treats are slightly crunchy and not too sweet so you can enjoy them over and over again. 😉 My kids and I had fun creating our cookie Valentine's to share with each other, but it is also a great idea for giving to other children.  Our school is a nut free zone, so sharing Eleni's cookies with them is completely safe for William and the other kids. I love that this gives my son the option to have an appropriate holiday themed edible treat that is completely peanut and tree nut free! 
Have a peek at William Rocket's video below to see how much fun he had!
So, if you want to share a special treat with your kids this Valentine's order up some cookies from Eleni's New York. Browse their online shop for some great party, birthday and other occasion ideas as well.
Whose name would you draw on a Color Me! heart shaped cookie?
FT&PD
Suz
**To see more decorating of Eleni's cookies, check out this post!
Disclosure: Eleni's generously provided us with samples to try, but all opinions are my own.