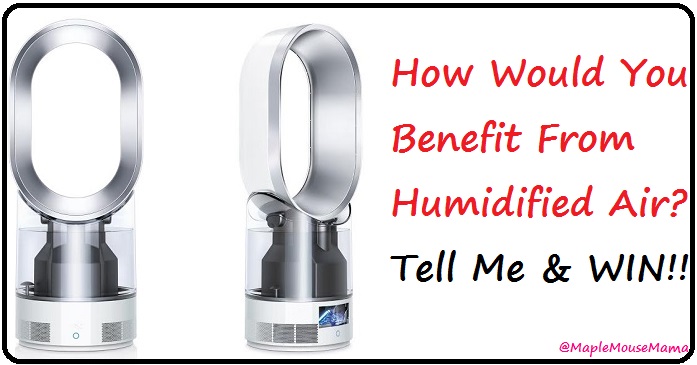 Let's face facts people, the summer is on it's way out and the cooler temperatures are on their way in. I, for one, am thrilled with this news! I love the fall, with the winter season being a  close second. From the changing leaves to the dropping mercury, there is virtually nothing to not enjoy about this time of the year. Okay, well, I can think of one or two things, like icy roads and the dry air, but other than that, it is a wonderful season! But I know not everyone agrees and for the very same reasons I mentioned.  While there is not much I can do to get rid of the ice on the roads, I can make a suggestion as to how you and your family can combat the dry, winter air. With a humidifier in your home!
When my family and I recently checked out the Dyson Humidifier, I was not sure what to expect. I know that Dyson is known for making quality items that help keep your home clean and comfortable, but there is a big difference between a vacuum cleaner, which Dyson is known for and a humidifier, right? With asthma being a close companion in our home and my young son's never ending fight with eczema, I figured it would be worth our while to give the Dyson Humidifier a try.  We were not disappointed.  Have a gander at my thoughts right here.
There are two things that turned out to be my favourite about the Dyson Humidifier. The first was that, unlike most other humidifiers on the market today, Dyson uses Ultraviolet Cleanse technology to kill 99.9% of the bacteria in the water reservoir, before the humidifier actually does it's assigned job, which is to provide hygienic humidification to your home. The Dyson Humidifier than projects that clean, hydrated air throughout your home evenly, thanks to the patented Dyson Air Multiplier™ technology. Other humidifiers breed bacteria in the stagnant water, but don't kill it, so that is what your family is breathing in.
My other favourite feature is the fan. The Dyson Humidifier has the unique ability to become a stand alone fan, sending a cool breeze into your room and all without the use of blades! That makes it very safe for just about any room in your home. Think of your nursery or child's bedroom. The Dyson Humidifier will provide a clean, safe environment for them to sleep, giving you peace of mind. ♥
The Giveaway!
Dyson and MapleMouseMama want to help one lucky reader experience the same amazing benefits we have by giving away one Dyson Humidifier!! To be eligible to win share a Tweet or Instagram post explaining how you would benefit from humidified air in your home, office etc. Just tag myself, @MapleMouseMama, @Dyson and use the hashtag #DysonHumidifier in your post! Here is an example!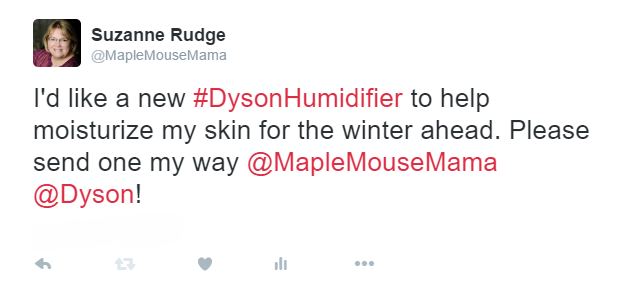 Once you have shared your tweet or Instgram post, come back and let us know by leaving a comment on this post (**) AND complete the Rafflecopter below. This giveaway is open to Canadian residents, ages 18 and older, excluding Quebec. Please read our giveaway rules before entering. This giveaway ends on October 5th, 2016 at 11:59pm.  Good luck!
How would you or your family benefit from humidified air?
FT&PD
Suz
**Please note: if you do not have Twitter or Instagram, but would still like to enter, please complete the Rafflecopter with your qualifying answers. 
**For more fabulous prizes, make sure you check out our Giveaways and Reviews page!