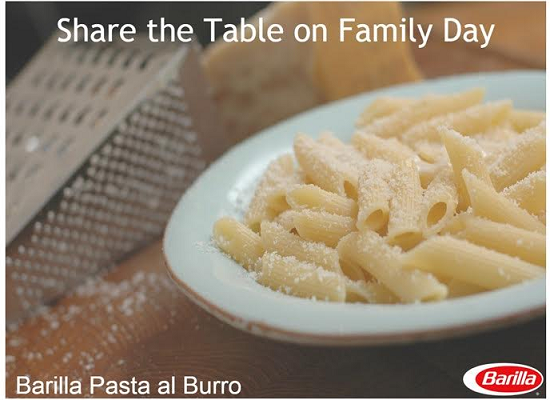 Growing up I can recall mealtimes being the best part of the day. We would gather together to eat some good food and chat about our day. As my sister and I got older, the opportunities to connect with our parents grew further apart so as an adult I appreciate those times even more now. With my own family our week day dinners have a missing member, so we try to have at least two good sit down meals together on the weekend.  This Family Day I want to challenge you to Share The Table with your loved ones. Have a meal together, talk about your day, your plans for the week and really connect.
To help you along with this challenge we had the chance to chat with Chef David Rocco, a Share The Table ambassador. With his passion for getting children into the kitchen he was a natural fit with Share The Table, whose mandate is to get families back together over a good meal.  We asked Chef David the following question and share his answer below.
Question:
Do you have suggestions on how to get kids to try a dish or ingredient when they convince themselves they won't like it before they even taste it?
Chef David:
Kids can be picky, especially when it comes to vegetables, and I find that pasta is a great way to disguise them. Cut up your veggies, sauté them with some butter and garlic and toss it in with their favourite cut of pasta. They might not even notice the cauliflower or zucchini you snuck in there.
Another trick that works really well is to have them help with the cooking. Get them to squish tomatoes with their hands, tear up basil leaves or stir the sauce on the stove. I find if they're involved in making the meal, they're more likely to eat the meal.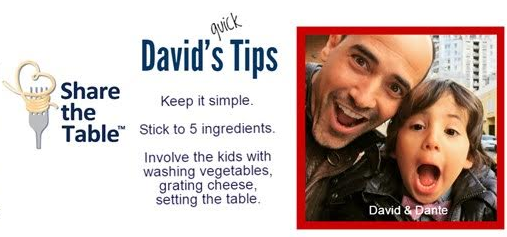 Along with this great advice Chef David would like to share this easy and delicious pasta recipe that is perfect for Family Day. Get the kids involved with the prep and get a head start on sharing your table.
Recipe for Barilla Pasta al Burro
Ingredients:
2 cups of your favourite Barilla pasta cut (David likes Penne)

1 cup of freshly grated parmigiano-reggiano

2 tablespoons unsalted butter

1 teaspoon of salt

1/2 cup of reserved pasta water
Method:
Cook and drain the pasta according to the instructions on the box.  Reserve some of the pasta water.

Add in the unsalted butter,  parmigiano-reggiano and salt to taste, using the reserved pasta water as needed. Stir while combining. Recipe serves four.
Chef David suggests that if you would like a richer version try using gorgonzola and pecorino cheese. Add them to the butter so they melt to make a rich and yummy sauce.
I like to add a veggie to this type of meal and the favourite in our family is steamed broccoli. This can be switched out with your family's preferred veggies.
You can find more kid -approved recipes and learn about the Share The Table initiative by visiting the Barilla website. Follow them on Twitter @BarillaCAN under #ShareTheTable. 
Whatever you do with your kids and spouse this Family Day have fun and make it memorable. Try something new, raise money for charity, visit the zoo or go for a walk.  Enjoy your time together.
Do you cook with your children? Do they enjoy it?
FT&PD
Suz