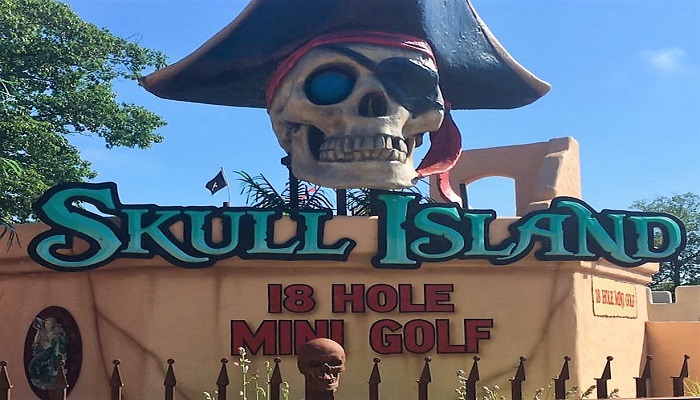 It is sometimes hard to believe that just an hour and a half north of the city of Toronto, in Southern Ontario, Canada, lies the world's longest fresh water beach. A quick 90-minute drive and you will find yourself in one of Ontario's premier tourist destinations – Wasaga Beach. I have been coming here to visit since I was born and when my parents retired to the Beach about ten years ago, it became almost like a second home to me. You only have to visit once to fall in love – any time of the year.
For many years now tourists have travelled to the beautiful shores of Nottawasaga Bay, to stroll along 14 kilometres of white sand beach, swim in warm, clean waters and enjoy the panoramic mountain views across the Bay. Whether the sun is shining, the snow is blowing or the moon is rising, there is nothing quite as spectacular as a sunrise or sunset on those gentle waves. ♥
But did you know there is more to Wasaga Beach than just sand, sun and swimming? There are lots of activities to keep you busy and I am going to share one of those with you right now. Earlier this week my kiddos and I had the opportunity to visit Skull Island, a fabulously themed Mini Golf adventure right in the heart of Wasaga Beach!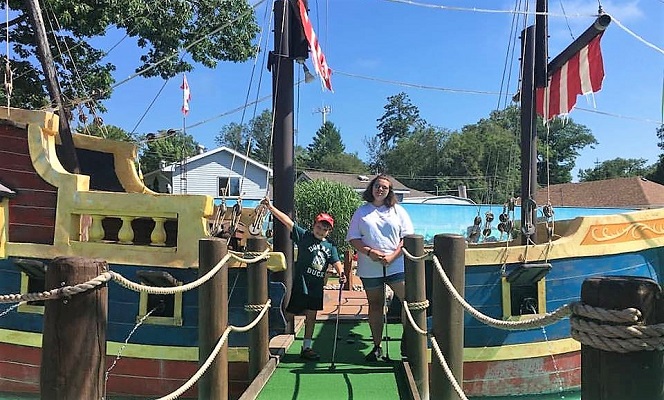 My son has been asking to go play mini golf for quite some time now, so this family visit was the perfect chance to take him. It was a bright, sunny day when we headed out. Prior to leaving, I called Skull Island to ask about access for disabled persons. Since I use a walker I wanted to see if I could actually play mini golf and not just watch from the sidelines. I was pleasantly surprised to be told that not only was the course accessible, but they had free parking in the back to boot! If you have been to Wasaga Beach before you know that pretty much every establishment that is even remotely close to the water offers paid parking only.
Once we arrived at Skull Island I could see there was ample parking and the walk to the front was short. The young lady who served us was lovely; very friendly and welcoming. She patiently answered all of William's questions about ball colour and what size club he should use. He was just so excited to be there! Once we had our score sheet, we were ready to go.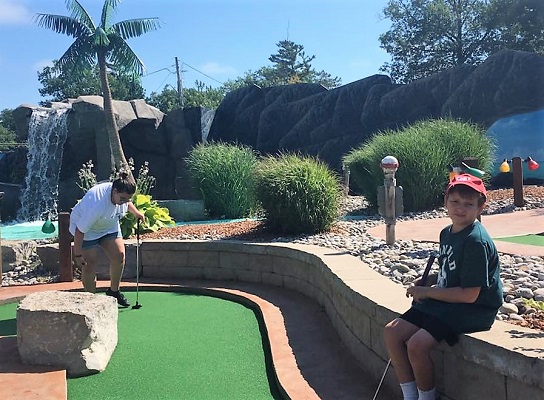 My first impression of the Skull Island Mini Golf course was that it was gorgeous! They met and surpassed the goal of their theme of  "a lost island in the Caribbean that for many years was a hideout for scurvy dog pirates." This eighteen hole course missed nothing. The sound of the water was calming and the sway of palm trees had me wishing for a hammock! It was a very warm day and it was all I could do not to dip my toes in the clear blue "ocean" waters.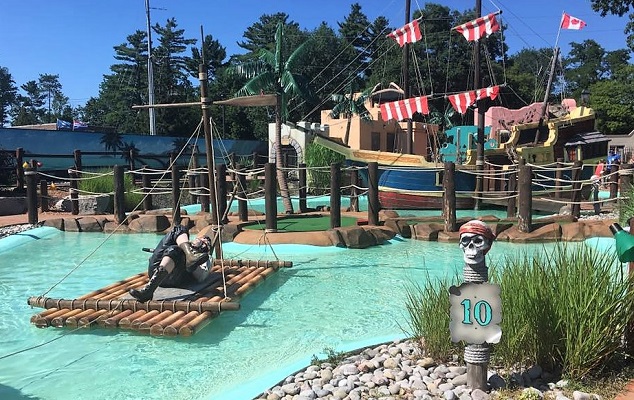 Each of the 18 holes offered its own set of challenges with some being easier than others. I had a chuckle at poor William when he came 'this close' to getting a hole-in-one. Oh, for a good strong wind. 🙂 Alas, it was not meant to be. But, he still had a wonderful time. The course wound its way around the island, slowly moving up a bit, but it was not a problem to negotiate my walker through it. Someone who is confined to a wheelchair will need assistance though as there are curbs that surround each hole that are about two inches in height.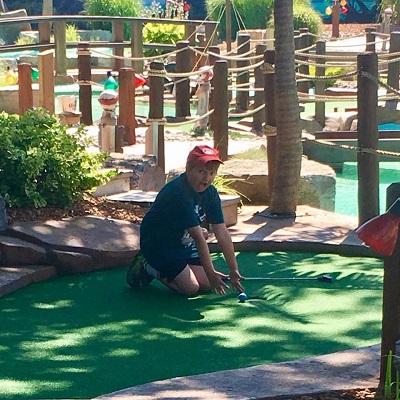 Skull Island Mini Golf in Wasaga Beach was a great place to spend some time away from the water. The kiddos and I had a fun time and we will definitely go again. There is even a chance at the very end to win a free game! Skull Island is a great place to visit with your family or even on date night. I can't wait to see it when all the pretty lights are lit up. I am sure it will be magical!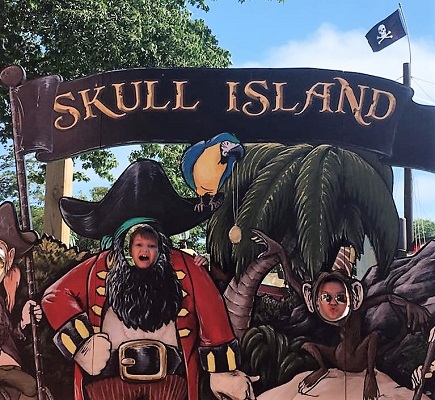 By the way, I lost. Both the kiddos beat their mama, but that's okay. We made some great memories. ♥ Have you ever played mini golf?
FT&PD
Suz 
**Please note this is NOT a sponsored post. My family and I paid for our own adventure. 🙂