My family and I are very lucky to have access to the beautiful waters and shores of Wasaga Beach, in Ontario Canada. My folks live there so we try to visit as often as we can. Aside from getting away from the big city to relax in a sort of northern-country setting, visiting Wasaga also brings with it the charm of a small town. You know what I mean. It has cute little ice cream shops everywhere (but an abundance of Tim Horton's ♥.) People walk or bike all over the place, but there are tons of cars on the long weekends. And of course, there is the Canadian kindness that is found everywhere in Canada. 
But just this past week we stumbled upon something that sealed the deal on this small town charm, for me at least. Right near the Town Hall we found this: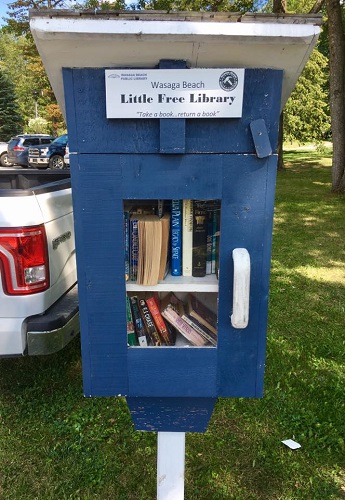 I have heard of these Little Free Libraries in the other cities, but have never actually seen one before. I think they are just about the cutest thing and such a great idea! It allows everyone to benefit from a good book and share it with others. Just a simple act of kindness, but one that makes you feel pretty good at the same time. 🙂
What do you like about small towns?
FT&PD
Suz