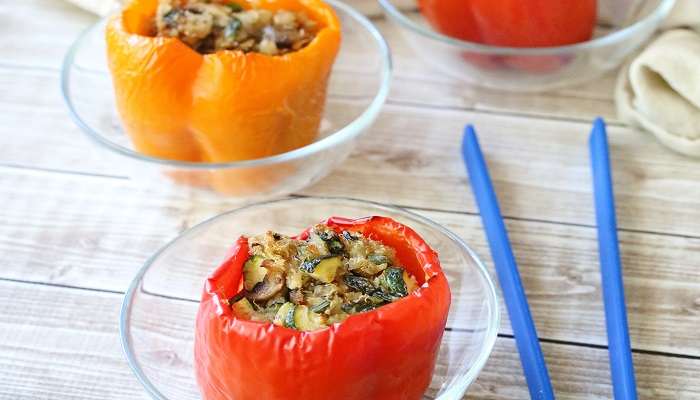 If you are looking for a little something different, maybe even vegan, to serve your family for dinner, I suggest giving this recipe a try. It has been a few years since I have had stuffed peppers, but I know I really enjoyed them. This recipe has a twist to it, something that will probably send my kiddos running for the hills or jumping up and down in joy. Time will tell which one it is. 🙂 In the meantime, I urge you to make your meals with a bit of sass this summer. Add some spices, try a new veggie and serve it up on a nice pretty plate. Have fun and bon appetite!
Quinoa Stuffed Peppers
Ingredients:
3 large bell peppers

3 large button mushrooms, chopped

1 zucchini, quartered

7 stalks asparagus, diced

2 large cloves garlic, minced

1/4 cup olive oil

1/2 teaspoon red pepper flakes

1/4 cup olive oil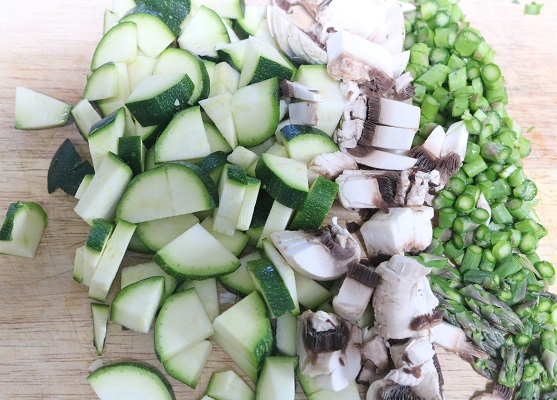 Directions
Preheat the oven to 375 degrees and line a pan with tinfoil.
In a large pan, heat the olive oil slightly over medium heat.
Once oil is heated, add the garlic and pepper flakes
Let the mixture begin to sizzle (about two minutes) then add the vegetables.
Cover with a lid and let cook for two minutes.
Add in the quinoa and mix well making sure everything is coated.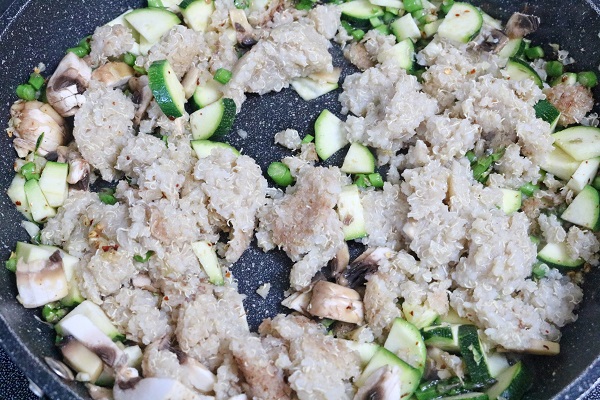 Cover with a lid and cook for four minutes or until vegetables are almost tender.
Remove lid and cook an additional three minutes.
Prep the peppers by cutting the tops off and removing the seeds.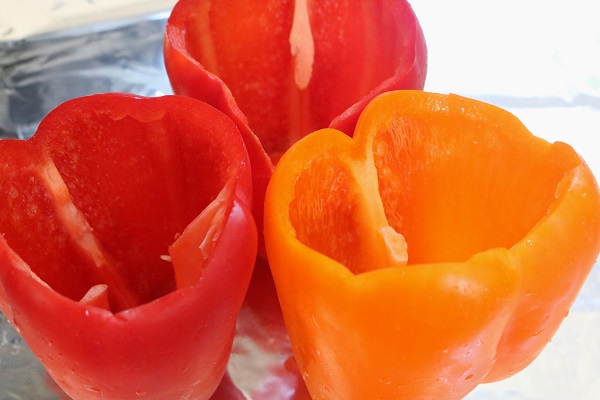 Carefully divide the vegetable mixture into the peppers and place on the baking tray.
Bake for 25 minutes and let cool slightly before eating.
Serves three.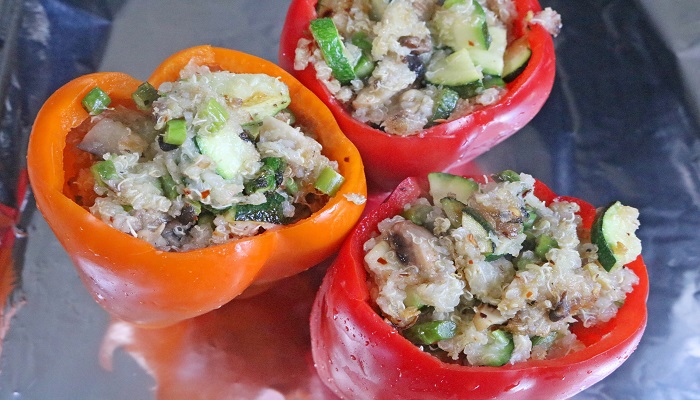 Tip: when purchasing the peppers try to choose ones with flat bottoms that can stand on their own. Otherwise, they can fall over while baking.
Note: these peppers come out spicy from the chili flakes. If spice isn't your thing, cut the flakes down.
Serve with a side salad and you are good to go! Do you think your family would enjoy Spicy Quinoa Stuffed Peppers?
FT&PD
Suz
**Try some other yummy recipes while you are here!