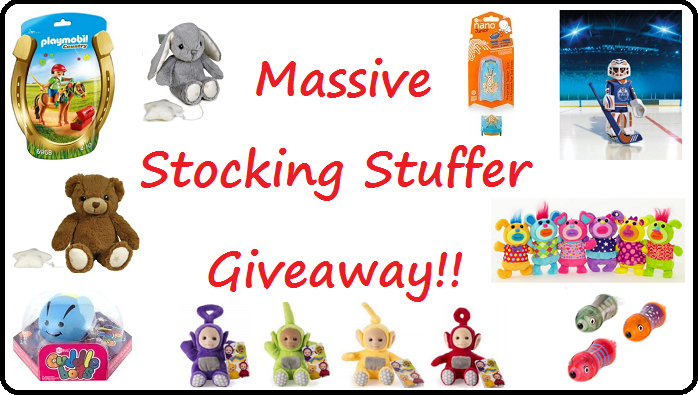 When I was little one of my most favourite things to do first on Christmas morning was to get at my stocking! It was always heavy to lift and smelled of sweet treats.  My sister and I were always thrilled to find fun toys and special items like a book we had been longing to read. Buried right at the bottom, in the toe of the stocking, was always a beautiful orange and a giant apple.  We could also count on a new pair of mittens and a big ole candy cane, with a brand new toothbrush for good measure. Sometimes there would be items like a new skipping rope, some socks, a ball, a comic, doll clothes and even chocolate. No matter what we received, we loved to spend lots of time savoring our stocking stuffers.
To help parents out this year, I wanted to share some sweet ideas on what you can get to fill the stockings of the little ones in your life.  Have a look-see at what we have come up with and watch for a huge giveaway at the end!
Stocking Stuffer Ideas
Sing-A-Ma-Lings
These colourful and talented group of plush friends are a riot! There are six Sing-A-Ma-Ling characters that each speak and sing in their own distinct language. Each Sing-A-Ma-Ling has three different modes of play: Harmoney, Jibber Jabber and Song. You decide which mode you want to play in and change it by squeezing their cute little hands. ? You can listen to your new entertaining friend or sing along! The best part is harmonizing your Sing-A-Ma-Lings when you have two or more together.  Read our review post here to learn more about Sing-A-Ma-Lings from Funrise Toys! Retails for $15.99 each. Appropriate for ages 3 and up.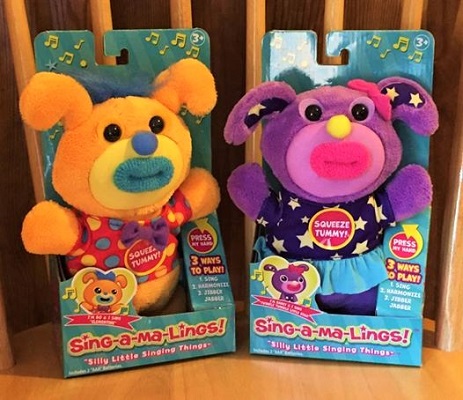 Playmobil Groomer With Pony
Every child I have ever known loves to play with Playmobil. From the huge array of sets to choose from, to the endless stories you can create with your imagination, Playmobil is hours and hours of entertainment that your child will adore. The County Life is just one of those sweet play-sets your child can own from Playmobil and what is the country like without a cowboy or cowgirl? Perfect for those stockings, the Groomer With Pony is a small set that lets your child ride 'em and dress 'em up! That's right, these ponies have a little treasure box of jewelry to play with too!  Retails for $11.99 each. Appropriate for ages 4 and up.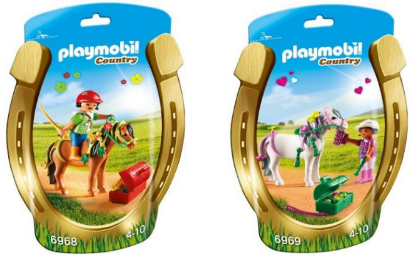 Playmobil NHL Player & Goalie
What Canadian child doesn't love hockey? Playmobil knows we love our winter sports and they  have captured the fun with their NHL Rivalry Series. My kiddos were thrilled to check out the arena last year and there were new additions to the set this year, which you can read about here. (There is even a giveaway running for a short time!) Just as you come to expect from all of Playmobil's wonderful play-sets, the NHL series will have your child's imagination running into over time, but hopefully won't land them in the penalty box. To compliment the NHL series, you can add both an NHL Player and NHL Goalie to those stockings this year. Retails for $8.99 each. Recommended for ages 4 and up.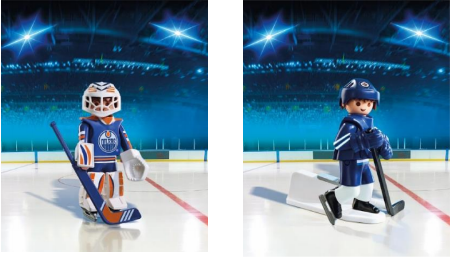 It's Time For Teletubbies
Who remembers those brightly coloured friends that wobbled around the place, having fun? Those crazy kids known as the Teletubbies have returned to TV in a brand new show called "It's Time For Teletubbies" and your littles are going to love them! While staying true to the original series, the new show is designed to appeal to today's digital savvy toddlers with updated elements and visual CGI enhancements. With new episodes available in both English and French, you can rest assured your child is watching safe and entertaining TV with Tinky Winky, Dipsy, Laa-Laa and Po! Your littles can even cuddle with the Teletubbies now in a 6 inch, 8 inch or 10 inch take home version!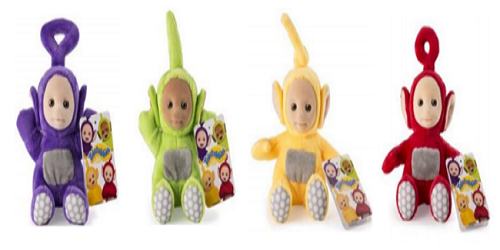 Hexbug Cuddlebots
Hexbug is expanding into the realm of innovative toys for your toddler with the soft and adorable Hexbug Cuddlebots! These robo-buddies are durable and perfectly safe for small kiddos to play with.  Their squishy little bodies vibrate and scurry across the floor, instigating races and squeals of laughter!  You can choose from the fast Freddy the Firefly or the beautiful Betty Bumblebee. Retails for $11.19 each. Suggested for ages 18 to 36 months.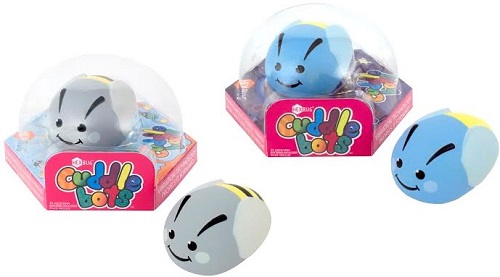 Hexbug Nano Junior
The bugs have breached the playpen gates! Now with Hexbug Nano Junior, even your youngest kiddos can play with toys that scurry about. Made with toddlers in mind, the Hexbug Nana Junior comes in a whole range of colours, like pink, blue and green, have 12 rubbery little legs and bodies and offer the same type of delight and entertainment you have come to expect from all of the Hexbug family of , err, creatures. 🙂 Retails for $9.79. Suggested for ages 18 months and up.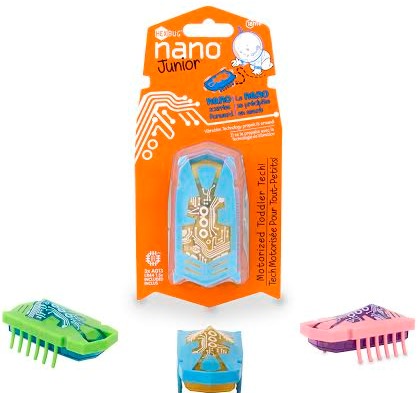 Hexbug Aquabot Wahoo
Submerge yourself in the newest school of deep sea divers with the Hexbug Aquabot Wahoo! These little guys use the power of motorized propulsion to spin and whirl about in the water, as in performing for your kiddos! And yes, I said in water! They come complete with their own "tank" so they can perform for hours of fun and entertainment. My son was completely entranced watching the Hexbug Aquabot Wahoo! Retails for $6.49. Recommended for ages 3 and up.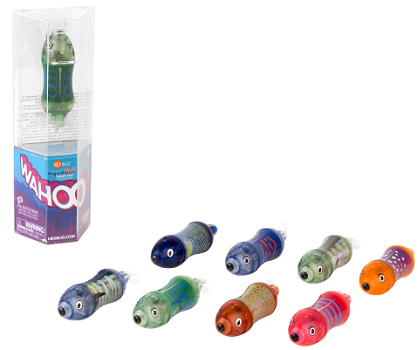 Cloud b Hugginz Musical Plushies
These super sweet, super soft plush pals are just the most adorable friends for your infant. They are a compact, calming companion that will help your baby learn to self-soothe at home, in the car or even while away visiting family. Way more than a regular stuffed animal, the Hugginz Musical Plushies from Cloud b have a secret sound box that is easy to activate. Baby needs to only pull gently on the plush star to hear a sweet and soothing lullaby play. You can choose from the mischievous monkey, sweet sheep or beautiful bunny or bear. Retails for $22.99. Suggested for newborns and up.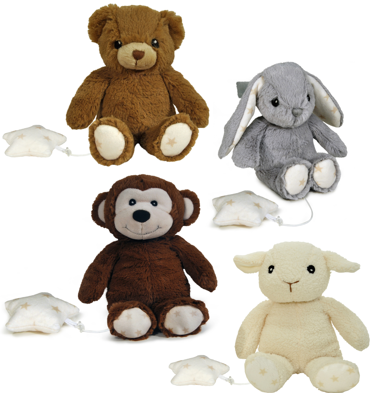 The Giveaways!
Four lucky MapleMouseMama readers will win one of the following prizes:
one Sing-A-Ma-Ling and one 6 inch Teletubbies stuffie

one Playmobil Groomer with Pony & one Playmobil NHL Player

one Playmobil NHL Goalie & one Playmobil Groomer with Pony

one 6 inch Teletubbies stuffie and one Sing-A-Ma-Ling
To be eligible to win just complete the Rafflecopter below with your qualifying answers. This giveaway is open to Canadian residents, ages 18 and older. Please read our giveaway rules before entering. This giveaway ends on December 21st, 2016 at 11:59pm.  Good luck!
Please tell me which of these great stocking stuffer ideas you like the most?  What would your younger self have loved to have seen on Christmas Day?
Merry Christmas
FT&PD
Suz
**For lots more great gift giving ideas, please check out the #MMMGiftGuide!
**Be sure to enter the many giveaways we have going on right now, including ones for cash!!
Disclosure: My family has had the opportunity to check out many of the items listed in this post. All opinion belong to us, 100%!