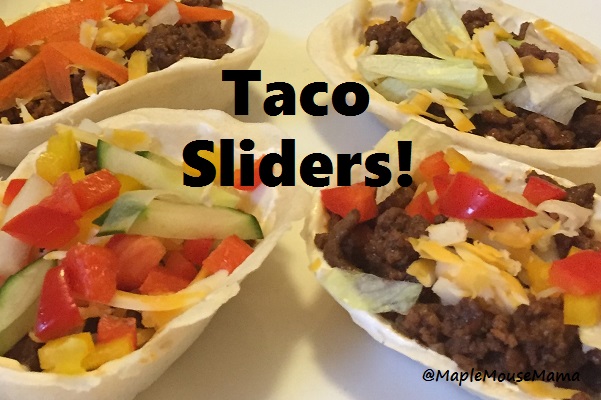 During the holidays we have often found ourselves having friends and family over, sometimes at the last minute.  It used to be a struggle to think of putting a meal together that would feed everyone and not look like it came out of a take out box, but then we started thinking outside that box. 🙂 One of my family's favourite weeknight meals are tacos. The leftovers even go to work and school for lunch. We love the variety of the toppings you can put on and with the neat selection of shells from Old El Paso, we are never bored.  I have always enjoyed the hard shells, but my kids totally love the soft Tortilla Bowls.  I like that they come in a mini size so there is less waste. And those fit in a lunch box a lot easier than the big ones.
Knowing that we have a small gathering of family and friends over for Halloween each year, this time we decided to try out our new go-to taco rescue meal instead of having the usual pizza.  What resulted was a spread that would work perfectly for any get-together or party you have planned for the upcoming holiday season.  The kids loved our idea so much, that my daughter promptly said this is what she wants to serve at her next sleep over. 🙂
Tasty Taco Sliders
This recipe came from a desire to have good and hearty food to serve our guests, but in smaller amounts.  Kind of like appetizers, but a little more filling.  We have a small home so I liked the idea of setting up a station where people can pick their own toppings.  We used the Old El Paso Mini Tortilla Bowls and mixed in some smaller, hard nacho scoops.  The variety was well received and the kiddos loved having everything served be "their size."
Ingredients:
2 pounds of ground beef/chicken/turkey

1 large can (796ml) of crushed tomatoes, drained well

1 large can (540ml) of chick peas, drained

1 large onion

2 packages of Old El Paso Taco Seasoning

2-3 packages of Old El Paso Mini Tortilla Bowls

1-2 bags of nacho chips shaped like little scoops
Toppings:
This is where you can go wild! We always have the standards of sour cream, shredded marble cheese and lettuce, but we also mix things up with bean sprouts, corn, refried beans, salsa, diced tomatoes, shredded cucumber and onions.
Directions:
1) Combine the can of drained crushed tomatoes and chick peas in a blender.  We also chop up the onion and add it to the blender because the kiddos do not like onions if they can see them. 😉 Blend until the chunks are gone.
2) Cook the ground meat in a frying pan, starting at medium-high heat, lowering the temperature a little as the meat cooks. I like to chop the meat up into smaller pieces so it is easier to put in your taco. Once your meat is cooked, drain the excess oil and add in your taco seasoning mix and water, following the package directions. Stir in the seasoning until it is blended.
3) Pour the contents of the blender into your frying pan and mix completely into your cooked meat. Let this simmer for awhile, on low heat, while the excess water cooks off.  Stir occasionally to avoid the meat mixture sticking to your pan.
4) While your meat mixture is cooking through, prepare your toppings. Shred the cheese, scoop out your sour cream and chop up the lettuce.  Our newest addition to the taco table is bean sprouts! My son loves their crunchy texture.  We like to place each of the toppings into smaller serving bowls and place them buffet style on the table.
5) When your meat has reduced, you can transfer it to a large serving bowl to make it easier for your guests to serve themselves.
6) Just before calling everyone to make their Tasty Taco Sliders, I like to pop some of the Mini Tortilla Bowls in the microwave to heat them up, just a little bit. Place your bowls and nacho scoops on a plate or bowl and watch your guests have fun!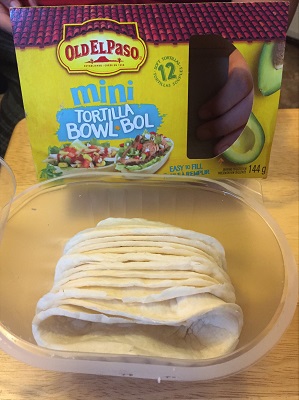 By adding a festive tablecloth, some funky napkins and cool dinnerwear (you can even use paper plates with a holiday theme), you will keep your guests happy and well fed. The best part is, the leftovers get to go in your lunch. 😉
What is your favourite go-to meal for when guests come over?
FT&PD
Suz
**Read more about our adventures with Old El Paso here and here. 🙂
This post is sponsored by Old El Paso. In exchange for this review, I have received special perks in the form of products and/or compensation.  All opinions on this blog are my own.