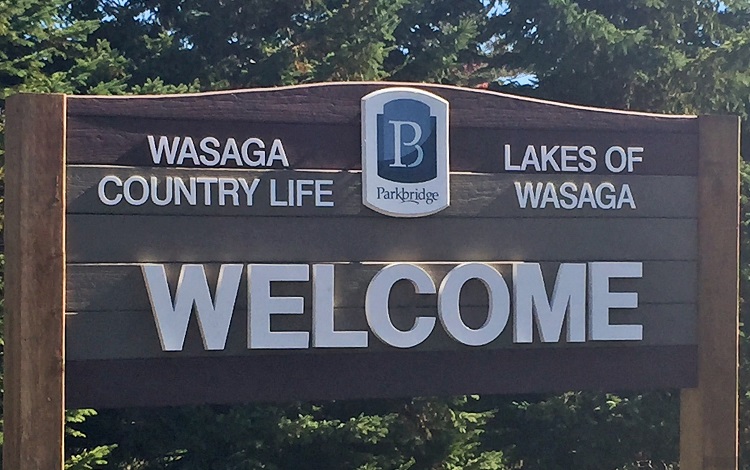 Fall in Southern Ontario is a beautiful time of the year to spend a few days enjoying Nature as she prepares for winter. It is my favourite season. ♥ My family and I recently did just that by spending a wonderful long weekend at the Lakes of Wasaga, a cottage and RV resort in Wasaga Beach, Ontario.  It was a great escape from the stresses of everyday life and the absolute best way I have ever enjoyed being surrounded by the changing Fall colours.  This type of getaway is often referred to as "glamping," which is a sort of glamorous version of camping, but a stay at Lakes of Wasaga doesn't even come close to my definition of camping. Trust me when I tell you that I did not want to leave our beautiful weekend home.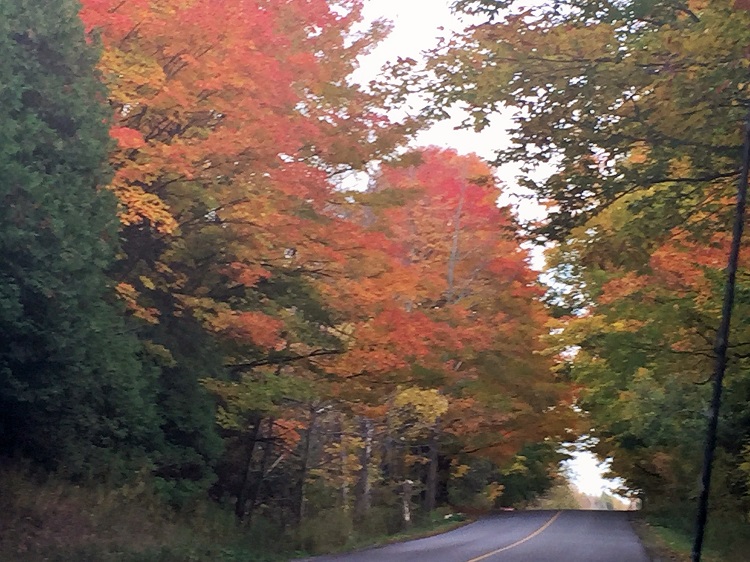 Have you ever dreamed of owning your own cottage, but can't quite stomach the cost and responsibility involved?  Lakes of Wasaga Resort is the perfect solution. It is billed as an "exceptional vacation experience" and that is not one bit of an exaggeration. Do I sound like I am gushing right now? Good, because that is exactly how I felt the whole weekend. It was dark when we arrived, but the entire park is well lit. We had no trouble finding our chalet. Yes, I said CHALET. The resort offers these adorably charming 2 and 3 bedroom, fully equipped chalets for your stay, which can sleep up to 8 guests.  Our chalet was a three bedroom, with the third being housed in a delightful loft space! It was the perfect hideaway for our kiddos. It totally made me wish I was 12 again.  🙂 The resort also has 2 bedroom cottages available that sleep 6 guests. I am sure they are just as gorgeous as the chalets.
Now, when I say fully equipped, I mean there is quite literally nothing they have not thought of.  Our chalet had a full sized kitchen, complete with dishwasher ( 🙂 ), all the dishes, pots, cutlery, bowls etc, you could possibly need and then some. We prepared a a pre Thanksgiving meal with no problems at all. There is a barbecue for your use, which we used despite the chilly October temps.  Our chalet also came complete with, wait for it….. a washer and dryer!  There was not one thing missing. Plenty of cleaning supplies and we were even provided with linens (these are not always available though so be sure to check ahead of time).
Back to Lakes of Wasaga being the perfect answer to how you and your family spend your vacations. The whole concept behind this beautiful resort is that you can either own a place or rent. It's the best of both worlds! The grounds are centered around these quaint little lakes that are home to an abundance of wild life. Each lake has a little beach which is perfect for launching your remote controlled boat or playing some games.  We were on Lake Joseph and the view was wonderful! I would have my morning cup of tea on the back deck, bundled up, watch the sunrise and the world wake up.  The back deck is large enough to entertain on and there is even a little fire pit close by. Yes, we made good use of that too. 🙂
Parkbridge is known for having lovely communities that are warm and inviting and they have quite a few in Canada. Lakes of Wasaga has many other stand out features, including that it is a year round resort.  I love that! These great chalets all have a fireplace which makes the prospect of snuggling up watching the snow fall a very good one.  Our chalet was decked out in cedar with a vaulted ceiling and open concept living room and kitchen. It was so welcoming, bright and spacious, yet cozy at the same time. With a full three piece bathroom and very spacious bedrooms our chalet at Lakes of Wasaga is way above the standard you would find in a hotel.  They really pay attention to detail. 
Aside from the stunning accommodations, the resort has a ton of amenities to offer.  Lakes of Wasaga is a few minutes drive to the shopping areas in Wasaga Beach where you have restaurants, stores, beaches and more. Here are just a few of the park facilities:
three heated outdoor pools and one indoor

splash pad and playground

mini golf, tennis court and outdoor hockey rink

basketball and volley ball courts

recreation center with family games and planned events 

walking trails, access to ski and snowmobile trails and more!
In order to get value for your dollar the amenities and accommodations are pretty important and it is clear that Lakes of Wasaga has this area covered.  But it doesn't stop there.  Imagine bringing your family here and knowing that they are safe within a gated community that's building are accessible only by a security card. Imagine having miles of beautifully maintained roads and walkways to ride your bike or take afternoon walks. The windswept New Wasaga Beach area is just a short hike away where the world's longest freshwater beach offers hours of fun and impressive views. It really is a bit like paradise. 
My family and I have had the chance to visit with Parkbridge before and they have always impressed me with their great customer service and willingness to go the extra mile.  Lakes of Wasaga far exceeded my expectations and I am telling the truth when I say we did not want to leave.  My daughter was begging us to invest in our own chalet before long! With the more affordable prices for chalets, cabins and RV's this is a definite possibility for any family looking for somewhere special to make memories.  I highly recommend checking out all Parkbridge communities, but if you are in the Southern Ontario area and like to check out the Fall colours, give Lakes of Wasaga a chance. You will not regret it.
You can find Parkbridge on Facebook, Twitter and Instagram. Follow the hashtags #ParkbridgeLife and #Glamping to see more great photos.  
***MapleMouseMama has stepped out of her comfort zone and created some videos! If you care to have a better look at the beautiful chalet we stayed in just click on the links! Thank you. 🙂
Video #1 – Main floor of the chalet
Video #2 – The bedrooms etc..
Video #3 – The loft space! 
Video #4 – Our view of the lake! 
FT&PD
Suz 
Disclosure: my family and I received a three night stay at Lakes of Wasaga in the hopes we would share our story.  All opinions expressed are my own.