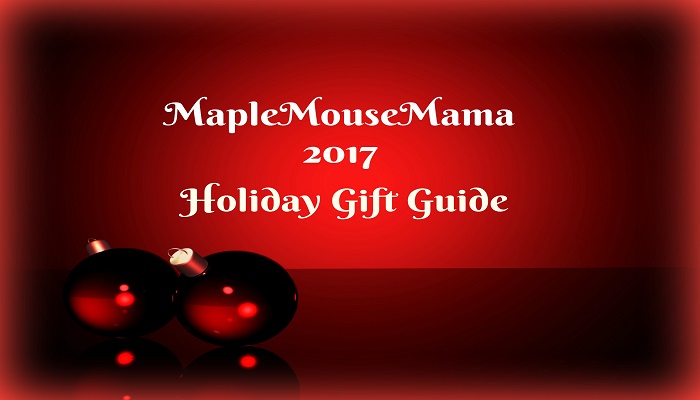 It feels like we just finished the holiday season for 2016 and here we are, back to the planning, shopping, decorating and gift giving already. Have you even started your list making yet? I can honestly say I have a tiny bit of shopping done, but oh so much more to do. In the midst of all that MapleMouseMama has decided to produce another Holiday Gift Guide! I personally love to check out what other people think is a great gift idea, especially when it is for that person who is always hard to shop for. 
Just like the past two years we will be sharing posts about the items we think you should consider buying this year and we will do so starting in the next few days and continuing throughout November and December. We will even share some awesome giveaways for several of those items, so make sure you check back every day to see what is new and what you can win. I will give you a hint right now – we have a huge cash giveaway coming up very soon! That will certainly help you stretch that shopping budget! 
If you are a company that has an item you would like to see featured in our Holiday Gift Guide this year, please get in touch! We are accepting items for men, women, children (babies on up to teens), for the home, for the family, for pets and stocking stuffers for all.  Have a gander at the guidelines below.
Guidelines For Product Submission
I must receive a full sized item to keep; this helps to facilitate the review

You must cover any shipping charges (for giveaways as well)

Any items sent must have been approved prior, otherwise it will not be included in the Gift Guide and will not be returned

Products must meet minimum fee requirements (can be product alone or combination of product and payment)
*Rates and media kit are available upon request.
We are so excited to share the 2017 MapleMouseMama Holiday Gift Guide with readers and brands alike.  If you are interested in being featured in the #MMMGiftGuide or have any questions, please send an email to rudges2@gmail.com with "2017 Holiday Gift Guide" in your subject line or complete this form. Thank you!
FT&PD
Suz
**Have a look at some of our posts from last year's guide here.