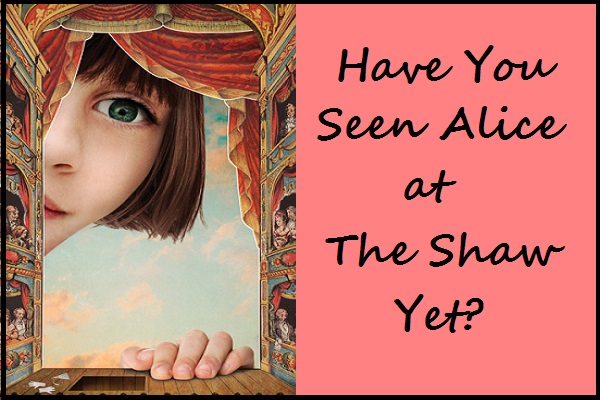 I invite you to sit back and relax while you enjoy this entertaining assessment of The Shaw Festival's Alice in Wonderland. Playing now in the quaint Niagara-on-the-Lake, this play is reviewed by Jessica Lundy, owner and writer found at the up and coming blog Vinyl and Films and Stuff.
                         *************************************************
My first brush with the theatre was The Lion King. I wasn't a lot older than five or six at the time, but much of what I experienced there remains with me decades later. You see, The Lion King was my favourite Disney movie; I loved the songs, especially "I Just Can't Wait to Be King" with Simba and the fountain-like co-ordination of the animals for the finale of the song. On the stage, everything I loved in the movie came to life in front of my eyes. It was magical, especially for a young child. In the next few years I saw The Lion King twice more. The fire was lit. If I recall correctly, my mom got tickets to see Mamma Mia for her birthday and she kindly brought me along. A few years later we saw Wicked. Fast forward some time and I was given the opportunity to see both Sweeney Todd: The Demon Barber of Fleet Street (a Christmas gift) and Alice in Wonderland at the Shaw Festival this past weekend.
Adapted from Lewis Carroll's classic story and adapted for the stage by Peter Hinton, The Shaw presented its take on Alice in Wonderland in a way that was fresh, imaginative and visually stunning. All familiar with the story may find themselves skeptical of the adaptation. How could they possibly make a woman appear to shrink and grow? How will the Cheshire cat appear and disappear? How will she fall down the rabbit hole when the ground is a stage? I won't answer all of those questions. It's best to leave the wonder for those pondering going to the play. I will assure you, however, that each challenge is met with innovative solutions; putting the 'wonder' in Wonderland for children and adults alike.
This particular version of the classic tale begins with Alice (TARA ROSLING) and her sisters (EMILY LUKASIK and JACQUELINE THAIR) lazing around on a boat ride in the English countryside with family friends (KYLE BLAIR and GRAEME SOMERVILLE). There ten-year-old Alice is captivated by a whimsical story about another girl named Alice, who shares much of her curiosity. Yes, you read that correctly: a boat ride. Throw away those mental pictures of stationary cars and moving projections from sixties films, the boat magically glides along the stage as though it is truly in water, setting the scene for an extraordinary adventure.
By now, I'm sure you're all dying to know how they did it; I was there and I still am. 🙂 I'll give you a little crumb to keep you going: they intelligently and creatively use technology throughout the play: for example, in order to bring the mischievous Cheshire cat in and out of scenes.  I will tell you all that smartly designed set pieces allow Alice to shrink down to no more than three inches tall! The rabbit hole? I'll leave that to your imagination.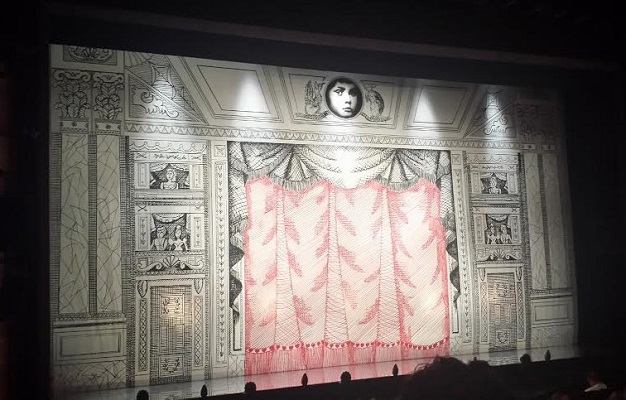 In addition to logistics, creating original songs that not only fit in, but contribute to the world is the next big problem when adapting from page to stage. For that, composer Allen Cole, conductor Paul Sportelli and the orchestra Anna Redekop, Alex Grant, Jeewon Kim, Joseph Tritt, Shawn Moody and Tom Skublics, all deserve a hearty round of applause. The score breathes life into this Wonderland.
The costumes were always what impressed me the most in my petite history of theatre, especially with bringing animals to life onstage. Alice in Wonderland's William Schmuck shone. The utilization of vibrant colours and unusual textures melted together beautifully to create whimsical characters with stunning and captivating silhouettes: the gryphon on stilts with his feather-like ape, the frog maids, the lobsters just to name a few, each offered its own wondrous aura.
A review wouldn't be complete without acknowledging the extremely talented cast, which is far too numerous to list with their accompanying roles. They all managed to effectively disappear behind each of the characters they played. They breathed life into the songs and comedy to the play.
The Shaw Festival's Alice in Wonderland, which plays at the Festival Theatre until October 16th, 2016 is a must see for families and adult lovers of the original story alike. It promises a funny and whimsical journey that will captive the inner child in all of us.
Jessica
                       ********************************************
Are you a fan of live theatre, musical or otherwise? My favourite production is Les Misérables. ♥ I have seen this five times on stage and LOVE it! 
Thank you to Jessica for her descriptive account of Alice in Wonderland. Make sure to check out Jessica's other work at Vinyl and Films and Stuff.  You can also find her on Facebook.
FT&PD
Suz