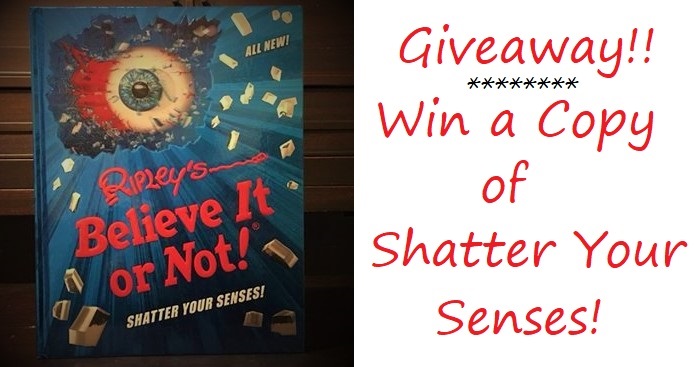 Some people are a little harder to shop for than others and that is where gift ideas like a Ripley's Believe It Or Not book come in. Ripley's recently released their 14th book and it is proving to be a winner, with a little something for everyone. Shatter Your Senses is filled with remarkable photos and shocking stories that are so incredible you won't believe your eyes…or ears or nose!
With over 1,500 all new and all true stories to immerse yourself in, Shatter Your Senses! is not just an acquired taste. With sections like Animals, Pop Culture, People and Beyond Belief, you are guaranteed to be entertained, informed and possibly even inspired. Here is a small sample of what you can find in this wildly entertaining book:
Smell the fresh air – which is sold to tourists in Guangdong Province, China, by the bag.
Taste the freaky foods featured-from starfish skewers on the streets of Beijing to Australia's witchetty grub!
Hear the crowds roar as performers like AcroBritt, Short E. Dangerously. Captain and Maybelle and Hammer Head take the stage in Ripley's Exclusive interviews, showcasing their talents!
See the world's most expensive dress ever sold at auction, worn by starlet Marilyn Monroe and covered in over 6,000 rhinestones!
Feel the heat as you read about Taiwan's traditional fire fishing.
The Giveaway
One lucky MapleMouseMama reader will win a copy of Ripley's Believe It Or Not: Shatter Your Senses! To be eligible to win just complete the Rafflecopter below with your qualifying answers. This giveaway is open to Canadian residents ages 18 and older. Please read our giveaway rules before entering.  This giveaway ends on December 17th, 2017 at 11:59 pm.  Good luck!
What is the craziest food item you have ever eaten?
FT&PD
Suz
**Have you entered any of our other fabulous giveaways?
**Check out our other great gift ideas in the #MMMGiftGuide!
**Disclosure: I have been compensated for items in the post. All opinions are my own.